We are all familiar of the fact that businesses and companies are usually the ones that would initiate a business relationship with their customers and clients. However, there are instances when it is the customer or client who would actively seek out companies to engage in a business deal.
In such cases, prospective clients ask companies to send them a precise quotation called the company quotation or simply, a price quotation. Creating quotations is never easy. On this page, we have templates that can help you in making quotation in Excel easily.
Company Quotation Template
Company Quotation Format Template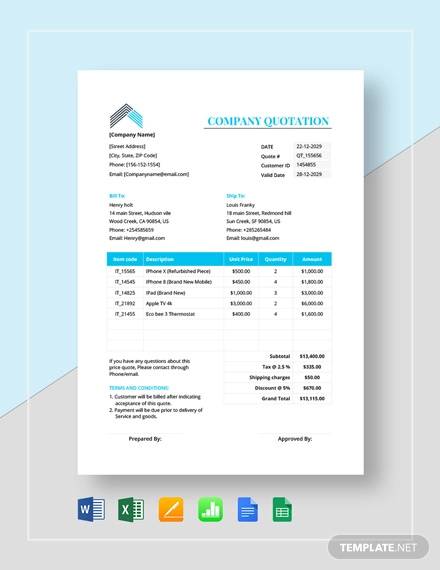 Security Company Quotation Template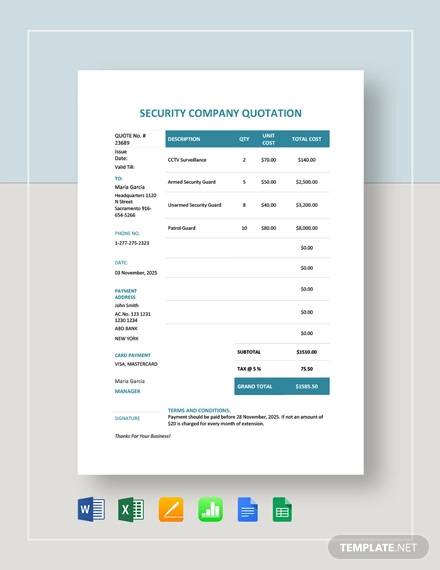 Sample Company Quotation Template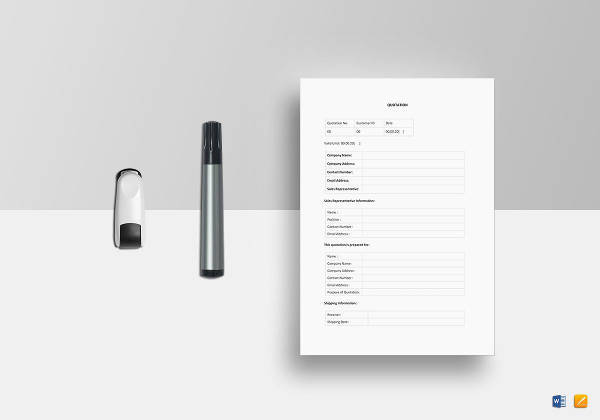 Quotation for Cleaning Company
Company Profile Quotation
What Is a Company Quotation?
A company quotation is a document that is sent by companies in response to a formal request for a quotation by prospective clients.
Company Quotation Sample
Company Price Quotation
How to Make a Company Quotation?
When writing this quotation, here are some rules that you can follow:
Peruse the request letter for quotation in order to assess what type of project is involved. This is also the phase when you must make a list of the items that your prospective clients might need.
Then create a company quotation based on a blank quotation template that is specifically suitable to your type of business. For example, if you are selling cars, you may use vehicle quotations, and if you are supplying construction materials, you can use templates for construction quotations. In line with this, templates for cleaning quotations are perfect for companies involved in providing cleaning services.
If you are building your quotation from scratch, you can write the following:

The label of the quotation that says, "company quotation"
The name of your company, its address, and contact information
The name of the person creating the quotation
The name, position title, and address of the person to whom you are sending your quotation to
The enumeration of the items needed by your client
The specific prices per item
Quotation for Construction Company
Event Company Quotation
 Formal Quotation
How to Write a Letter to a Company to Ask for a Quotation
When you have a large project that requires you to purchase a lot of materials or employ services from a company, you will find it easier to complete your project if you know the prices of the products and services you need.
The proper process to attain the precise price offering for the items you need is through the requesting of a company quotation proposal.
When writing a quotation request letter, the following guidelines can definitely be of immense help:
Try to learn how much are the prices given by your competitors.
Through the analysis of the current economy, make a list of the prices you are willing to offer.
Follow a template for the format of your quotation. You may use our collection of sample quotations to guide you with the proper format.
The main section of your quotation comprises of the itemized list of the materials or services you are offering as well as its corresponding prices.
Then indicate the date when these prices would expire.
For more reference, download from our collection of sales quotation.