Ever heard of the saying "Two heads are better than one"? That exact saying can be applied in the business and corporate industry as well. Businesses operating solo are now slowly becoming a thing of the past. Companies nowadays are slowly but surely getting involve in collaborating projects with other companies, often within the same industry. What they do is they accumulate all of their resources and combine them together to develop a new product, work on a new venture, operate in different markets, increase operational capabilities, or even sponsor each other exchanging financial and promotional support. Partnerships allow other businesses and companies to collaborate with each other to grow and gain access to different markets or share their expertise  with each other. Being partners with other companies give you access to other specialized expertise like technical skills or intellectual property that just may well be beyond your current capabilities.
To properly establish that partnership that you've been looking for, you'll need what is called a partnership proposal. Partnership proposals are documents or a series of documents that you submit to a prospective partner or sponsor with the intent of establishing a partnership between your companies. Regardless of how you use or draft your document, it's main purpose is to show the potential partner or sponsor of your interest in doing business with them and their company. The document describes what business the partner is about to be a part of, and also show them how this joint venture will benefit their own business. Make sure that your document is well written and well drafted by first checking out these sponsorship partnership proposal samples that we have listed for you down below. After you've familiarized yourself with the document, feel free to use these samples as guides or maybe even as templates for when you write your own document.
10+ Sponsorship Partnership Proposal Samples
1. Sponsorship Partnership Proposal Template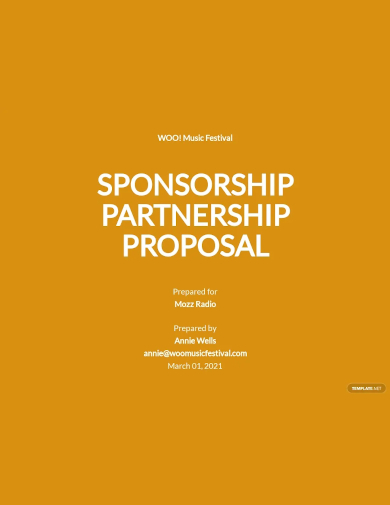 2. Sponsorship Partnership Opportunity Proposal
3. Sponsorship Corporate Partnership Proposal
4. Club Sponsorship Partnership Proposal
5. Sponsorship Partnership Request for Proposal
6. Sponsorship Cost Partnership Proposal
7. Sample Sponsorship Partnership Proposal
8. Sponsorship Partnership Policy Proposal
9. Insurance Sponsorship Partnership Proposal
10. Sponsorship Partnership Webinar Proposal
11. Strategic Sponsorship Partnership Proposal
What Is a Sponsorship Partnership Proposal?
A sponsorship partnership proposal, or simply just a partnership proposal, is actually pretty similar with a grant proposal. A series of documents that a business person is about to submit to the company, committee, or organization with the intent of securing a partnership or a joint venture with them. It outline's your company's needs, activities, projected outcomes, and provide information on how the partnership will be beneficial to both parties in terms of sales, staff retention, access to a wider variety of markets, and align with their own strategic priorities. Writing a partnership proposal is a long circular process that requires accuracy and attention to detail. The initial draft of the document focuses on a much bigger picture, how this partnership will take advantage of an open opportunity in the market.
Then slowly pans inward focusing on the benefits both parties will gain if they agree to the partnership, then back outward as how these influences will then expand to other ventures and markets that was not available prior to the partnership. It is also vital that you have a clear idea of what you want to happen and the methods that will be in place to achieve the goals that both partners have identified. How this partnership will not only be good for the companies, but also to the community. And of course, how it will be a worthwhile partnership for your prospects.
How to Write a Sponsorship Partnership Proposal
An effective partnership proposal addresses the most common concerns of both parties that include the benefits, alignment of values, the goals of the partnership, and the questions of how to structure the possible dissolution of the partnership. The document is often divided into different sections dedicated to different guidelines. But regardless of how you choose to format your proposal, they should be able to cover the elements and concerns that are listed below.
Do your research
Before you actually begin writing your proposal, you have to do your research of your potential partner and make sure that you have a perfect grasp of their company, the brand, the products, and what the company ultimately stands for as an organization. Doing so will give you a better idea of how the sponsorship can benefit their venture, and both companies overall. It would also provide you with the context that you need to write a persuasive document. Take your time in looking up your partner because trust me, they'll know if you did your research. Don't take shortcuts and neve generalize.
Demonstrate how your values align
Even is your businesses share the same markets or bring about the same services to the market, it doesn't immediately make the best partnership fit. Your partnership proposal must show how the values and the business culture of both companies align. For example, let's say that you are a brand that focuses on customer satisfaction through delivery, a potential business partner that leans on low market prices makes a poor candidate for the partnership. A business that gives importance to the quality of their parts or product performance however, creates a great candidate for you. Because the values and the business culture of both companies align closely.
Clarify benefits
A lot of partnership proposals make the mistake of being a one-way street. They tend to focus on what they themselves can gain from this venture, or on the other hand, only focus on what the partner receives from this partnership, which is still terribly detrimental. As a potential partner, you should also highlight the aspects that you expect to get outright. In business partnerships, operations and benefits should not flow from one business to another only. Whether that means additional resources for you, co-branding, or just an increase in customer interaction. You must be able to explain the benefits that they can expect from you, and you should be able to specify the benefits that you expect from them and from this partnership. If you fail to bring those elements up, then your potential partner doesn't really have a good incentive to lean on.
Outline goals
You need to be able to outline the goals of this partnership. Specify which business handles which tasks and how much money should be invested between the both of you. You also need to set out broad terms what kind of return on investment the partnership will generate. The proposal should also cover a method for resolving disagreements between the two parties, how to achieve goals or decisions that involve both businesses.
Dissolving the partnership
Partnerships only goes one way or the other, it's either the partnership works out, or draws down to a designed and amicable end. Businesses often want to pull away from partnerships if the venture begins to go downhill. This is to prevent further loos of revenue lest the partnership fails to deliver a worthwhile return on investment. Given this, the proposal should suggest a framework for dissolving the partnership and introduce peaceful agreements that protect both parties.
FAQs
What is an example of a sponsorship?
One of the best examples of a sponsorship is the NFL Super Bowl Half-Time Show.
What is a partnership and how does it work?
A partnership is a formal arrangement made by two or more parties to manages and operate a business to share its possibly increased profits. There are multiple types of partnership arrangements, some businesses allow all their partners to share liabilities and profits with each other, while others may have limited liability.
What is the disadvantage of partnership?
The disadvantages of business partnerships include the countless liabilities of the partners for the debts of the business, and the risk of having disagreements and friction among partners and management.
Writing a partnership proposal is no easy task. It requires much analyzation and attention to detail, and doing so more or less dictates the fate of the partnership that you are trying to establish. A main selling point of a partnership proposal is the ability to weave all this data into a narrative that promotes a human connection with the objectives of the proposal.