There are a lot of businesses who have one or more business associates. It is a common setting in the business world as it reaps some good benefits such as you can make better decisions since you have each other's own knowledge and expertise, better business opportunities, tax benefits, cost-savings and many others. Yet choosing the right business partner can also be a daunting process, of course it is up to you to choose who you want to associate with, but you need not to make rash decisions most especially when your business is on the line.
One of the best ways in choosing the right business partner or whether you request for a partnership is through a partnership business proposal. A formal document in which you are able to either assess a prospective partner or are drafting one in hopes of forming an alliance. Read more about partnership business proposal in our article for today, and don't forget to check out our free partnership business proposal samples below:
10+ Partnership Business Proposal Samples
1. Partnership Business Proposal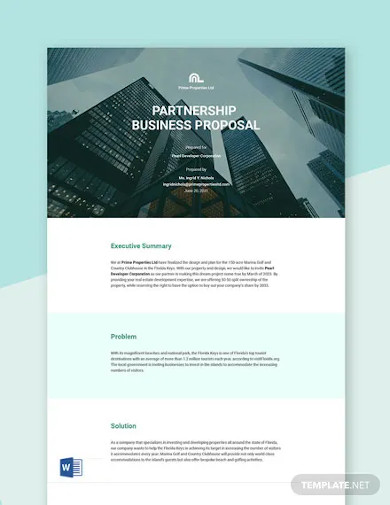 2. Simple Business Partnership Proposal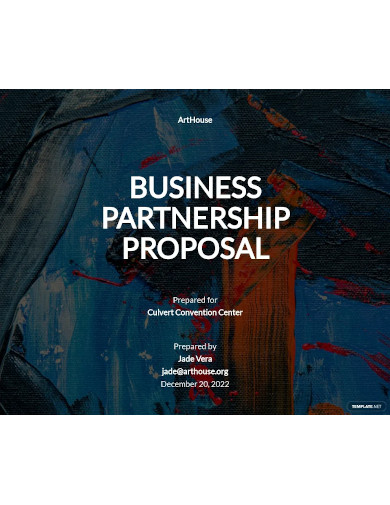 3. Marketing 
Business 
Partnership Proposal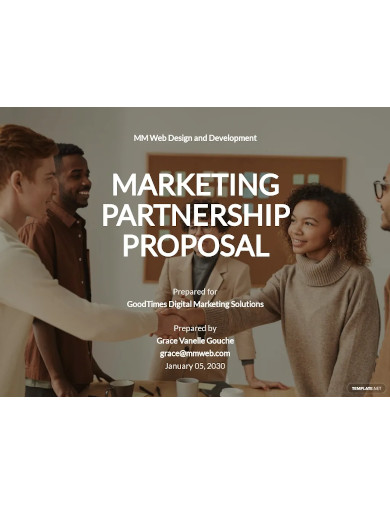 4. Software 
Business 
Partnership Proposal
5. 
Business Development 
Partnership Proposal
6. Construction 
Business 
Partnership Proposal
7. Partnership Business Proposal Example
8. Formal Partnership Business Proposal
9. IT Business Partnership Proposal
10. Printable Partnership Business Proposal
11. Small Business Partnership Proposal
What Is A Business Partnership Proposal?
Forming a business partnership will benefit from each individual partner organization seeing tangible value-added to their organizational goals and priorities. It is therefore in the interests of each partner to be aware of and to contribute to individual partner goals. Business organizations choose to partner because they cannot achieve their desired goals by other, non-partnership means. In other words, there is inevitably a level of self-interest in the motivation of all partners and each partner will need to see benefits from their collaboration, measured in their own terms, if their involvement in the partnership is to be sustained over time.
A business partnership proposal is a formal document that companies or individuals presents to their prospective business partner, who wants to get into a joint venture. If you are someone eyeing for a particular partnership with another business entity, a proposal is the best way to highlight your products or services, your company or expertise and how entering a joint venture can be beneficial to both parties.
How To Write a Business Partnership Proposal?
Partnerships help businesses expand to new territories, reduce the cost of production, enter new markets to expand the customer base. After studying the market and other businesses, and being able to assess who the right partners are for you, you then begin to draft your business partnership proposal. This document will describe what the business is about to help the potential partner assess how the joint venture will be of benefit to their business. More so, it is an opportunity for the business person seeking the partnership to market their business, highlight the short-term and long-term goals. Now that you've chosen your prospective business partner, it is time to started with the business partnership proposal. Here are the following components that makes up this proposal:
I. Cover Page
The cover page will contain the title of your proposal, author and business name and whom the proposal is addressed to.
II. Company Background
Brief background about your company, the business industry you are in and the services or products your provide and sell. Also include your mission and vision statement as well. After which state how your potential business partner could benefit from the alliance.
III. Objectives
Identify commonalities in prospective goals and objectives, as it's important to show that you understand the objectives and that both parties are aligned in terms of what those objectives are.
IV. Responsibilities of Both Parties
Should a partnership be formed, it is best to enumerate the different responsibilities as well the contributions both parties. And how these contributions help better both companies when working together. You can include how it can raise revenue, cutting cost, secure better business opportunities and many more. Explore all those possibilities and include this in your proposal.
V. Company Rights
Ownership of jointly developed or funded intellectual property (IP) can be contentious, so it's important to set expectations early on in the process.
VI. Legalities
Include any legal considerations in your proposals, best that you set things in prospective early on.
VII. Revenue
You may opt to include this in your proposal, probably just an overview and when your prospective partner expresses interest, a more detailed revenue sharing processes can be then drafted.
FAQs
What Is the Difference between Partnership and Corporations?
Business partnerships is a business in which two or more individuals share ownership, while a corporations is an independent legal entity owned by shareholders, in which the shareholders decide on how the company is run and who manages it. Corporations are separate from their owners, but in partnerships, owners share the business's risks and benefits.
Can You Dissolve a Partnership?
Yes, business partnerships can be easily dissolved as long as both parties are in mutual agreement. The best practice is for all partners to sign a written document declaring that the partnership is dissolved. A court can also dissolve a partnership.
What Is a Partnership Agreement?
This is a written contract between parties that contains the responsibilities, and profit and loss distribution of each partner, as well as other rules about the general partnership.
A lot of businesses were able to establish successful business alliances with the initial help of a business partnership proposal. A well-written business partnership proposal can further more promote your company, highlight what you can offer and identify the enormous benefits of working with partner companies.