It is a challenge to business owners and creators like yourself to keep your competitors from knowing the secret of your success. Refreshing and innovative ideas are always experimented to boost sales, and surely your competitors are always on the lookout to steal your ideas. Verbal agreements and handshakes are not enough to protect you from unwanted persona who wants to take advantage of you and profit from your ideas. Protect your assets from further damage. Intellectual property law is created for your benefit. But to make this law useful, you need to enforce a written copy of your agreement indicating your intellectual property between you and the other party in executing your transactions.
Sample Intellectual Agreement
So, what is an intellectual property agreement? Basically, it aids you in binding and executing your specified transactions between you and your partner in buying and selling intellectual property rights.
Listed below are a few samples of intellectual agreements to help you in protecting your intellectual property.
1. Sample Non-disclosure and Intellectual Property Rights Agreement
Trading secrets between company members is crucial during meetings, and there is always a possibility for third parties to be included in the picture. Never forget to provide a clear statement of your agreed terms and conditions in regards to your intellectual property rights to protect yourself. Let the parties hold liability in keeping confidential matters to themselves and take a peek at this sample document on non-disclosure and intellectual property agreement.
2. Sample Intellectual Property Ownership Agreement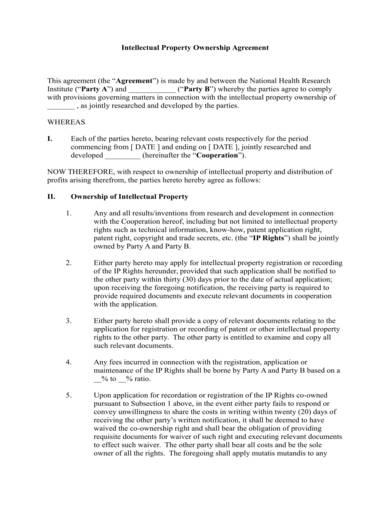 Researches are an essential document that holds your analysis and interpretation on a particular topic. As the author, you have the right to take ownership of your intellectual property. This sample agreement on intellectual property ownership can give you an overall idea of ownership on intellectual property, the publication of the dissertation, as well as distribution of profits without your consent.
3. Sample Technology and Intellectual Property Ownership Agreement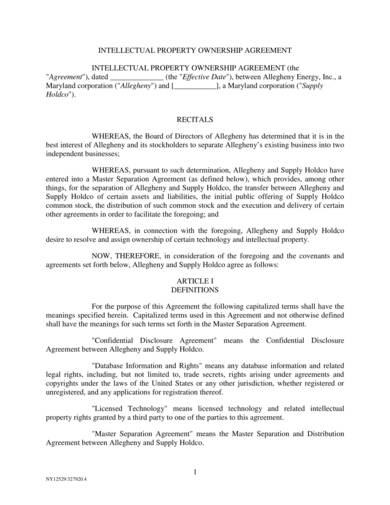 Creating a big project usually compose of several members to develop it. During the project, you have the right to inform your colleagues to maintain the confidentiality of your information. Take a look at this sample technology and intellectual agreement and maintain the secrecy and confidentiality of your business information. Agree upon your terms and conditions, the restrictions in disclosing any information about your project and provide penalties for every violation made by your members.
4. Sample Intellectual Property Assignment Agreement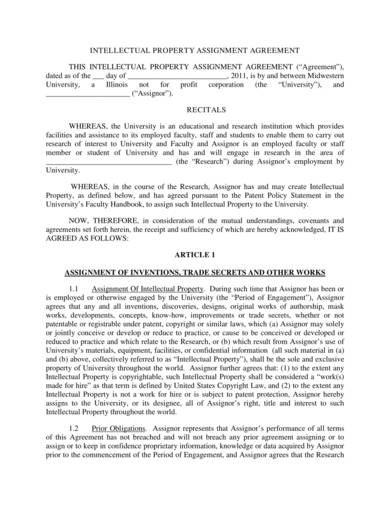 Institutions such as a university can delegate other people or company specific rights in executing or assisting particular activities. But for every assignment of intellectual property given, it is the responsibility of the institution to keep things confidential between them and the assignor. Whatever the assignor discovers, such as concepts, improvements, or trade secrets, should always remain inside the institution's premises.
5. Sample Confidential Information and Intellectual Property Agreement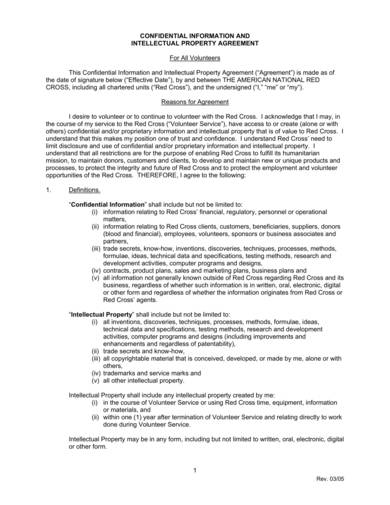 Volunteering for a good cause is an inspiring thing to do. Red Cross is one of the world's largest humanitarian network which offers volunteer services to areas which are struck by disasters and calamities. As the volunteering activities are occurring, it is inevitable to disclose some sensitive data about the organization to their respective volunteers, sponsors, and business associates. Prepare a good agreement checklist and oblige your volunteers to keep things confidential by letting them sign a confidentiality and intellectual property agreement.
6. Sample Special Intellectual Property Agreement Form for Students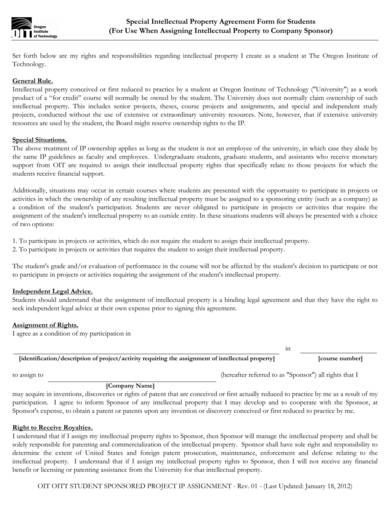 Students have numerous amount of home works, projects, and researches. As a rule, every output made by the student is automatically owned by him or her. But, in some exceptional cases, students are allowed to give their university or sponsors the rights to any inventions, discoveries, and the rights of the patent they acquire during a particular activity. During these cases, they should agree to sign a special intellectual property agreement with their respective universities and sponsors.
7. Sample University Intellectual Property Agreement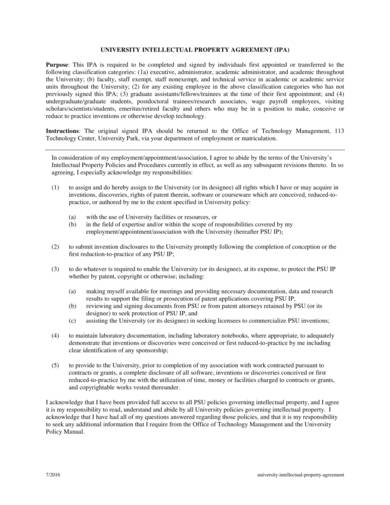 Universities also need to protect their intellectual property. Creating a written intellectual property agreement can help provide legal certainty not to disclose any sensitive information on confidential matters to unauthorized people. This sample university intellectual property agreement is beneficial to both the university and the other party involved in the transaction.
8. Sample Intellectual Property Agreement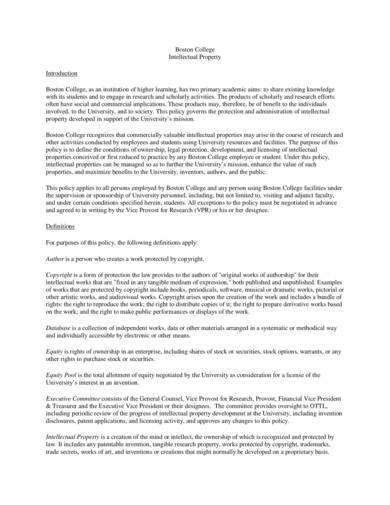 Protect your ideas and limit other people's ability to exploit your hard-earned ideas. Create excellent non-disclosure agreements between you and your employees and manufacturers. Assign intellectual property rights to your creation and have them sign a written agreement. Don't solely rely on non-disclosure agreements because not all investors enter this type of agreement. Then again, having a written agreement is still better than merely entering a verbal agreement with the other party.
9. Basic Intellectual Property Agreement  Sample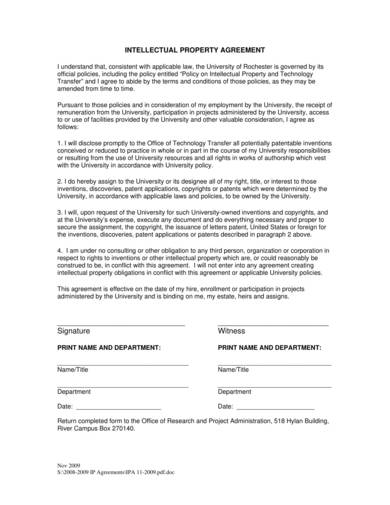 In every institution, it is a standard procedure to provide your employees not only with an incorporation agreement but also with a written agreement to assign your institution's rights to intellectual property. The content of your intellectual property agreement may vary depending on your institutional policy. In this sample intellectual property agreement, it requires your employee to transfer all potentially patentable inventions to their affiliated institution under the policy on intellectual property and technology transfer.
10. Sample Intellectual Property and Confidentiality Agreement
Technological innovation are always occurring nowadays. Inventors are continually discovering many developments to improve our way of living. According to the U.S. copyright law, "any inventions are subject to copyright." To avoid other inventors from claiming your inventions, it is best to patent your work. At the same time, get a copy of a written intellectual property and confidentiality agreement and assign intellectual property to your designs.
11. Sample Intellectual Property Agreement Form for Students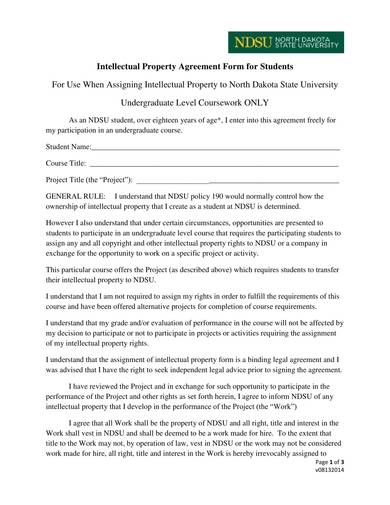 Before a student graduate, he or she must undergo multiple projects and research works. As the creator, they are entitled to have ownership in their work. In case a student wishes to publish one of their school work, they need to mutually agree to give the intellectual property to their affiliated institution. In doing so, he or she needs to sign a written intellectual agreement to complete the transaction.