One of the most important components of every travel itinerary is hotel accommodation. Once you've started thinking about going on a vacation or perhaps you need a place to stay for a business trip, one of the first things you would think about is where do you want to stay. Hotels remain the most sought-after travel accommodation despite the popularity of AirBnbs. The convenience, location, security, and amenities are some of the most important aspects of why guests prefer staying in hotels. So hotels, to live up to their client's expectations must be able to deliver the best concept of what they stand for. A hotel's brand is more than just their name or logo, it is a representation of what the establishment is and what they aim to deliver to their guests. For those who have decided to open up a hotel business or are thinking of re-branding, then this requires careful planning amongst important stakeholders and decision-makers. To start, you may want to present a hotel branding proposal to set the plan in motion. To know learn more, let us discuss about this below. And if you want to start working on this branding proposal, then check out our free hotel branding proposal that is available for download on this page.
3+ Hotel Branding Proposal Samples
1. Hotel Branding Proposal Template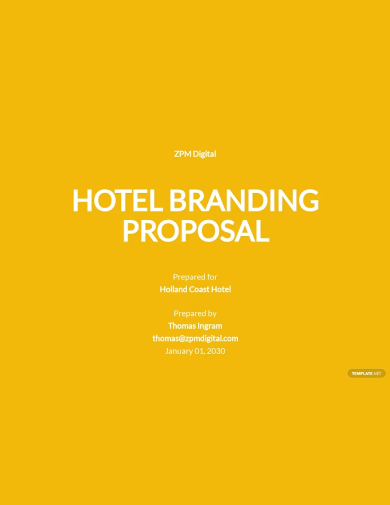 2. Hotel Branding Project Proposal
3. Hotel Branding Management Proposal
4. Sample Hotel Branding Proposal
What Is a Hotel Branding Proposal?
When we think about hotel brands, we often come across the likes of Marriott, Four Seasons, Holiday Inn, Hilton, and many others. To be able to create such a successful brand presence isn't too hard to do, unlike before. In this day and age, even small boutique hotels or if for those who are new in the hotel industry can build their own unique brand presence and utilize it to set them apart and drive them towards more successful results. The right brand should be able to represent the establishment of who you are, what you believe in, and how you want to be perceived by your audience. It must be something uniquely just yours. This is why it is important to be able to create something that sets a hotel apart from the rest. To convince the decision-makers of the company, you need to create a well-crafted hotel branding proposal that may change the whole outlook of the establishment. This proposal aims not only to convince the higher-ups but to make a difference to the company, as you will be giving the hotel a unique identity that should stand out from its competitors.
How To Create a Hotel Branding Proposal
Creating a hotel brand requires meticulous planning. Not only that you need to gather data which means researching your target market, your competitors, the market trend, and the customers you aim to serve. Remember, a hotel brand is not just about the logo its how the whole establishment presents itself to the world. So the hotel's concept, theme, amenities, and even staff have to rely on how the brand is represented. So, you do not only think about the logo but the color scheme or at times a quotation that would represent the hotel's identity. Once you are able to establish all that, it's time to start creating a hotel branding proposal. Each proposal is unique in nature, but it should contain the following elements below.
1. Executive Summary
An executive summary is an overview of the entire proposal. Usually written last, this section of the document will give the readers an idea of what the proposal is all about, and in this case your approach on how to devise a branding concept for the hotel.
2. Identify the Needs for a Strong Brand
The next step is to present why the hotel needs a strong brand and how important it is to create one. If there is a need to re-brand, then it is also important to point out how this change will affect the company. You can present the challenges but make sure to pinpoint more of the positive outcome it can create revenue-wise and against direct competitors.
3. Branding Solution
Now that you have established the importance of creating a brand for the hotel, propose a solution that meets those needs. In order to do this, it is vital that you have conducted your research on various areas that can influence the brand that you are proposing. For example, when creating a brand you must be able to design something that is relevant to the market the hotel serves. Not only that it should be unique, powerful, and something that speaks highly of the hotel itself. More importantly, it should provide a lasting impression to clients and even competitors.
4. Budget / Price
Creating a new brand or even re-branding is a costly affair. From the design concept, marketing activities, and implementing the change in amenities and other relevant components that makes up the entire hotel premise.
5. Project Timeline
Provide a timeline of activities as you work on the new brand, this will give decision-makers an idea of the entire process from its creation, launching, and monitoring. This will set everyone's expectations about the whole development of the brand.
FAQs
Why Is Brand Identity Important?
This is important because basically, it sets a company apart from others. This shapes your client's perception of who you are and what your business stands for.
What Is a Brand Concept?
A brand concept is the different core ideas that make up the brand itself. It is a general idea or abstract meaning behind a brand
What are under the Hospitality Industry?
The different sectors under the hospitality industry are lodging, recreation, travel and tourism, food and beverage and meetings and events.
A well-crafted hotel branding proposal may be the key to providing a unique brand concept for the hotel. Make sure you've done your research while you are in the process of preparing your proposal. To make it easier for you to prepare don't forget to download our free templates above!