The secret to the success of every event is not only to have an efficient and well-thought-out plan but to also have a comprehensive promotion plan with the goal to make the event known to the public or at least to its target audience. If event organizers do not have proper promotion tactics for the event, it is likely to fail as no one will show up and all the effort of preparing for the event is ruined. Promotion planning can be as tricky as executing the promotional process so it's important to take time to prepare for it and brainstorm ways how to do a promotion plan for your event. This article will guide you on how to make an event promotion plan.
10+ Event Promotion Plan Samples
1. Event Promotion Plan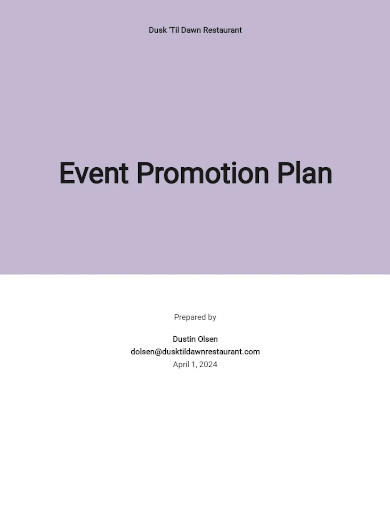 2. Sample Event Promotion Plan
3. Entertainment Event Promotion Plan
4. Event Promotion and Marketing Services Plan
5. Simple Event Promotion Plan
6. Strategic Event Promotion Plan
7. Social Media Event Promotion Plan
8. Event Promotion Plan Example
9. Employer Event Planning and Promotion
10. Formal Event Promotion Plan
11. Printable Event Promotion Plan
The Key Elements of an Event Marketing Plan
Here are the key elements when creating an event marketing plan:
Event goals and budget
Event content and management tactics
Promotion channels and venue
Communication tactics
Team delegation
Collaboration strategy
How to Create an Event Promotional Plan
1. Know Your Target Audience
You must be able to recognize your target demographic, account for all conceivable nuances, and determine how this connects to your offering. Learn about your target market and how they differ from your competition.
2. Establish Your Goals and Objectives
There is no such thing as an event without a goal. Make a list of your event's goals and objectives. The goal is crucial since it establishes the overall structure of the marketing strategy document. Once you've decided on your goal, make sure everyone in your team is on board and working toward the same goal.
3. Make a Budget and a Schedule
Big or small, you must also be aware of the money allotted to your marketing initiatives. While constraints will limit certain aspects of your marketing strategy, they will also show you where you can afford to be more innovative. You can establish a total budget for the duration of the event marketing campaign if you construct a campaign with precise start and finish dates.
4. Create the Timeline
Remember to create a timeline for your event marketing plan. This will help you in meeting deadlines and releases, setting short targets, and other scheduling and management concerns.
5. Gather Your Team
Gather your team and go over the details of your marketing strategy. Make sure that everyone is aware of the situation and understands what is required. Certain responsibilities must be delegated and divided among the most capable team members.
6. Prepare Your Marketing Tactics
Prepare your marketing content with your goals in mind, beginning with the event schedule and speaker roster. Include the marketing types you'll use to promote your event in your strategic plan. You should also highlight key themes, such as the advantages of attending the event, keynote speeches, testimonials, or a video from a prior event.
7. Plan the Event Promotion
An event content strategy, email campaign, targeted emailing, your event's value proposition, booth ideas, or social wall ideas, and more are all examples of event marketing items. Keep in mind that non-marketed events do not create an impact. Prepare to publicize your event and carefully plan out your engagement techniques to create a true buzz.
FAQs
What are examples of promotional plans?
Promotional plans can include:
Contests
Social media promotion
Mail order marketing
Product giveaways and samples
Point-of-sale promotion
Customer referral incentive program
Charity causes
Promotional gifts
What are the five main promotional strategies?
The five main aspects of promotional strategies are advertising, personal selling, sales promotion, public relations, and direct marketing.
What are the three Cs of an event marketing plan?
The three Cs are the key components of an event marketing plan that will surely get tons of attendees. These three Cs are customer profiles, collateral, and calendar.
Get the word out about your event in the right places. You must define your target market using demographics and psychographics.  Don't forget to also make the most of your event speakers and attendees. You, your speakers, sponsors, and exhibitors all have the same goal: to increase the number of people who attend your event. Use this common aim to urge event attendees to help promote your event as part of your event marketing strategy. To help you get started making the contract, download our free sample templates above to use as your guide!