Events are planned gatherings that have a variety of purposes. This could be corporate events, festivals, sports events, social events like birthdays, weddings, funerals, or conferences and seminars, etc. Planning these type of events can go on from simple, to elaborate depending on the size of people intended to attend and the nature of the event. In short events would not take place without a group of people organizing this behind the scenes. They need to work up an event development plan to ascertain that the kind of event will be successful. Read more about event development plan in our article below and don't forget to check out our free event development plan samples as well.
3+ Event Development Plan Samples
1. 
Event Development Plan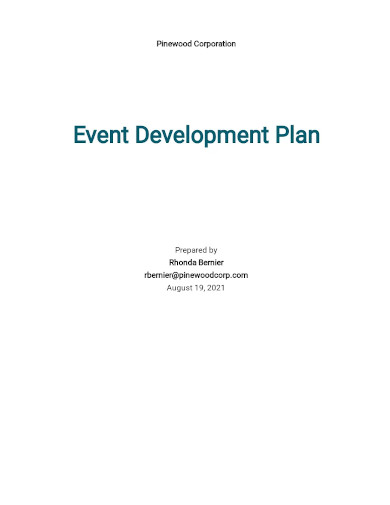 2. Event Management Development Plan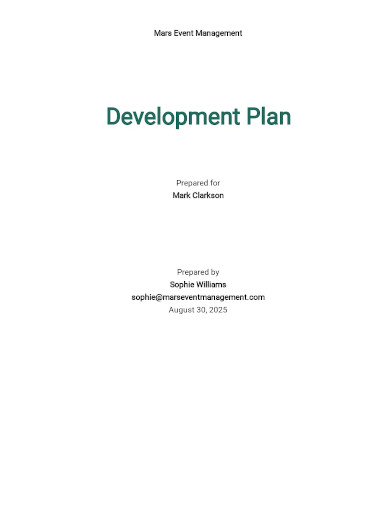 3. Event Marketing Development Plan
4. Sports Event Development Plan
What Is an Event Development Plan?
An event is a complex affair with multiple details that require attention. Whether this is for a business conference, a wedding, an art exhibit, a concert, a banquet, or a book signing, the planning stages may take weeks or even months depending on the number of people attending and the elaborateness of the venue and activities. To make sure the event runs smoothly, a planner is tasked with coordinating each step of the process from beginning to end. Events always start with a concept, a theme and what the organizers would envision to see. An event development plan would help guide you throughout the event planning process, most especially if such affairs are complicated and demands more detailed attention. An example of these are music festivals that are held of several days, the Carnival of Brazil, large scale conferences most especially if you have important dignitaries on board and many more.
How To Create an Event Development Plan?
Before you can get down to your event development plan, it is very important to clarify things early on. This would mean meeting with the client to confirm basic details such as dates, times, locations, budgets, and the size of the audience. The planner then books and coordinates the venue, service providers, transportation, accommodations, and other critical elements. With a lot of things to consider and you  certainly do not want to overlook a single important detail, you may want to start creating an event checklist that can help guide you throughout the planning stage. To start here are some items that can help you create an event development plan.
1. Event Vision and Goals
Start your planning by establishing a tangible goal and a vision of what the event may be. If you are aware of your key goals while planning, then you can ensure that every part of your event is optimized for success. And having a vision in mind will make it easier for you and your team to successfully attain this.
2. Event Team
Organizing an event is one thing, managing your event team is another task. A well designed designation of  individual roles to team members creates a system of accountability, as well as preventing tasks from being overlooked.
3. Estimated Budget
Budgeting is an important detail that should not be missed out when it comes to event planning. It would create a domino effect if not carefully planned out. In some cases, you will also need to determine if the event will be funded by any government entities, organizations–if there is a need for sponsorship or if this is private event which will have a different flow to it. So budgeting will depend on the affair that would take place.
4. Overview of the Recommended Event Theme, Date and Program
So there's is also this task of considering the right date in which to hold the event–making sure it does not overlap with something similar perhaps (such cases would be music festivals or concerts with the same theme) or any special holidays that may or may not seem offensive to the people within the community or city. Then there is the matter of the theme which would be better discussed with the client, the entire event program content and of course the venue that must suit the theme of the event. You will need to carefully review and analyze the event environment. Remember, all these must be booked beforehand, so planning for your event must have a lot of allowance in case some things do not go as plan.
5. Marketing Plan
If you are planning an event on a large scale and demands public attendance then you must work on your marketing plan and publicity promotion. You must be able to identify target markets, key messages, recommended channels for advertisement and the budget that goes along with it.
FAQs
What Is an Event Planner?
An event planner organizes a variety of events to include business conventions, weddings, and educational conferences, and more. Part of their job is to ensure that everything related to an event is taken care of, from idea conception to programming and logistics.
Is Event Planning Difficult?
Depending on the complexity of the event you are about to organize, it can be quite difficult but if you have your plans all set out and with the right event team then it should be not to hard to accomplish.
What Makes an Event Successful?
Events are successful thanks to the team behind it, and their meticulous and comprehensive planning.  So if you need to set up an event, plan it early. Ample time can give event planners more ideas and ways to make it an unforgettable event.
Most of us enjoy events, most especially for leisure and even business conferences where we meet new and old acquaintances. For some people these are milestones, a celebration of success or a special occasion. And to make this happen, a well-crafted event development plan should help realize the vision for the event.