Mind mapping has proven to be an effective tool for brainstorming, ideation, and innovation in both large and small businesses. In business, mind maps can allow the team uncover hidden ideas and tap into greater potential. Mind mapping can help you towards where you want to be in the organizational processes, whether you're gathering ideas for a new enterprise or wanting to streamline existing operations. The ultimate tool to take your company to the next level is mind mapping. It is not only fast, simple, and effective, but it can also save you energy / cost. A mind map is a graphical, branching structure that helps you absorb and manage knowledge and information.
10+ Management Mindmap Samples
Current project management concepts are as common as the organizations that employ them. To mention a few, we have process-based, conventional, lean, efficiency and value, and critical chain project management. Each strategy necessitates the development of new methods, tools, and diagrams, which may or may not work for you. Intensive processes and detailed designs might consume a great amount of time and resources without providing a return on investment, especially if you operate a small or medium-sized staff. Fortunately, a technique as simple as project management mind maps may be able to correct this problem.
1. Time Management Strategy Mind Map Template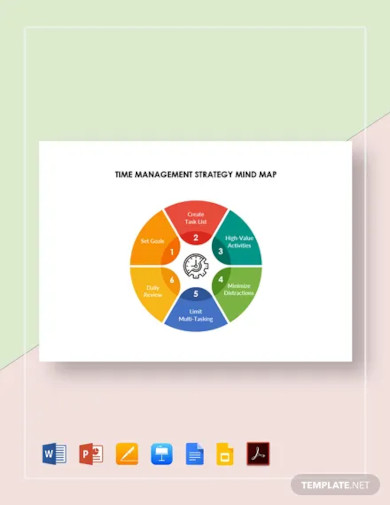 2. Time Management Mind Map Template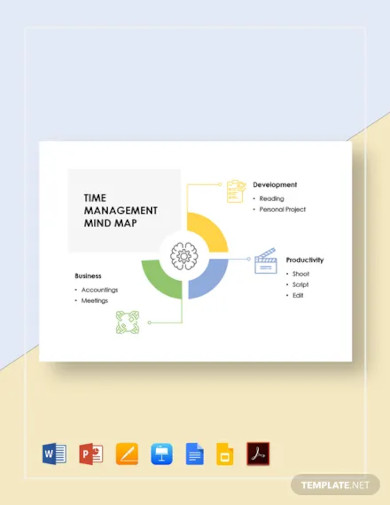 3. Task Management Mind Map Template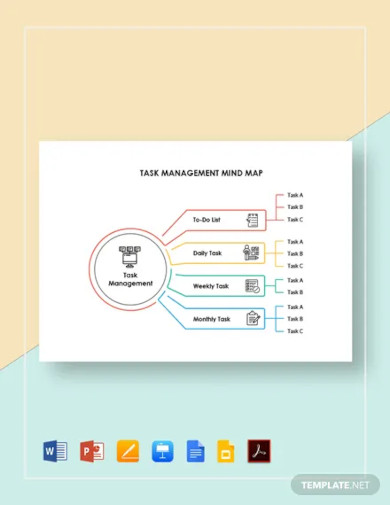 4. Standard Management Mindmap
5. Order Management Mindmap
6. Simple Project Management Mindmap
7. Mind Mapping for Management
8. Printable Management Mindmap
9. Management Mindmap Sample
10. Risk Management Mindmap
11. Time Management Mindmap
Using Management Mindmap
Managers can use project management mind maps to their advantage throughout the contract lifecycle. Here are a few suggestions.
Break down process into manageable project components using a mind map. Collaborate with technical and decision-making stakeholders to add criteria to your mind map for each aspect.
Use mind maps to write things down during important meetings. As the meeting progresses, jot down the meeting's primary idea and then add branches with thoughts, questions, and important points. Using mind maps instead of bullet points to take notes forces the listener to connect with the subject, which improves understanding and retention.
Make presentations out of your program management mind maps. The organic flow of concepts in a mind map enables you to alter your presentation as per reactions of your audience, as opposed to constructing a presentation that presents concepts sequentially. Concentrate on topics of focus and skip over points that do not hold the attention of the audience.
Content is organized topically in mind maps. Organize links, files, graphics, and contact information for colleagues by topic. You can discuss this mindmap with others who may need access to the documents. They can always open the document and find what they want and need.
Use thought maps to brainstorm with your team. Sitting down together and throwing ideas on a whiteboard is one of the finest methods to break through a productivity rut, whether you're attempting to solve an issue or come up with a new initiative.
The ability to mind map a to-do list can boost individual and team productivity. Consider all of the components of a project, as well as the actions required to complete each component. After you've mind mapped all of your tasks, make a list of them in order of importance. Before constructing your prioritized list, start with a mental map to verify that no vital chores are overlooked.
FAQs
How to improve the experience of customers?
To improve your consumers' experience, you must first comprehend their journeys. Companies can use journey maps to determine which touchpoints add value and which ones detract from it. Across industries, consumer satisfaction and business outcomes are considerably better predicted by whole journey experience than satisfaction at a single touchpoint. Companies can improve the customer experience and gain a competitive advantage over competitors by better understanding the phases and stages involved in customers' journeys and managing full customer journeys.
When are mindmaps being popularized?
Tony Buzan, an author and educational consultant, popularized mind maps in the 1970s as a way to organize related topics around a primary or core notion. Subtopics radiate outward from the central idea, which is then put down. If needed, each subtopic can be further divided down, resulting in a mind map with hundreds or even thousands of end nodes.
If you want to see more samples and formats, check out some management mindmap samples and templates provided in the article for your reference.