As an employer, thanking employees for a job well done or for their long years of service can go a long way. Even a small gesture of gratitude can encourage them to continue their exemplary performance. And that helps your company in many ways possible. So if you're looking for ideas to thank your employees, writing a simple thank you letter or thank you notes will do. With that said, here are 12+ Sample Thank You Letter to Employees, all of which are for free!
Free Thank You Letter to Employees For Excellent Performance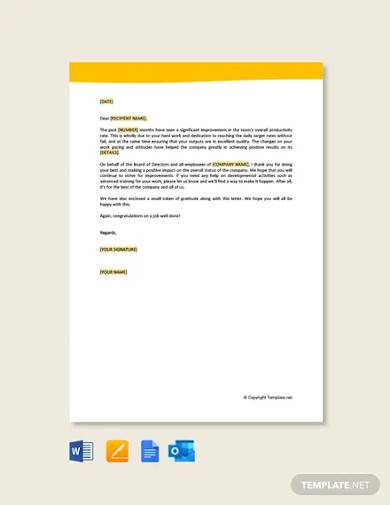 Free Thank You Letter to Employee For Job Well Done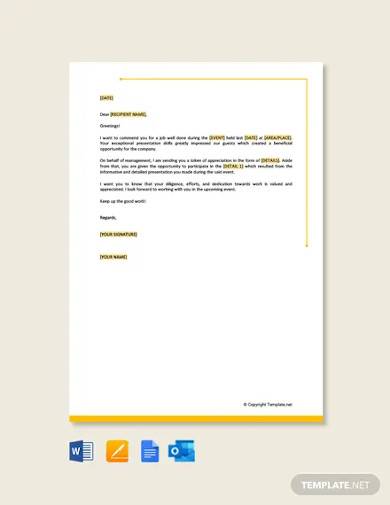 Free Thank You Letter to Employee After Resignation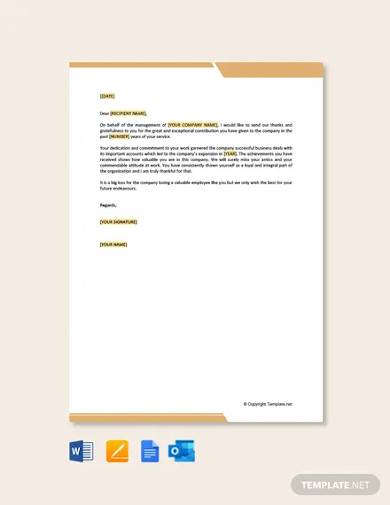 Free Thank You Letter To Employees For Hard Work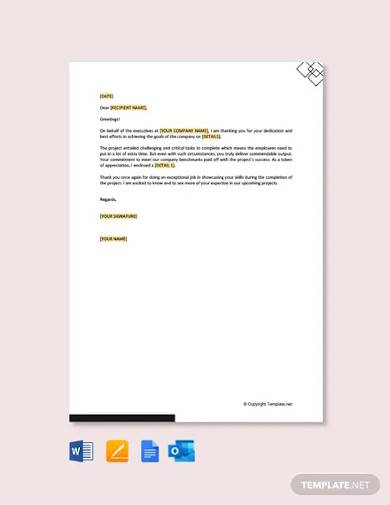 Free Employee Thank You Letter Template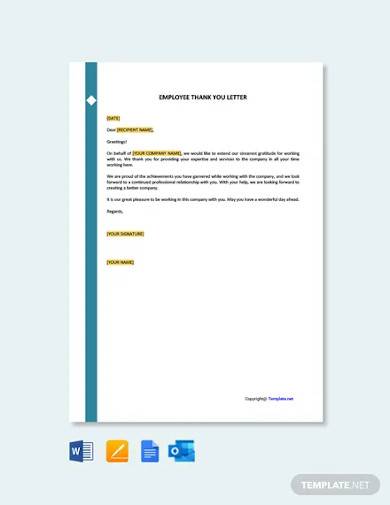 Year End Thank You Letter to Employees in PDF
Sample Thank You Letter to Employees for Hard Work
Manager Thank You Letter to Employees
Thank You Letter to Employees for Excellent Performance
Thank You Employee Appreciation Letter in Doc
Thank You Letter to Employees Sample
Free Sample Thank You Letters to Employees
Thank You Letter to Employee Example
How to Show Gratitude to Employees
Appreciating an employee is also an important function of every employer or HR manager like you. You don't just manage your people; you also uplift them by expressing to them the gratitude that they so rightfully deserve. So grab your checklist pad and take notes of these tips in executing employee appreciation.
Give Them a Bonus
A bonus is one of those rewards that immediately makes employees smile. Of course, we all know that to be true. Seeing a plus on our payslip excites us as workers. That said, giving employees a bonus is always a good idea to repay the hard work of your people. So check their performance and see which employees deserve a bonus for next month's payroll.
Recognize Excellent Employees Regularly
Monthly company general meetings are a great means to do employee recognition. It's a way of letting the entire company know that this and that employee did good things in the organization. And that can boost the recipient employee's morale. According to a report from Achievers, companies can enjoy a 27% less absenteeism if they double the number of workers who'll receive rewards and recognition. You can thank your employees by awarding them with appreciation certificates.
Conduct Employee Feedback Survey
It sounds unlikely, but yes, conducting an employee feedback survey can be a way of expressing your thanks to your workers. It's a sign that you, as an employer, care for the welfare of your employees. They will see a feedback survey as your approach to start making changes in the workplace for their benefit.
Send Them a Thank You Letter
Sending a thank you letter is probably the simplest approach in thanking an employee. Despite that, for us, it's very meaningful. That's because it's more personalized, and it has a personalized message. The recipient employee will certainly feel that you're grateful for his or her contributions to the company.
Basic Tips in a Writing Thank You Letter to Employee
With what we had said about thank you letters a moment ago, we encourage you to make them for your valued employees. These types of letters are pretty much easy to make. You can even finish one within an hour. Whether you'll be writing a thank you letter to staff for support, a thank you letter to staff for hard work, or a thank you letter for project completion, these basic tips will guide you.
Address the Employee Professionally
Even though you're multiple ranks above the employee in the organizational chart, you must address him or her professionally. Use "Mr." or "Ms." before his or her name. It's a way of showcasing respect to the employee. And, of course, it's being a professional in your part.
Talk About the Employee's Achievements or Significant Contributions
The employee's achievements and contributions should be the highlight of the thank you letter. They're the main reason why you'll be writing it in the first place. Plus, in this way, the employee will know that you're aware of the positive things he or she has done for the company. With that, he or she will be grateful.
State a Reward If There's One
If there's a reward coming for the employee, talk about it in the letter briefly. It could be a cash bonus, a movie ticket, a one-night stay at a five-star hotel, or a promotion. But if the letter is for an employee who'll be leaving, the best reward would be a handsome cash bonus for his or her last payday.
Observe KISS
A thank you letter to employee is a type of formal letter. So, you have to observe the KISS principle when writing it. KISS stands for "Keep It Simple, Stupid." The word "Stupid" sounds humiliating. But there's nothing to it. It's just a fancy way of calling this principle in writing. When you write the letter, just go straight to the point about expressing your gratitude to the employee.
How to express appreciation to an employee through email?
If you want to appreciate your employees through email instead of a thank you letter, here's how:
Set a clear subject line on the email. Make sure it implies that it's all about your gratitude.
Be sincere about it, like writing a tangible thank you letter.
State what rewards await them.
How to say thank you with a professional tone?
Because a thank you letter to employee is a formal document, a professional tone in conveying thank you is fitting. So here are some sample phrases to express your gratitude professionally:
The company and its management sincerely appreciate your efforts.
We, the management, are immensely grateful for your contributions to the company.
Please accept the company's deepest thanks.
Why is sending a thank you letter to employees important?
Although no labor law says employers should send thank you letters to employees, it should be a part of your principle. Keep in mind that to some employees, a little gratitude from their bosses is what it takes to keep them motivated. Sending thank you letters is such a simple and small act that can strengthen your company's workforce morale. A thank you note would also do.
Writing and sending a thank you letter to great employees doesn't cost your company anything. In fact, not expressing your gratitude to them is what's costly. Some employees tend to resign or quit a company that doesn't recognize their efforts. So use our examples of thank you letters and let your people know that your company values them.