We've all had that one professor who has immersed himself/herself in the process of molding us into better individuals. While most professors strive to merely teach the subject matter they are required to impart to their students, there are, however, those who extend their scope of mentorship by making sure that their students are motivated to become more self-aware and to push through their self-boundaries. That is why, if you are fortunate enough to have been enlightened by the guiding hands of such a professor, it is only proper that you express your thankfulness toward him/her. You can do this by writing him/her a heartfelt teacher thank-you letter.
To help guide you in your letter-writing, feel free to download our teacher Sample Letters, which can provide you with the proper content, layout, and format. Scroll down below to view our templates!
Free Thank You Letter to Teacher from College Student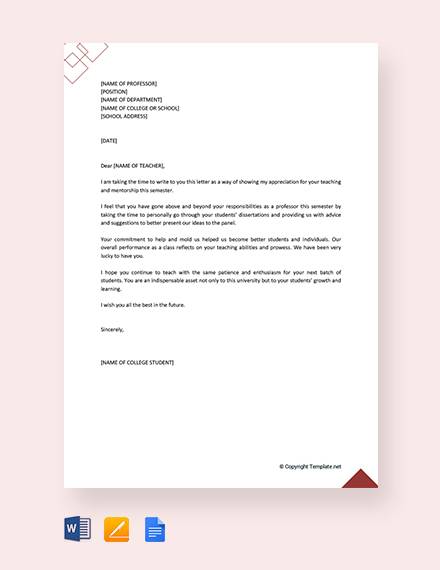 Free Thank You Letter to Teacher from High School Student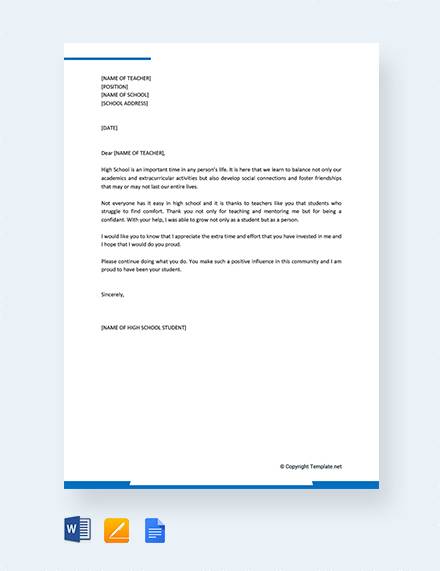 Free Thank You Letter to Teacher from Student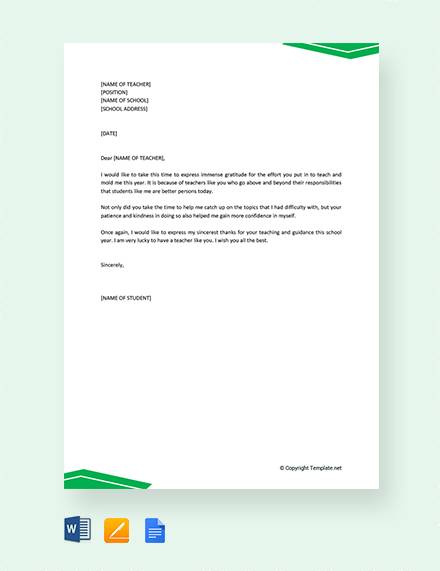 Free Thank You Letter to Teacher from Parent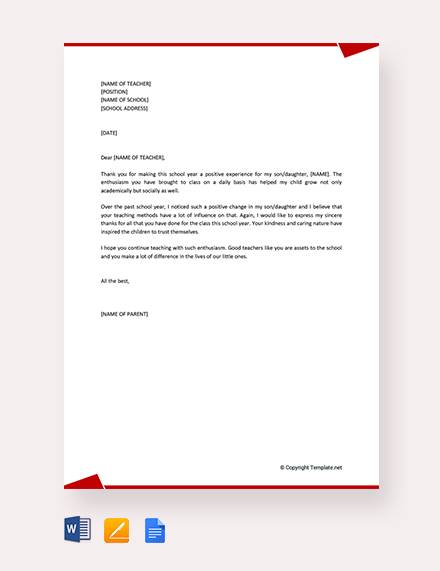 Thank-You Letter for Student Teacher
Sample Parent Thank-You Format from Teacher
Sample Teacher Interview Thank-You Letter
Why Write a Thank-You Letter to Your Teacher?
The following are the prevailing reasons why you must thank your teacher:
in order to express your genuine thankfulness toward him/her;
in order to make him/her feel that his/her methods of teaching are meaningful and that therefore, his/her life's work has a purpose;
in order to encourage him/her to keep on inspiring his/her future students;
in order to reconnect with your teacher and open the bridge between the both of you so that you both can continue learning from each other;
in order to make your professor aware of your progress in your career or self-development so that when the time will come that you would need someone to write you a recommendation letter, your teacher would gladly do you the favor; and
in order to strengthen the bond you have with the person who has made a great impact in your life.
Aside from the teacher thank-you letter we have on this page, we also have a collection of Personal Thank-You Letter that you may use should you have the need to express your gratitude toward other persons who have touched your life in a significant way. These templates are easy to edit since these are also available in PDF and Word formats. To access these templates, simply click on the link provided.
Thank You for Teacher Appreciation
Sample Letter for High School Teacher
Thank You Letter for an Interview
Letter for Elementary School Teacher
Things to Remember in Writing a Teacher Thank-You Letter
The following are some guidelines that you should observe when you are in the process of crafting a teacher thank-you letter:
Genuineness is the key. In  expressing your thankfulness, always make sure that you write only those that you genuinely feel. Avoid exaggerating your gratefulness.
A combination of brevity and warmth. It is best to not over-write but also keep your letter warm and heartfelt.
Specificity. Narrate the specific personal achievements that you think is a direct result of your teacher's lessons and guidance. Explain to them your struggles and how their teachings have goaded you to persevere despite tribulations.
For more reference, you may also check out our collection of Thank-You Letter to Teacher from Student. Simply click on the link provided.