Do you want to create an innovative start-up? Perhaps as a software engineer, you want to create a revolutionary app that can transcend boundaries between deaf and mute community and ordinary people who are not fluent in various kinds of sign languages across the world, helping to understand one another without difficulties. Or as a CEO or manager of a small fashion and clothing retail company, you want to expand your business in the beauty industry like adding some unique skincare and makeup products for your brand. Whether you are a newbie or an experienced person in the corporate world, having a company sheet is helpful in this matter. In this article, here are some guides about creating a company sheet and downloadable samples to assist you. Keep on reading!
FREE 15+ Company Sheet Samples
1. Company Information Sheet Template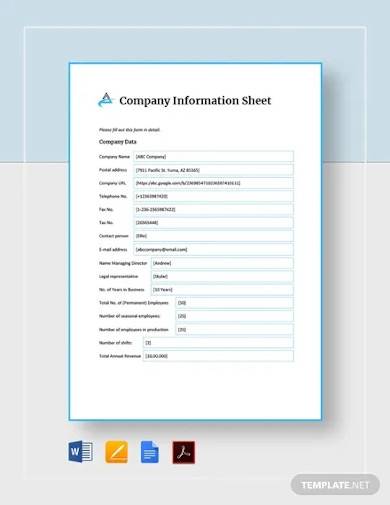 2. Company Balance Sheet Template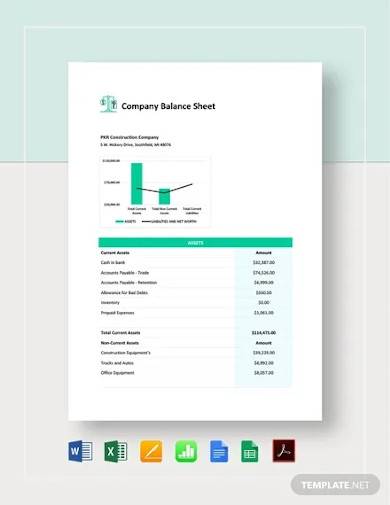 3. Company Fact Sheet Template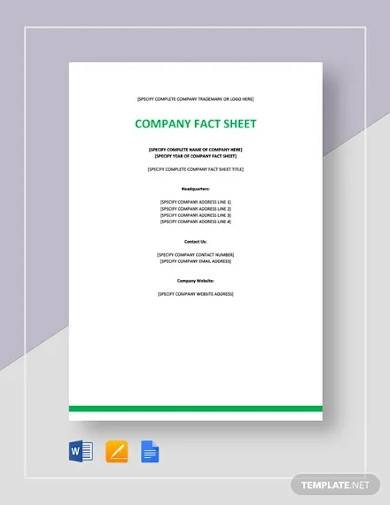 4. Financial Report Sample for Small Business Template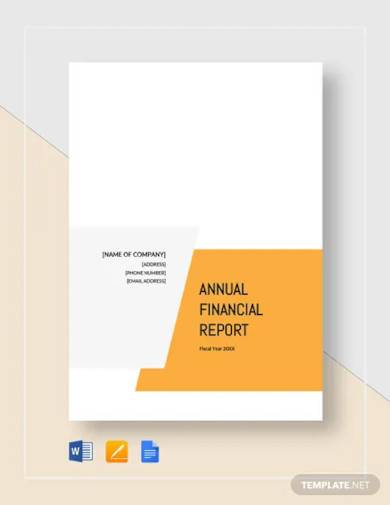 5. Free Company Attendance Sheet Template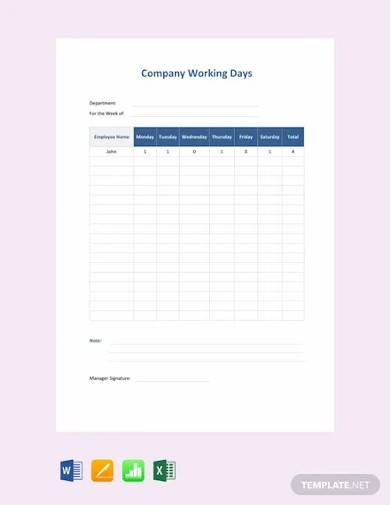 6. Free Company Expense Sheet Template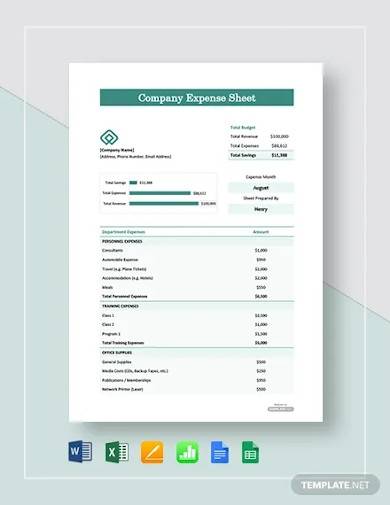 7. Free Simple IT Company Balance Sheet Template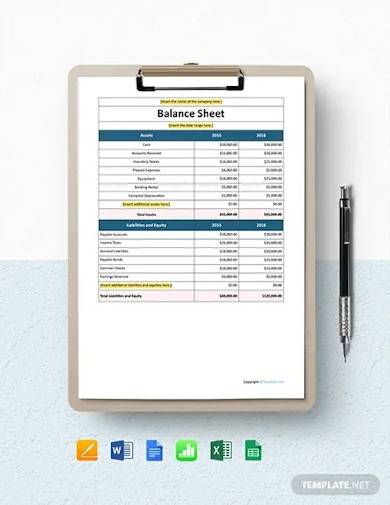 8. Company Fact Sheet Template
9. Sample Company Profile Sheet
10. Company Overview Fact Sheet
11. Companies Roster Sheet Format
12. Sample Company Fund Fact Sheet
13. Printable Company Data Sheet
14.Professional Company Fact Sheet
15. Company Profile Sheet Template
16. Payroll Company Contact Sheet
What is a Company Sheet?
A company sheet is a simple profile overview of important information about your business, campaign, company, balance, startup, sales, and organization. It is an easy-to-skim, and concise summary of your business that can be adapted for a wide array of purposes.
How to Create a Company Sheet?
While you are creating your company sheet,  you must contemplate the type of relevant information you want to include. For example, a fact sheet made for sales or marketing should focus on presenting straightforward product or service information to heighten the audience's interest. A fact sheet made for internal reporting should incorporate data analysis on business growth and other key metrics. In this section, we provide some useful tips that you can learn and apply in creating a company sheet: 
1. Construct a compelling headline
Start with an attention-grabbing headline that summarizes the main takeaway of the company fact sheet. To write a compelling headline, you must understand your target audience. Then, write an outline of your company info so that you can brainstorm well about the important points. Then, write several different headlines and try reading them out loud. Select the title that has the most important advantage. You can also include the company's product in the headline.
2. Write the summary of the company info
Once the headline has grabbed the readers' attention, the first paragraph should summarize the essential gist of the company sheet. Your summary should capture the most significant information. It must be concise and highly readable as it can stand on its own. The paragraph must be no longer than six to eight sentences. When you're done with the summary draft, read it repeatedly and make some couple of revisions if it needs to. It should be short and straightforward so remove any unnecessary sentences or phrases. 
3. Include some product and services descriptions
In this section, cite the most sufficient facts that will certainly peak your reader's curiosity in knowing your company more. Tell your customers about the benefits of your brand to their lives by providing important details about the products and services of your company. Plus, this article recommends that you can utilize some graphs to show metrics and insert images or icons to describe features.
4. Indicate important events and business metrics 
To provide an overview of your progress, create a list of your milestones turning points for your company: product launches, fundraising rounds, sales and revenue milestones, usage metrics. By doing this, both the team and your stakeholders gain a sense of your organization's accomplishments and it adds credibility to your business and product. You can also insert a table to show more detailed dates and metrics.
FAQs
What is the purpose of creating a company sheet?
Creating a company sheet is a fundamental tool to be used as product or service fact sheets for sales teams, as investor intros for startups, and as organization fact sheets for human resources or executive groups. Moreover, it can be useful for internal reporting, various marketing collaterals, and PR and media relationships. 
What are the basic elements of a company sheet?
Here are the basic elements of a company sheet to consider:
Headline
Summary paragraph of most important company information
Bullet point list of supporting facts
Call to action
Sources or attributions
Links and references for more information
What a fact sheet looks like?
Based on this reference, a fact sheet lists all the essential information, facts, and figures concerning a specific topic with the help of charts, images, files, and many more. Fact sheets usually compose of company overview, product information, statistics, technical data, company milestones, business key metrics, FAQs, lists, "how-to" pages, educational material, and so on.
How do I make a one page fact sheet?
This article suggests that you must use a 10-14 point font. For this page, it should begin with the words "Fact Sheet," followed by a very clear and simple headline that explains the subject of the page. Use bullets if possible and leave a lot of white space. Use bolding, text boxes, and graphics to emphasize main highlights.
Creating a company sheet for your startup or current business is very significant in terms of enhancing the value and impression of your overall brand. Especially, it is beneficial in helping your business thrive and grow beyond your goals and surpass diverse possibilities. This document can help you attract potential investors, reach new customers, recruit new employees, and fulfill many other goals. If you're currently searching for some inspiration in making a company fact or information sheet, we give you some downloadable and printable company sheet samples here in different types of formats. Click the templates in this article and start downloading now!