A work from home set up has been long practiced by some companies, but has only gained popularity given the corona virus pandemic which forced a lot of companies to transitioned to this kind of arrangement. But how does a company monitor the productivity of their employee with this kind of set up? Well, employees are tasked to submit a work from home report on either a daily or weekly basis for employers to check on their progress. Read more about it in this article, and if you want to start creating one go check out our free work from home report samples below:
4+ Work From Home Report Samples
1. Work From Home Report Template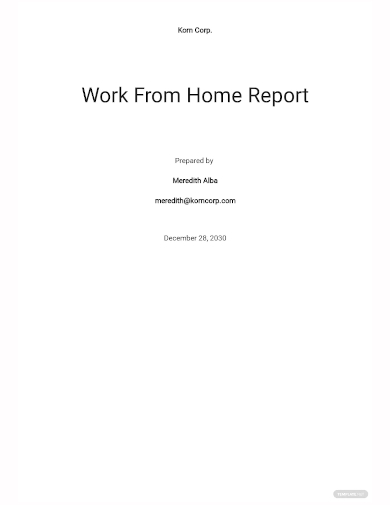 2. Work From Home Status Report Template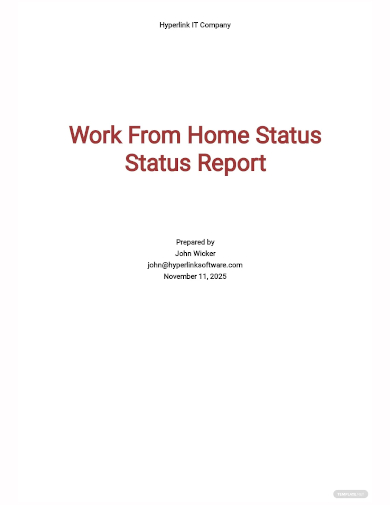 3. Work From Home Task Report Template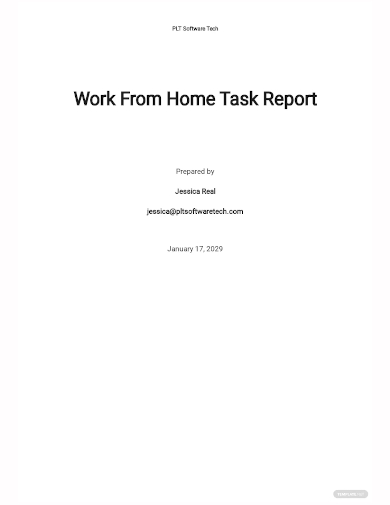 4. Work From Home Activity Report
5. Coronavirus Work From Home Report
What Is a Work From Home Report?
There are some jobs which are adaptable with the work from home arrangement, but what about work that is traditionally done at the office? With the progression of digital transformation, this is slowly becoming possible. As businesses begin to rely on different kinds of upgraded software employees will be able to continue working outside the office is with the help of telecommuting. Companies would create a electronic linkup to its employees to be connected with a central office. So work continues as it is, and managers would set up guidelines on how to maintain an employees' work performance as it was when they were working in an office. One of which is the submission of a work from home report which contains the progress of your task on a daily or weekly basis. It is a prerogative of any employee who is working from home to submit this report so your manager maybe able to keep track of your performance.
How To Write A Work From Home Report?
As mentioned earlier, managers would be sending out guidelines to employees who are adequate enough to be able to take on the work from home set up. A lot of things are definitely considered depending on an employees job description and how the company would be able to provide any additional support to make this arrangement work efficiently in both sides. Creating a work from home report would benefit both employers and employees so task and work load will be efficiently delegated, evaluated and performance appraised. To get started, here are the following basic steps in writing a work from home report.
1. Overview
Your overview statement should cover what you are set out to accomplish at the beginning of the phase or task.
2. Scope
Define the scope of work such as the project-specific activities. Deliverables which should include the date, description of the task and the status. You can also add timelines in order to allow the reader what to expect of the task.
3. Work Accomplished
This section should give as much detail as possible about what you have accomplished. You can add details as to how much time was spent on working on your project. Remember this portion of your report should convince your superiors that you worked really hard on your task. So the more details, the better.
4. Ongoing Task
If you are asked to submit a work from home report on a daily basis you can include a portion of your pending task or transactions on your report. This should contain that task you are currently working on, the deadline and the status.
5. Challenges and Risk
Working from home is far too different than being in an actual office. Since an office is built to accommodate a working environment whereas staying home has a lot of challenges and risk. Take note of this in your report, so your managers may be aware of the challenges that could hinder or delay the submission of your reports or task. Or this could serve as a reference so companies can determine what they need to do to help the employee.
6. Recommendations
In order to deliver any task efficiently, it is advisable to include any recommendations or a set of action plans, so companies may be able to arrange or equally divide the task to other employees who are capable of accomplishing the workload. Or if the challenges are more on the physical aspects like internet connection or faulty digital equipment, managers can recommend lending out laptops or adding up internet allowance to their employees.
FAQs
Is Working from Home Productive?
Studies have shown that over the recent years, there is an increase in productivity amongst employees with this kind of work set up. This may be due to its flexibility and employees tend to have a much more healthier lifestyle than working in an office setting.
What Are the Benefits of Working from Home?
Benefits from working from home are flexible working hours (as long as you meet your project or work deadline), no more going through the hassle of daily commutes and no toxic colleagues amongst others. For employers, this would lessen the cost of office maintenance.
What Is a Weekly Accomplishment Report?
This is a monitoring and reporting mechanism to validate performance of assigned work and functions, and ensure deliver of committed essential services and priority programs.
The work from home set up has its advantages and disadvantages for both employees and employers alike. But companies must struggle to adapt with the changing times and would have to find ways to continue to make a profit. A work from home report would help establish the continuum of a office work and transmigrate to a work from home set, making sure employees do not loose sight of the jobs they were hired to do.