What happens if an audit is conducted? An audit is an official inspection of accounts of an organization that is done by an independent party. The inspection is conducted on either financial or non financial side of the organization or both. The data gathered during and audit and the results that are derived from the data are presented to the management or the involved entities through an audit report.
An audit report is a detailed report that lists down all of the important factors that are related to the organization, its processes and its finances. These reports are used as documentation for what the organization has done so far and as basis for decision making in order to make improvements and solve problems. A lot can be done with audit reports and one type that we are going to learn about is a compliance audit report. Compliance audit report samples and templates has been included to serve as your reference.
Compliance Report Template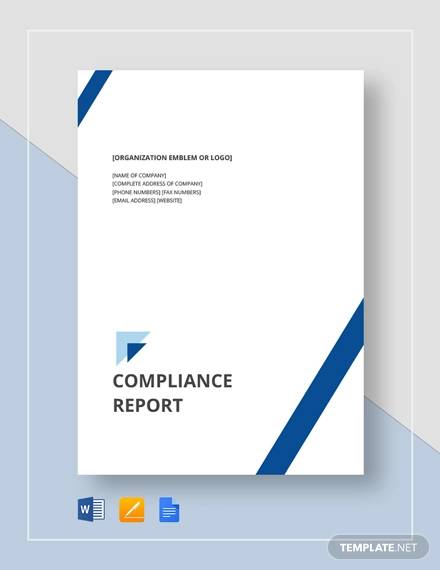 Examples of Auditor's Reports on Compliance
Sample Combined Reports on Compliance
Audit Report Template
Corporate Compliance Audit Report Template
Compliance Audit Report Template
Internal Audit Report For Compliance
What Is a Compliance Audit Report?
There are specific set of regulations and guidelines in every industry that must be followed. To ensure that companies or organizations adhere to these set of regulations or guidelines, a compliance audit is conducted. What is a compliance audit? A compliance audit is conducted to inspect and investigate if a certain company or organization is following the regulatory guidelines in the industry that they belong to. The data that has been gathered during a compliance audit is recorded and presented in the form of a compliance audit report. The report shows how compliant a company or organization is overall, which parts they are non compliant, which parts they need to improve compliance on, etc.
Through compliance audit reports, faulty ways and wrong processes are identified. This will lead to further investigation and the creation of an action plan to stop or resolve the underling noncompliance issues. Some of the things that are being inspected and reported in a compliance audit report are compliance preparations, risk management procedures, user controls, security policies and many more. You may also be interested in other related articles, like Clinical Audit Report Template, Internal Audit Report Templates, and Audit Schedule Samples and Templates.
What Does a Compliance Auditor Do?
An auditor is an individual or person who conducts an audit. These auditors are often free agents or third party agents who are not part of the organization being audited. A compliance auditor specifically reviews and investigates about the part of the company that is related to how compliant they are with the set regulatory guidelines in the industry where the organization belongs to. They would usually ask a series of questions to certain administrators. Some of the questions being asked are who has left the organization, which users were added, when they have left, if their IDs were revoked, the names of the people who has access to critical systems of the organization, etc.
You may also want to check out other related articles, like Audit Checklist Samples & Templates, Audit Quotations, and Audit Memo.
What Things Are Included in a Compliance Audit Report?
The following is list of the things that are included in a compliance audit report.
The heading or the title which indicates what the document is for
The governing body involved in the audit
The entity being audited
A general statement or purpose statement about the audit being conducted
The body of the audit report
The things where the organization is compliant on
The things where they failed to comply
The result or outcome of the compliance audit
 The date when the audit was conducted
The date of the report
The name and signature of the auditor
The sets of standards or regulatory guidelines related to the industry where the organization belongs
The list shows some of the common and few things that you can find in a compliance audit report. Other related topics are Sample External Audit Reports, Audit Program Samples & Templates, and Audit Plan Samples & Templates.
What Are the Types of Audit Reports?
The five types of audit reports are unqualified opinion, qualified opinion, adverse opinion, disclaimer of opinion and multiple opinion. Let us learn more about each of these types below.
Unqualified Opinion
An unqualified opinion is also known as a clean opinion. This type of audit report means that the auditor has did not find any misrepresentations regarding the financial records that has been provided and presented by the organization. It means that the company or organization has followed and complied to the standards that are required of them.This how they get to be a called clean opinion.
Qualified Opinion
This type of of audit report is written exactly the same way as that of an unqualified audit report. The only difference is that in a qualified opinion, the auditor writes additional paragraphs which points out the reason why the audit report did not end up as unqualified. A qualified opinion is created if no misrepresentation are identified, but the financial records of the organization has not been maintained or meet the required standards.
Disclaimer of Opinion
When an auditor is unable to complete an audit and provide and accurate audit report, this is the time when they issue a disclaimer of opinion. One of the reasons why an auditor becomes unable to complete and audit and provide reliable and accurate findings is that financial records would be missing or not available during the audit.
Multiple Opinion
This type of audit report is issued when an auditor has different opinions on the different financial aspects of the organization.
Adverse Opinion
If an organization fails to maintain its financial records according to the set standards and has grossly misrepresented all of its financial records, then an auditor will issue an adverse opinion. An adverse opinion is the worst type of audit report that an organization will ever get. Even if everything was done in error, it is still viewed as a fraud and should be corrected. After an adverse opinion is issued, the organization needs to correct its financial statements and get re-evaluated.
The four types of audit reports or audit opinions are used regardless of what type of audit is being conducted. What differs are the contents and the standards being used as basis for evaluation. you may also want to check out other useful articles related to audit reports, like Compliance Statement Samples & Templates, Compliance Checklist Samples and Templates, and Compliance Manual Templates.
Benefits of an Audit
The following are the benefits of an audit.
An audit assists with investigations that are possibly related to fraud and some irregularities in the organization.
Through audits, organizations are able to identify the areas or accounts where they are lacking and make appropriate actions to have these areas corrected.
It allows to determine if resources are properly used and managed.
Through audits, certain deviations of in the management's expectations and standards are identified.
The strengths and weaknesses, business risks and opportunities of an organization ca be identified.
It helps promote awareness within the organization which allows to make things right or correct whatever is being done wrong.
It facilitates discussion with employees from every department and to find feasible solutions to identified problems.
Those are the benefits of having audits in place. You may also be interested in other related topics, like Sample Product Analysis Reports, Sample Marketing Reports, and Sample HR Reports.
Contractual Compliance Audit Report Templates
Contract Compliance Audit Report
Environmental Compliance Audit Report Template
Provider Compliance Audit Report Template
Editable Compliance Audit Report
Final Compliance Audit Report
What Should You Not Do Before An Audit?
Thinking about an upcoming audit, some organizations would plan a lot of things prior to the schedule audit date. This often leads to unidentified underlying problems as management struggles to keep everything as clean as possible. The just tend to do a lot of things, even the things that are not supposed to be done. To give you an idea, here are the things that you should not do before an audit.
Setting of unrealistic expectations. If you are one in the upper management, you should not expect or set expectations that everything is clean and that there are no issues that can be found in the audit. This will only keep your hopes high and you may not react well to the actual outcome of the audit.
Cleaning before the scheduled audit date. Because we do not want to get any bad feedback from an audit, we make sure that everything as clean as possible. Auditors will not be able to find out what the actual situation is if everything has been cleaned out. Faulty processes will continue after the audit until some sort of hazard or accident happens. And that is not something good.
Conducting a pre-audit. You should not fix identified issues before an audit. You should instead let it be known so that cause can be determined and the appropriate resolution can be provided.
Steering the auditor to compliant areas. What good will it bring your organization if all that the auditor sees are the good ones. This way the bad side will not be addressed.
Overlooking the preparations. The things mentioned above are not preparations, but they are ways on how you can avoid getting a bad audit report or an adverse opinion. Make your preparation so that the auditor can help you improve the ways on how you do things in your organization so that you can make improvements.
If you remember these things you are sure to take advantage of the benefits that an audit offers. We hope that you are able to learn from this article. Feel free to browse through, download and use the samples and templates that we offer here.