Copywriting is one important aspect of the world of business marketing. It provides the proper words in marketing promotions to urge people to take an action through print, video, and audio advertisements. It is kind of similar to persuasive writing except copywriting is also used to promote products and services of a certain business. If you're a budding copywriter, you need to establish connections with clients to be able to work. To help you with that, you're going to need a proposal to promote your skills and expertise in copywriting. Read the article to know how to create a copywriting services proposal.
7+ Copywriting Services Proposal Samples
1. Copywriting Services Proposal Template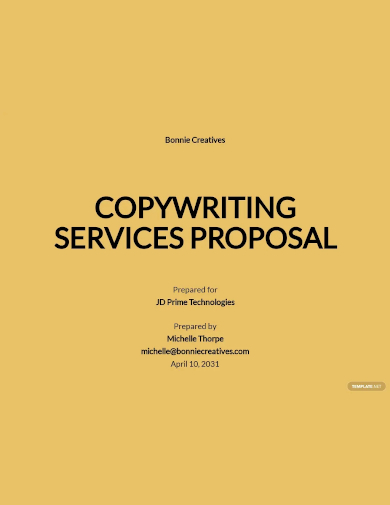 2. Copywriting Management Services Proposal
3. Copywriting Services Proposal
4. Copywriting Marketing Services Proposal
5. Copywriting Website Services Proposal
6. Copywriting Development Services Proposal
7. Sample Copywriting Services Proposal
8. Copywriting Design Services Proposal
What are Copywriting Services?
Copywriting is one aspect of the field of writing where it makes persuasive messages that motivate people to do an action. Copywriting is used in marketing strategies for products, services, fundraising campaigns, and more. Copywriters are the ones responsible for producing engaging, written text for different advertising channels such as websites, print ads, and catalogs.
How to Write a Copywriting Services Proposal
1. Provide Your Background Details
This section is where you put information about yourself. List your name (or the name of your company), address, and contact numbers. Putting your name and contact information right away will let your potential client know how to reach you right away. Include a summary of your background as a copywriter such as your previous experiences, educational background related to the world of copywriting, and your goals as a professional copywriter.
2. Enumerate Your Services
This section is where you mention the copywriting services you will provide. Your clients need to know what tasks they can expect from you. Most copywriting services fall into the following aspects:
Advertisements
Email marketing
Landing pages
Sales pages
Home pages and website copy
About pages
Promotional videos
Product descriptions
Content writing
Blog posts
Newsletters
Content videos
Marketing support
Marketing consulting
3. List Down Your Prices
State the prices of the services you're going to provide. Mention your payment terms. Make sure to clarify whether your rates will vary depending on how heavy the workload is.
4. Include Any Additional Services That You Offer
You can also add another section where you can list any additional services you offer to your clients and their costs. This purpose is to provide information to your clients that you can also do these services if they need it.
5. Include References and Testimonials
The last section of your proposal is where you can prove the credibility of your expertise in the copywriting field. Include testimonials or references from your and previous and current clients who are satisfied with your work. Testimonials and references are reflections of your genuine work ethic and personality.
FAQs
What skills do you need to be a copywriter?
To be a copywriter you need to have strong writing, communication, technical, interpersonal, and research skills and you need to be highly creative as well.
What are the types of copywriting?
There are different types of copywriting that exist in different fields. Some examples of it are marketing, social media, brand, direct response, technical, public relations, thought leadership, and SEO copywriting, just to name a few.
What is the difference between copywriting and content writing?
Content writing and copywriting are primarily distinguished from each other by purpose. Content writing is designed to educate or entertain, whereas copywriting is designed to persuade. Most text ads involve copywriting because they seek to compel readers to take action.
How much do copywriting services cost?
It depends on their skill level. Junior copywriters who have been in the business for 2 years or less would charge $50–$80 per hour. Mid-level copywriter $80–$120 per hour and the top copywriters about $120–$200 per hour.
Once you're done drafting your proposal, make sure to discuss it first with your client and negotiate it with them. Your proposal can still change so make sure it is flexible enough for any changes that will occur. No matter what your proposal will be, don't forget to reflect your personality in it. To help you start writing your proposal, you can download our free sample templates above to use as your guide!