10+ Office Cleaning Proposal Samples
Most of us don't like working amidst a topsy-turvy environment. In fact, we can't even begin to go on full-work mode if there things in the shelf in disarray or there's a little puddle of coffee spilled on the floor. Call it an excuse to put off work, but this is an actual concern! A clean workplace is a healthy workforce, after all, and this also tantamount to a more productive company. Maintaining a clean and well-kept work environment makes it less likely for illnesses and minimize other risks as well– especially now that a lot of companies are calling their employees to return to the physical work set-up amidst the current Covid-19 pandemic. A clean workplace comprises more than just a new or recently refurbished premises, though. Employees and visitors will be safer and healthier if the workplace is kept clean. Health-related illnesses and injuries can be avoided by ensuring a clean and safe working environment. In this article, we provide you with free and ready-to-use samples of Office Cleaning Proposal to ensure a rigorous and routinely office cleaning maintenance for your establishment. Keep on reading to find out more!
1. Office Cleaning Proposal Template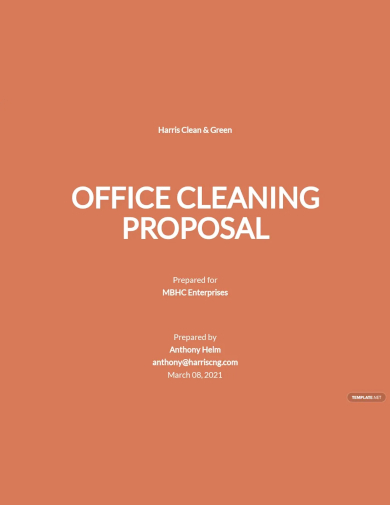 2. Office Cleaning Service Proposal Template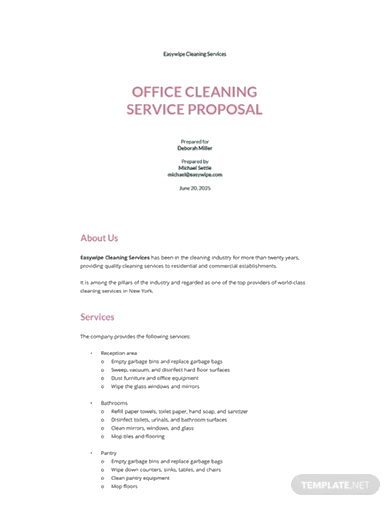 3. Office Commercial Cleaning Proposal
4. Office Provision Cleaning Proposal
5. Office Exclusively Cleaning Proposal
6. Office Provision Cleaning Services Proposal
7. General Office Cleaning Proposal
8. Commission Office Cleaning Request for Proposal
9. Office Building Cleaning Request for Proposal
10. Office Cleaning Services Request for Proposal
11. Office Cleaning Services Bid Proposal
What Is a Office Cleaning Proposal?
An office cleaning proposal is a formal offer that includes details about a company's cleaning services. It's written in response to a specific request or when a cleaning service recognizes a potential client. Its primary goal is to provide a solution to a client's issue.  Its purpose is to encourage competition and a diversity of different vendors/service crew for the company to examine. This proposal also requires a Request for Quote, which is made when you know exactly what product or service you want, in this case an office cleaning service, and you need a pricing. However, unlike estimates, quotations, and bids, an Office Cleaning Proposal includes information beyond a service's precise cost. Proposals give a detailed description of the work to be done, including scope, deliverables, milestones, qualifications, and budget.
On the other hand, for cleaning service companies, an office cleaning proposal is a tool that would give leverage from your other competitors. It explicitly explains what your company is providing, what gives you a unique edge to other providers, your prices, and even your schedules. This will help those who need your services be enlightened about what your company offers– and encourage them to avail your services.
How to Make an Office Cleaning Proposal
If you're the one providing the service or seeking such cleaning service, the office cleaning proposal, in essence, is just a request for proposal— which is an open solicitation of bids for the completion of a your office cleaning suggested by the company or other body issuing it. Aside from the variety of free and ready-to-use templates of Office Cleaning Proposals provided above, you can also try making one of your own from scratch. If you're interested in making a proposal personalized to your company's liking, here are some useful information you should consider as you write one:
1. Examine the client's specifications.
After the visit, double-check that you've covered all of the cleaning chores, regions, and how often specific tasks should be completed. You'll also want to know if the client has any unique demands or preferences. Doing your due homework is the first step in creating effective cleaning contract proposals. An in-person meeting gives you the opportunity to present your narrative and learn about the client's needs and expectations.
2. Don't forget to emphasize your edge.
This section answers the question, "why should the company choose your services from other competitors in the market?" You must be able to disclose what are the advantages and benefits the company could receive, aside from a cleaner office, if they avail your services. Your reasons can be quality-wise, quantity-wise (such as the number of crew), or fiscal-wise.
3. Make a show of your cleaning service company's trustworthiness and integrity.
A good commercial cleaning firm should be able to provide references from satisfied customers, whether they've worked with them before or are currently doing so. Do your own research in addition to the references provided by the company. Past clients can submit reviews and testimonials of your excellent service on places like Yelp or even on your own Facebook page.
4. Disclose your pricing list.
In this section of the proposal, you should openly disclose your pricing list– whether the pay is by the hour or per square foot–to inculcate transparency and fairness. Remember, know the worth of your company because quality service doesn't come by cheap! The market may be competitive but offering the cheapest price will not garner you any profit or give your staff the wage they deserve. Keep your business afloat.
FAQ
What is the procedure for bidding on a cleaning contract?
Before you come up with a pricing for a commercial cleaning contract, the most significant portion of bidding takes place. By conducting research, asking questions, and calculating costs properly, you can ensure that your estimate accurately reflects the quality of service you deliver to a possible new client.
What is the significance of office cleaning?
You can deliver benefits to your staff, clients, and customers by keeping your office clean, ranging from improved health to increased productivity. You can, for example, prevent mold from growing in your office and, as a result, the different health problems that come with mold growth in rooms.
What are the dangers of an untidy workplace?
The danger of a fire. The most serious danger that unclean areas and clutter cause in the workplace is fire.
In conclusion, providing a clean, organized, and sanitized workplace is crucial now more than ever. Keep your employees safe and healthy by regularly and routinely cleaning your office. Download our customizable and printable Office Cleaning Proposal today to help you out.