If being a mere yoga and pilates instructor is not enough for you and your dream of having your own yoga business, then don't let anyone stop you from making that dream a reality. However, you need to educate and familiarize yourself in the world of business, especially if you're not yet too exposed to it. The first you need to have if you're pushing to open up a yoga studio to conduct classes or selling products related to yoga is a business plan! This will guide you on how your business should run, the resources you need and it helps you bring in investors to help fund your business. Read the article below to find out how to create a yoga business plan!
8+ Yoga Business Plan Samples
 1. Yoga Business Plan Sample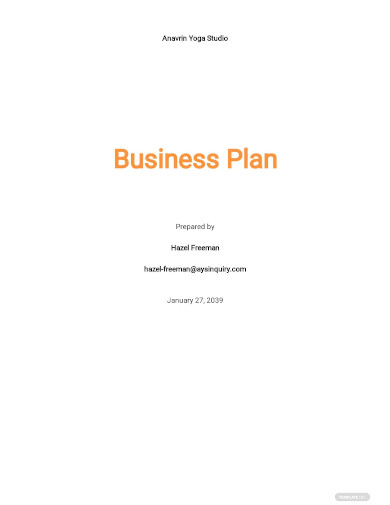 2. Yoga and Wellness Center Business Plan
3. Printable Yoga Business Plan
4. Yoga Play Resort Business Plan
5. Yoga Studio Business Plan
6. Standard Yoga Business Plan
7. Editable Yoga Business Plan
8. Formal Yoga Business Plan
9. General Yoga Studio Business Plan
Importance of a Business Plan
Having a business plan, no matter what kind of business you have is important because it is a strategic tool to focus on the steps necessary for them to make their business ideas and plans succeed and it also helps them to achieve short-term and long-term goals and objectives.
How to Create a Yoga Business Plan
1. Introduction
Give an introduction about yourself and your business. Provide important information about yourself such as your biography and accomplishments. You can also explain your business more such as what products and services to your market. What kinds of products and services that you have differs you from your competition? Map out your business location and venue. Explain how you will hold your classes.  If you have other people in your business such as business partners, managers, marketing and sales team, your co-teachers, etc. outline their tasks and responsibilities.
2. Executive Summary
The executive summary summarizes your proposal plan in two to fours sentences. It should also include a short description of your methods on how to carry out your plans and the available resources you have to help you accomplish your goals.
3. Mission Statement
The next part is your mission statement. In a sentence or two, describe briefly the details of the goals that you want to accomplish.
4. Audience Analysis
This section should also explain who your target market is. Include some explanation of the target market's demographics such as age, gender, and lifestyle. Don't forget to include some evidence to support that your target market is would want to avail your products and services.
5. Marketing Plan
The next part is your plan on how you will market your yoga business to your market. The most basic and least work in marketing your business is choosing a location that is easily accessible or a part of the town or city where people flock; so it is a good idea to locate your yoga studio in a commercial space in the downtown area or inside a mall.
If you want a lot of exposure, take advantage of the different marketing channels present out there. You can use print, radio, and TV advertising. You can build your online presence through social media. You can build relationships with other similar businesses and organizations in the community.
Also, choose a business name, logo, and color scheme that you will stick to for a very long time. Keep your brand consistent to build awareness and make your business recognizable.
6. Financial Plan
The next part is presenting your financial plan. This part of the proposal has to be a bit more detailed and accurate since you will be taking financial matters. Give the exact whole amount of your current budget. List how much capital you currently have and estimate how much it'll take to get your business running efficiently. Create a budget spreadsheet and list down all the stuff that your budget will go into such as your marketing and promoting strategies, providing salaries to your staff, and earning profit.
Next is to outline your pricing structure. Write out how much you are going to charge your customers and how you are going to charge them. Are you going to charge per class/session or on a membership basis? The prices of your services will depend on your business structure, where you are based, and your marketing strategies. Provide a breakdown of your pricing.
FAQs
Is yoga a profitable business?
Yes, a yoga business is profitable. Yoga studio owners make an average of around $7,000 – $13,000 in monthly income.
How much does it cost to start a yoga business?
Opening up a yoga studio can cost anywhere from $15,000 to $30,000.
What are the benefits of yoga?
There are a lot of benefits to doing yoga. It improves strength, balance, and flexibility, helps alleviate back pain and arthritis symptoms, improves heart health, relaxes and helps you sleep better, and helps you manage stress.
A business plan can help you greatly when it comes to understanding your customers and carrying out your marketing strategy. It is also advantageous to help establish a professional reputation as it shows your potential investors that you're serious and know the industry well enough to run a booming business. To help you get started on your business plan, download our free sample templates above as your reference!