Do you wish to endeavor in the field of upholding financial literacy? If so, being a financial advisor might be the right job position for you! Advisors apply their knowledge and experience to create customized financial plans that help clients accomplish their money objectives. These tactics cover not only investing, but also savings, budgeting, insurance, and tax planning. Clients meet with financial advisors to discuss their financial requirements and objectives. They apply their knowledge and experience to create customized financial strategies that help customers reach their fiscal dreams. Before you start your journey as a financial advisor, no success is achieved without a good plan. In this article, we provide you with free and ready-to-use Financial Advisor Business Plan samples that you could use. Keep on reading to find out more!
5+ Financial Advisor Business Plan Samples
1. Financial Advisor Business Plan Sample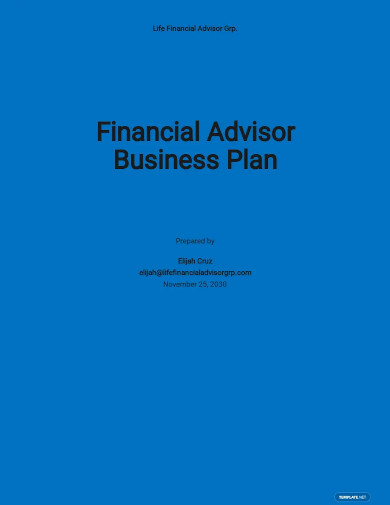 2. General Financial Advisor Business Plan
3. Printable Financial Advisor Business Plan
4. Financial Advisor Business Plan Format
5. Start up Business Flow Chart
6. Strategic Financial Advisor Business Plan
What Is a Financial Advisor Business Plan?
The purpose of a financial adviser business plan is to provide clear marching orders toward a specific objective, coupled with clear metrics on what is trying to be accomplished along the way, so you know where to focus your time and efforts. You'll need a business plan if you want to start a financial advisor business or expand an existing one. A business plan can assist you in raising funds if necessary and planning the growth of your financial adviser business so that you may increase your chances of success. Your business plan isn't a one-dimensional document. It will evolve over time as your company grows. It's helpful for planning and setting deadlines, but things change.
How to Make a Financial Advisor Business Plan
A business plan can vary from one advice firm to another, but if you're interested in making one, there are free templates that are provided above that you can use. Other than that, if you're planning to write one on your own, here are the following steps you should consider as you start your Financial Advisor Business Plan:
1. Do a market research among other financial advisors in the industry.
You should give an outline of the financial advisor industry. While this may appear to be redundant, it serves a number of reasons. To begin, you should educate yourself about the financial advisor field by conducting research. It assists you in comprehending the market in which you operate. Market research can help you improve your approach, especially if it recognizes market trends.
2. Analyze the customers you intend to serve.
The customers you serve and/or expect to serve must be detailed in the customer analysis part of your financial adviser business plan. The type of financial advisor firm you run will be heavily influenced by the consumer segment you select. Finding demographic information is simple because most financial adviser businesses serve customers who live in the same city or town.
3. Make a list of your services and make a plan.
You may devise a strategy to best serve your target market once you've determined who they are. This is where you'll lay down the specific services you'll offer. You may create your business around the needs of your ideal client if you start with them in mind. Of course, you should think about your service pricing structure as well. Specify how you wish to be compensated: commissions, fees, or retainers.
4. Create a marketing and operational strategy.
Now that you've established a solid basis for the clients you want to serve and the services you'll offer, putting together a detailed marketing plan before you launch your company will help you get up and running quickly. A marketing strategy typically incorporates the four Ps: product, price, location, and promotion. Additionally, how you'll meet them should be outlined in your operations strategy. Include all of the responsibilities that come with running a financial advising firm, such as serving clients, obtaining supplies, and maintaining the office clean. You shouldn't forget to include your long-term objectives as well.
FAQs
What qualifications should a financial advisor possess?
Both interpersonal and analytical abilities are required of financial counselors. They must be able to assess investment and financial data and then convey their results to their clients in a clear and concise manner.
What makes a financial planner different from a financial advisor?
A financial planner is a specialist who assists businesses and people in developing a strategy to achieve long-term financial objectives. The word "financial advisor" refers to anyone who assists you in managing your money, including investments and other accounts.
Is it stressful to work as a financial advisor?
When beginning out in this field, financial advisors may face a lot of stress. Financial advisers are continuously regulating their clients' emotions in response to market downturns, which can lead to a high degree of stress over time.
In a business plan, what are advisors?
While each of these specialists has a role to play, they aren't always required. A business adviser is a strategic partner who assists your firm with strategy, finances, marketing, and even development.
All in all, it's worthwhile to put together a business plan for your financial advisor firm. Download our easily customizable and printable Financial Advisor Business Plan to to have a thorough understanding of the financial adviser industry, your competitors, and your clients.