People always say that quality trumps quantity. Why? Well, for a business, quality is more important than quantity. Prioritizing quality above quantity can improve your company's reputation and promote product loyalty, ensuring your business's long-term viability. Furthermore, quality is essential for pleasing your consumers and keeping their loyalty so they will buy from you again. Long-term income and profitability rely heavily on high-quality items. They also provide you the ability to charge and keep greater charges. Over time, you need to make sure that you have a thorough plan in keeping the quality of your products or services. Look no further! In this article, we provide you with free and ready-to-use samples of Quality Development Plan that you could use for your convenience. Keep on reading to find out more!
10+ Quality Development Plan Samples
1. Quality Development Plan Template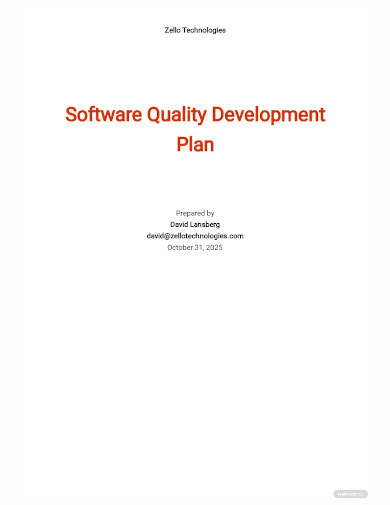 2. Common Quality Development Plan
3. Quality Management Development Plan
4. Quality Professional Development Plan
5. Quality Performance Development Plan
6. Project Quality Development Plan
7. Quality Measure Development Plan
8. Software Quality Assurance Development Plan
9. Quality Teacher Performance Development Plan
10. Quality Assurance Development Plan
11. Quality Improvement Development Plan
What Is a Quality Development Plan?
A quality plan is a document that specifies quality standards, methods, resources, requirements, and the sequence of actions for a given product, service, project, or contract. It aids in the execution of quality management and quality assurance operations for a project or program by the project manager and project staff. Normally, a contractor creates the QDP, which is then evaluated by the client. The degree to which the project meets specifications is referred to as quality.
How to Make a Quality Development Plan
Because it spells out all of the requirements in writing ahead of time, a quality development plan protects the project, the product, the client, and the contract manufacturer/supplier. Before anything else, the quality plan's components are discussed and agreed upon. A Quality Development Plan template can help provide you with a framework that you could use to ensure that you have a robust and well-structured plan. You can chose one of our excellent templates listed above so that you don't have to write one from scratch. You can follow these steps below to guide you:
1. Create quality standards.
The first stage is to determine what your project's customer expects to get at the conclusion of the project. The consumer is the most important source of information about the product's appearance. You must establish the expectations and set quality objectives through talking with the client. You will considerably enhance your chances of success if you have a good grasp of the customer's demands.
2. Strategize your quality assurance.
It's critical to pick techniques and instruments for ensuring desired quality standards during the project implementation process if you want to create a successful project quality plan template. You'll need to develop a quality assurance strategy that focuses on fulfilling the goals you've set. You may schedule quality assessments on a regular basis and evaluate the chance of deliverables achieving the agreed-upon quality standards.
3. Arrange your plans for quality control.
You must devise a strategy that lays out a timeline and sequence of quality control operations. This type of strategy should enable you to keep track of the actual quality of each agreed-upon output. It will establish methods for investigating completed deliverables and detecting any deviations from agreed-upon quality standards.
4. Develop the Quality Management Process
Following the development of the quality assurance and quality control plans, the next stage is to define the quality management process. This procedure ensures that each of the activities specified in both plans is completed as planned, and that if there are any discrepancies, appropriate corrective action is implemented.
FAQs
How do you make a quality plan for a project?
Describe the actions required to complete the project, as well as the sequence in which they will be completed. Specify the resources you'll need. Create a solid set of roles and duties. Determine the standards that will be used.
What do you mean by quality techniques?
Controlling activities and planning are used in quality management approaches to guarantee that the service or product is fit for purpose.
What are the four most important aspects of quality?
Quality planning, quality assurance, quality control, and quality improvement are the four key components. Quality management is concerned not only with the quality of the product and service, but also with the methods employed to attain it.
Because ignoring quality makes delivering a successful project more difficult, a Quality Development Plan is essential. Prior to the project's execution, the project manager establishes the criteria that must be met in order for the project to be considered a success. To help you get started with this, download our easily customizable and comprehensive samples of Quality Development Plan today!