Manufacturing a product is not usually a one man show. It entails a lot of partner suppliers, manufacturers and third party associates. A number of companies often seek to manufacture their products in foreign countries especially if labor is cheaper or may turn to local manufacturers with lesser hassle and easier communication. However a company chooses its manufacturers, they will be needing a product development agreement. This agreement is crucial to setting boundaries between a company and its partner manufacturer in regards to the product development. Read more about this agreement in our article below and don't forget to check out our free product development agreement samples.
10+ Product Development Agreement Samples
1. Product Development Agreement Template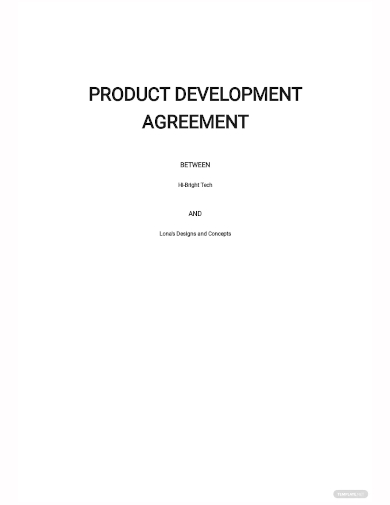 2. Product Development Agreement
3. Product Development Manufacturing Agreement
4. Sample Product Development Agreement
5. Product Development Property Agreement
6. Experimental Product Development Agreement
7. Product Development Non-Disclosure Agreement
8. Agricultural Product Development Agreement
9. Product Development Clinical Supply Agreement
10. Food Product Facility Development Agreement
11. Product Consulting Development Agreement
What Is a Product Development Agreement?
Companies do not have all the resources to completely produce and manufacture their products. This is why they turn to other businesses that specializes in manufacturing and constructing various parts to complete a final product. Such examples are some car companies seek to manufacture their car parts in other manufacturing plants locally and oversees or mobile companies often have some of the cellphone parts manufactured or perhaps assembled by using a third party associates. To protect the patent and other important details of their products, a product development agreement is exchanged between both parties. This agreement contract protects you and your work, as well as helps you obtain the final product you may want. Usually, a developer agrees with another party to procure construction of works on behalf of that party. Typically, the agreement will include obligations as to cost, quality and time and will also provide for the transfer of an interest in the property.
How To Create a Product Development Agreement?
A product development agreement is an important document that must be exchanged between both parties in order to draw the line and establish ground procedures for the development of a product. More importantly the final product must suit the preference of the client and pass any international standards. So, looking for the right manufacturer can be complicated but to strive to develop the perfect product, companies must undergo a series of research and procedures to do so. So, what comprises a product development agreement? Once again, this may differ per industry but let us go through the general components of a product development agreement:
I. Services
The product development services pursuant to the scope of work should be properly and concisely defined in this section the agreement. All files, works, prototypes, and etc. shall be delivered to the client in accordance with the delivery schedule attached to the agreement. As well an agreement that once all final work has been finished this will become the sole property of the client once full payment made to the provider.
II. Confidentiality
All details regarding the manufacturing, development process and other relevant information regarding the product must be kept confidential and is the property of the client. No aspect or detail or the product being developed or any assets or information provided to the provider by the client shall be disclosed to any party without prior written consent from the client.
III. Compensation
In this section, this should define the payment terms defined in the order form. Should any changes occur the provider will inform the client and the parties can discuss and agree upon any additional charges. Set standards and procedures on how and when bill the client, if a down payment is required or indicate any other agreed payment process or scheme.
IV. Payment and Collection
Once invoice has been sent to the client, set the terms and due date for example within 15 or 30 days from the delivery of the invoice to the client, payment must be settled or else it will incur any additional interest. If this persist, production will come to a temporary halt until settled.
V. Modifications
Should the client require any modification of the product while on development, set the terms which includes additional cost and the timeline/deadline.
VI. Client Approval
A written approval form coming from the client must be submitted to the provider in acceptance of the product. Upon acceptance and final approval of the product delivered to client, the client accepts responsibility and liability for any further processes and instances in which the product is used.
VII. Cancellation Agreement
Both parties understand that client or provider may terminate the service at any time if, for any reason, the relationship is deemed unsatisfactory by either party. Notice of cancellation must be advised by either parties prior taking effect. In the event of cancellation, the client agrees to resolve all previously delivered invoices, as well as a final invoice for any unpaid work on the product development project. The provider agrees to transfer ownership of all completed works to the client upon cancellation of this agreement, once payment has been made pursuant to the terms of this agreement.
VIII. Completion Date
Both parties must agree on the completion date and it is the responsibility of the provider to make every effort to adhere to the attached project delivery schedule. Should the project be delayed for any reason, the provider agrees to notify the client immediately upon discovering such delays. The client shall not have the right to receive damages from the provider for project delays.
IX. Force Majeure
The client nor the provider is not responsible for any delays or failure to uphold this agreement's terms due unforeseeable circumstances that prevent from fulfilling a contract or agreement.
X. Warranty
Final product designs are submitted to the Client "as-is", without any granted or implied warranty either express, or implied. Client must acknowledge that the provider has made no claim or warranty that the provider will be able to find a licensee willing to compensate the client for their product.
FAQs
What Is Product Development?
A product development is a process of taking a product or service from conception to market. This usually goes a series of stages before completion.
What Is Manufacturing?
Manufacturing the the process of assembling components or parts of a product. A processes and techniques that are used to convert raw materials or semi-finished goods into finished products or services with or without the use of machinery.
What Is Intellectual Property?
These are the creation of the mind such as literary and artistic works; designs; and symbols, names and images used in commerce.
The final products we consumers use on a daily basis could not be completed without the product development chain. To effectively come up with a final product, companies must work hand in hand with their suppliers and manufacturers and come to an arrangement with a sufficient and well-defined product development agreement.