Do you have dreams of pursuing a political career and holding a high position in the government and becoming a public servant? Whether you run for president or mayor, you need all the people in your jurisdiction to know who you are to get their votes and win the election. To do that, you need to go out and campaign for yourself and for the position you're running for. To do your campaign efficiently, a campaign plan is essential to ensure your win on election day. Read the article to know how to make one.
10+ Political Campaign Plan Samples
1. Political Campaign Plan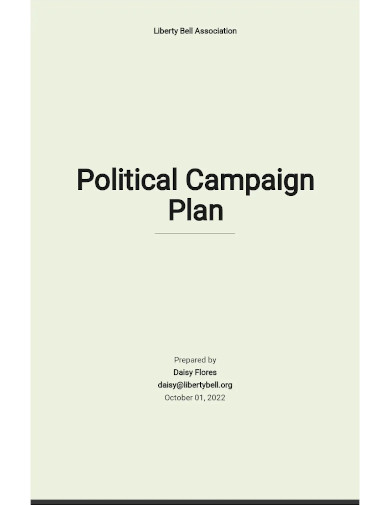 2. Sample Political Campaign Plan
3. Political Campaign Strategic Plan
4. Political Campaign Manager Plan
5. Political Campaign Advertising Plan
6. Simple Political Campaign Plan
7. Political Campaign Lesson Plan
8. Political Campaign Research Plan
9. Election Campaign Plan
10. Political Campaign Plan Example
11. Presidential Political Campaign Plan
What Is a Campaign Plan?
A campaign plan is a written document that serves as a guide map for political candidates to use during their campaign period for the elections to win the candidacy. The essential parts of the plan must contain the following:
Your message
Your budget for the whole campaign
The money you need to raise for the campaign and your ways on how to raise it
Details to Include in a Campaign Plan
1. Strategic Summary
Begin your plan with a summary of your campaign's overall goals and strategies. You can also include the mission statement of your campaign team.
2. Vote Goal
The next thing to include is the number of votes you hope to obtain. To base your vote goal, review the past voter turnout to get a sense of how many votes you'll need to win your race. Calculate the average voter turnout of the previous similar elections, and take 52 percent of the average to determine your vote goal. Don't forget to regularly check the current voter registration since you can use this information for your vote goal.
3. Target Voters
This section is where you determine the groups of people you will give importance to to persuade them to vote for you. Figure out the following:
The people you can expect to support and vote you in the elections
The groups of people require more attention in persuading to vote for you
4. Field Plan
This section is where you outline your strategies on how you will talk and persuade your voters during the campaign period and leading up to election day. Figure out how you can gather people to talk to them, the type of speech to use for the people to listen to you, and how many times do you go and meet and talk to people. You also need to figure out how many volunteers you're going to need to help you in this strategy and how much your funds will be to give to your volunteers as incentives.
5. Budget and Fundraising
First, layout your plans to raise funds for your campaign budget. Set weekly or monthly fundraising goals and write down exactly how you'll achieve them.
This part of the plan is also to determine your campaign budget. Make a financial plan where you can screen the intake and outflow of your cash such as the amount of cash you're going to earn in your fundraising and the amount of cash you're going to spend for your campaign. Knowing your budget and managing them well can help you maximize your resources.
6. Message
This part of your campaign plan is where you spell out your overall message. Your message must include the answers to the following questions: why you're running and what will you do for public service if you're elected?
You also need to include an introduction of yourself (focus on your experience in the government and working for the public), your opinion and comparison about your opponent, and reasons to give to voters to convince them to support you.
7. Media Communications
Include an outline of how you can generate both free and paid media coverage for your campaign. Assign your team members who will handle making the advertisements and promotional materials for all media channels and who will handle creating press releases and conducting press conferences.
8. Timeline
The most critical part of your campaign plan is your timeline so make sure you plan this out strategically. Figure out the dates of when you will announce your candidacy, when you will send out press releases, when will you raise money for your campaign, when will send out media campaign tactics, etc. Make sure to address each strategy well in the timeline.
FAQs
What makes a political campaign effective?
A political campaign is important for running political candidates to expose themselves to the voters. A political campaign's number one must-have for it to be successful is the art of persuading voters to vote for the candidate.
Does the government fund political campaigns?
In the United States, under the presidential public funding program, eligible presidential candidates receive federal government funds to pay for the expenses of their political campaigns in the elections.
What is a political campaign staff?
A political campaign staff comprises a group of people who formulate and implement strategies for the political campaign of a political candidate. The staff is composed of unpaid volunteers and paid employees (such as political consultants) of the campaign or related political party of the candidate.
Once you're done creating the plan, gather your campaign team and let them read and review the plan. Discuss the plan by walking through the highlights and making sure that everyone in your team is on the same page as you. Remember that your campaign plan is your guide map during your campaign. You can refer to it when things get heated during the elections and help you refocus your attention towards your initial goals and help you make timely decisions. Make sure the plan is flexible enough to be updated frequently during the campaign period. To help you get started on making your campaign plan, download our sample templates above to use as your guide!