Day spas are fantastic facilities for people to relax and unwind from their daily stress. Spas also help people improve their overall well-being that's why spas are popular for people in every walks of life just to obtain some peace of mind and tranquility. Some licensed massage therapists or estheticians open their spa to accommodate people who are seeking some relaxation. If you're opening a day spa business and you want to approach investors or sponsors to fund your business, a business proposal is essential to convince them to partner with you. Read the article to know how to write a day spa business plan.
5+ Day Spa Business Plan Samples
1. Day Spa Business Plan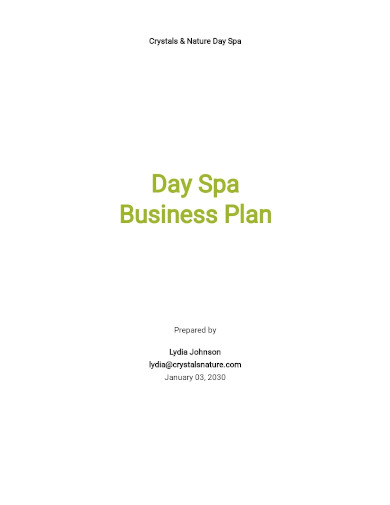 2. Sample Day Spa Business Plan
3. Day Spa Company Business Plan
4. Day Salon and Spa Business Plan
5. Day Spa Business Marketing Plan
6. Day Spa Business Plan Example
What is a Day Spa?
A day spa is a business that falls under the beauty industry where it provides a variety of self-care services to improve health, beauty, and relaxation through treatments such as hair treatment, body massages, and facials.
Details to Include in a Day Spa Business Proposal
1. Cover Page
The first page of the business plan is where the cover page must be located. It should summarize what the whole proposal is all about including brief information about you such as your spa name, business address, phone numbers, and email addresses. Add the table of contents after the cover page to guide readers on what the proposal consists of.
2. Executive Summary
The executive summary serves as the synopsis of your business plan. It should include your company profile and your business goals over the next three to five years. The summary should be brief and should not be more than a page long.
3. Company Description and History
This section is where you describe your company in great detail. Here are some details you can include in this section:
The beauty products and personal care services you provide
Your niche and uniqueness of your business from other day spas in your area
Details about your business location
Your target audience
Benefits your customers and your community can obtain from your day spa
Your projected vision of your spa business in the next three to five years
Your mission and vision statement
The equipment you use
Qualification background of your staff
4. Market Analysis
This section is the market analysis. Your market analysis is your extensive study about the day spa industry, your competition's business operations, and your target demographics.
5. Management Plan
This section must identify your organizational, management, and staffing strategies.
6. Marketing Plan
Outline how your salon will be positioned in the market. Identify how your spa will appeal to your target audience and meet their individual needs. This will aid you in figuring out how you can market your salon to the public through merchandise, promotion, advertising, and public relations.
8. Financial Plan
Identify how much capital you have invested in your spa and the expenses you've occurred such as lease, permits, staff training, materials, insurance, etc. Don't forget to include other financial information in this section such as your current budget, profit and loss statement, break-even analysis, projected cash flow, projected balance sheet, and business ratio. Justify how you came up with these projections and include your research data and its sources. Point out which data is actual and which is projected.
FAQs
Is owning a day spa profitable?
The average annual earnings of day spa owners are between $35,000 and $120,000.
What are the equipment needed for a day spa?
Most day spas are required to have the following:
Electric facial chair
Massage table
Hydraulic chairs
Sterilization unit
Magnifying lamp
Facial steamer
Manicure table
How much money do I need to open a spa?
The costs of a start-up day spa will exceed $100,000. You need to have a huge capital to pay for all training, lease, equipment, payroll, advertising, furniture, supplies, licenses, insurance, and permits.
Writing a business proposal isn't a task that can be done in the nick of time. You need to commit a lot of your time to brainstorm, plan, and draft your proposal. Still, though the whole process might be taxing, however, don't push yourself way too much to finish it right away, take your time so that your proposal is written, concisely, and free from error. Ask for help from a colleague to help you revise your proposal. A detailed proposal increases your chances of obtaining funding. To help you get started on making a day spa business proposal, download our free sample templates provided above!