A wedding is a once in a lifetime event and, surely, every couple wants to make their wedding as memorable as can be. For this occasion, some couples would hire a wedding planner to plan everything for them. It is good and convenient, but wedding planners are costly. Besides, why would you have a complete stranger plan for perhaps the most important day in your life?
Here we have Sample Plans that can definitely help you out with planning for your wedding. They are available for download online. They are not as costly as wedding planners, but they are useful and effective. They will help you plan your wedding like a pro.
Wedding Planner Sample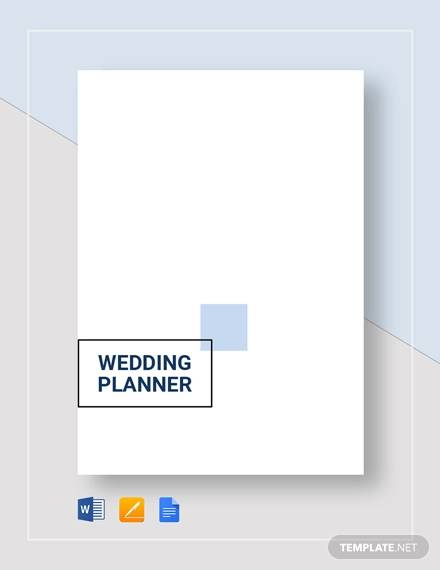 Free Wedding Planner Printable
Simple Wedding Planner Printable
Destination Wedding Planner Printable
Wedding Planner Printable Checklist
All Manner of Wedding Planners
Simple Wedding Planner Printable – This simple wedding planner printable is a checklist of all the necessary activities of your big day. It has everything listed for you, from the time you get up for breakfast, the time and length of the ceremony, when to go to the reception, when the reception ends, and a lot more. With this wedding planner printable you will never miss out on anything on your big day.
Destination Wedding Planner – If you are the type of couple who loves to travel and prefer to have your wedding in a new or foreign place, then the destination wedding planner is the wedding planner you are looking for. This is a type of non-traditional wedding where the bride and the groom experience a dreamy setting on their big day. It will also allow the guests to experience a different type of location. Planning could be tough, but nothing is hard if you have it planned out and even made easier by the destination wedding planner printable. It is like a timeline or a list of things to do months before your wedding. It will help you plan everything in a breeze.
Wedding Planner Printable Checklist – You want to plan your wedding, but you don't know what to do or where to start? Don't worry because this printable wedding checklist will help you solve your problem. This checklist is very useful and hassle-free. You don't have to think of anything that you have missed because they are all listed for you. You might also want to check other Printable Wedding Checklist.
Wedding Budget Planner Printable Sample
Contract for Wedding Planning Services in Doc
Free Wedding Planner Binder in PDF
Wedding Budget Planner Printable Sample
The budget is one of the main factors to consider in planning for your wedding. It may seem like everything depends on your budget, which is mostly the case for some. There are also couples who prefer to splurge a lot for their wedding day and there are some who prefer the budget-friendly type. Whatever your wedding preference is, a wedding budget planner is very useful.
This printable will help you track your expenses.
It will also make it easy for you to list the things that need to be purchased or paid for.
Budgeting is a headache, but the wedding budget planner printable will make it easier for you.
Planning is a crucial part of almost everything we do. We can't be organized and stay organized without a plan. Your hard work will just be put to waste if you don't plan on how to achieve your goals. It is important that an event as meaningful as a wedding is planned out. These online printable wedding planners will definitely be a big help to you. You may also want to check our Wedding Checklist PDF for more wedding checklists.