The bridal shower is the event that is observed for a, would – be – bride, by her close family members or by the bridesmaid. This is a very special moment for the would be bride as she gets the opportunity to see loved ones, open a heap of presents, and be the focal point of consideration. Thus these Checklist Templates crucial to concentrate on making the occasion memorable for her.
If you are planning one for your friend or any family member, then no one better than you can realise how much concentration and hard work needs to be invested in order to it a memorable one. This is the time you cannot forget things and then stress yourself for that. To avoid such situation try to Bridal Shower Invitation Templates manage checklist.
Bridal Shower Checklist Template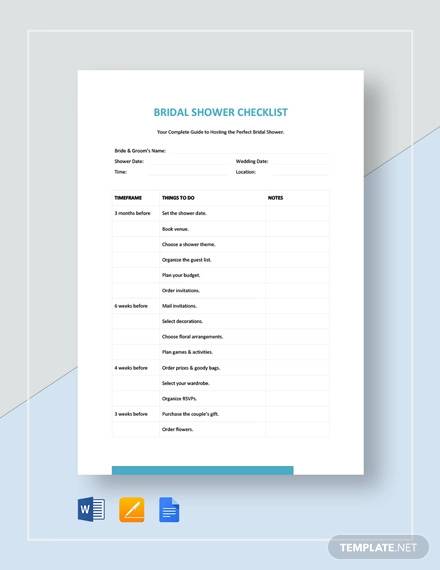 Sample Bridal Shower Checklist
This sample of bridal shower checklist has a very beautiful header and relatively simpler design and format. This Sample Aims At Early Planning And Hence The Checklist Is Given For Three Months In Advance.
The list starts by listing down the least and most important things according to the date of the actual shower. This comprehensive planning technique would prove very beneficial for any person who loves to keep things organized.
Example of Bridal Shower Checklist
This sample of bridal shower checklist is another superb template which can really be very helpful for people planning a wedding shower for their friends.
The design is very simple except for the image of an animated bride in purple color on the upper left hand corner. This template also divides the work according to their dates of precedence of the actual event.
Simple Bridal Shower Checklist
This sample of simple bridal shower checklist follows the format of other templates, yet manages to stand out for its unique design. The entire event is divided over a period of one year and the entire is divided in 6 quarters of two months each.
There is a checkbox against each quarter with the list and as you finish your task you can click your checkbox and be confirmed.
Bridal Shower Checklist Free
This example of bridal shower checklist is a bit different from the ones given above. This in fact is a registry of items that would be required for the party.
It a comprehensive list of various different types of glassware, tableware, dinnerware, cutlery, linens and various items that would be required for the party.
Downloadable Bridal Shower Checklist
Bridal Shower Checklist
Bridal Shower Checklist to Download
Bridal Shower Checklist PDF
 Best Bridal Shower Checklist
Who Usually Hosts the Bridal Shower?
A bridal shower party is generally hosted by the bride's friends, maids of honor and her bridesmaid. This is an expression of pure love and affection and not a compulsory event. Usually the parents or siblings of the bride do not host any such party, because it I s considered bad manners to host a party and then to solicit gifts from your family members or friends.
What are Some of the Basic Bridal Shower Manners?
The first and foremost important manner of this occasion is that everyone who is present at the party should be invited to the wedding. Traditionally men are not considered a part of the event. Only the bride and other female members attended the event. However, nowadays many people love to invite the boys over.
Under such circumstances make this point known to everyone attending the event. If you do not wish to receive any gifts, state that explicitly in the invitation. You may also like Wedding Checklist Templates.
When Should a Bridal Shower be Held?
A bridal shower is usually held a 2-3 months before the actual wedding takes place. Its aim is to prepare the bride for her new role and new life. However, if you have friends and family living far away and want them to join, you can coincide the shower with important dates like Christmas day or Thanksgiving for more convenience.
Now do not bother yourself in thinking how to get your checklist done. We know you have many more important things to concentrate on so we offer you some assistance with planning an impeccable gathering for the spouse to-be with our Sample bridal shower checklist. Check on our Sample bridal shower checklist, and download or print according to your requirement. You can even alter things to suit your style, once you get an idea from our sample.
If you have any DMCA issues on this post, please contact us!