Statistics state that a significant portion of US death toll per year is caused by fatal car accidents. With a fatality rate of 12.4 deaths per a hundred thousand household, and an additional 4.4 million of individuals who are injured enough to require immediate medical attention.  These fatal accidents are commonly caused by speeding, substance abuse, distracted driving, etc. But there is one factor that, even though not as common and is usually overlooked, could still lead to vehicle related accidents. That is the failure to maintain and exercise motor vehicle maintenance procedures. When a car is poorly maintained, there is a higher chance of the driver being subject to even bigger problems down the line.
Owning a vehicle is more than just driving it properly along the road. The biggest parts of owning a vehicle is keeping it in top condition. Keeping it well, fully, and properly maintained. A properly maintained vehicle ensures that maintenance repairs are kept at a minimum, and helps avoid the possibility of having a vehicle that's gonna leave you stranded on the highway. We really can't expect everyone everyone to have complete knowledge of everything that has to do with their vehicles. More often than not, car owners would just prefer to leave the safety and maintenance inspections of their cars to their local mechanics and have them handle the more difficult stuff. But being able to conduct regular safety inspections to keep your vehicle safe and maintained is a valuable skill to have. It's always good to be able to conduct preliminary safety procedures periodically and even right before a long trip. It's a good practice and the benefits definitely last. Now, to make sure that your safety inspection covers everything and is actually effective, it's a good idea to establish a safety checklist beforehand. Check out these motor vehicle safety checklist samples to get a better idea of what the document is, be familiar with all its components, and know what a well written checklist looks like.
10+ Vehicle Safety Checklist Samples
1. Vehicle Safety Inspection Checklist Template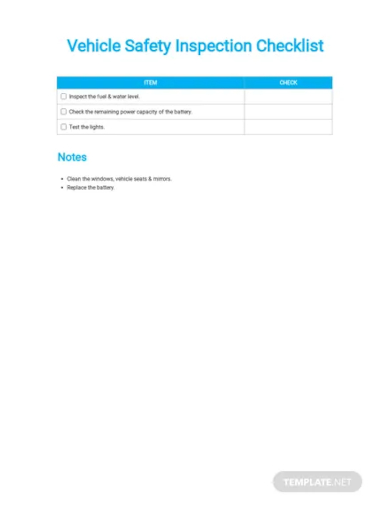 2. Vehicle Safety Inspection Checklist
3. Vehicle Driver Safety Inspection Checklist
4. Vehicle Safety Checklist
5. Pre-Trip Vehicle Safety Inspection Checklist
6. Low-Speed Vehicle Safety Checklist
7. Vehicle Safety Monthly Checklist
8. Company Vehicle Safety Checklist
9. Food Vehicle Safety Inspection Checklist
10. Vehicle Annual Safety Inspection Checklist
11. Daily Vehicle Safety Checklist
What Is a Vehicle Safety Checklist?
Vehicle safety checklists are, basically, checklists. The document essentially lets you inspect and assess the condition of your vehicle on your own. You can do the safety inspection right before a trip or even on a regular basis. A vehicle safety checklist lets you effectively do this by giving you an overview of certain car parts or components and provide a description of what each part's optimal status is. If a component does not meet the optimal state that is listed on the checklist, then there might be a problem causing it to do so. The checklist should be able to cover basic maintenance and repairs by giving you an outline of how to do basic troubleshooting. Professional mechanics also use checklists like these to have a guideline to follow when doing safety inspections, basically about the same purpose. Only difference is that professional checklists tend to be much more detailed and deals with more specialized tasks.
How to Create a Vehicle Safety Checklist
Creating your  own checklist usually means that  you have to be well versed in everything about a vehicle. Don't worry if that's not the case though, because you can still use that samples and templates we've provided above. And down here, we'll give you a rundown of the components that should be found on a safety checklist, and a couple writing tips as well.
Contact information
Regardless of the shape and scale of your checklist, be sure to always leave a space for your and the inspectors names and signature.  Also include each of your contact details like phone numbers and emails as well. If you're  doing the safety inspection on your own, then feel free to reflect that.
Identification
Reflect any sort of identification of both the owner of the vehicle and the person in charge of the inspection. Driver's license, valid ID, registration, etc.
Specify the vehicle's details
There are countless vehicle models and types out there. And each of those has a specific component that make them different from one another, except if its the same build of course. So you should specify the details to make the safety check easier and the replacements, compatible.
Main inspection
This will be the main part of the document because, well this is the checklist itself. Here are the most basic components that your vehicle safety checklist has to cover.

Engine oil check
Battery check
Headlights and turn signals check
Tire treads check
Windshield wipers check
Belts in and around the hood of the car
Make sure that the auto emission sticker is up to date
Brake and rearview lights check
Brake test
That should cover just about everything basic. Remember that the more specific components of the checklist depend entirely on the build, model, and type of the vehicle that you will be inspecting. Keep that in mind to be sure to have everything covered.
FAQs
Why is a vehicle inspection important?
The most obvious reason to always safety check your vehicle is for safety.
What is a vehicle checklist?
A vehicle inspection checklist is used to assess and evaluate a vehicle's current condition. It should help identify various mechanical issues or defects that a vehicle currently has.
What is a daily routine check?
A daily routine check is a process that regularly inspects the condition of your vehicle. It usually checks vehicle fluid levels such as oil, brake, clutch, steering, and transmission.
Owning a vehicle is a great responsibility in of itself. Making sure that your car is constantly on a good condition does not only make you safe, but also the people around you. Regular safety inspections can also keep you from spending too much money on much bigger problems that could've been avoided.