Need to achieve specific goals and objectives? Well, what you need is an action plan. An action plan is a list of carefully planned steps that you must be taken so that the desired goals and objectives can be successfully met. An action plan includes creating a timeline of activities or a sample schedule when specific task must be done and completed, determine the resources to be used and provide a reason why they are needed. In training, an action plan is used to organize the lessons and activities to be learned. There are all sorts of training and each of them have their own corresponding training action plans. You may check out the action plan samples below.
Training Action Plan Samples
1. Training Action Plan Template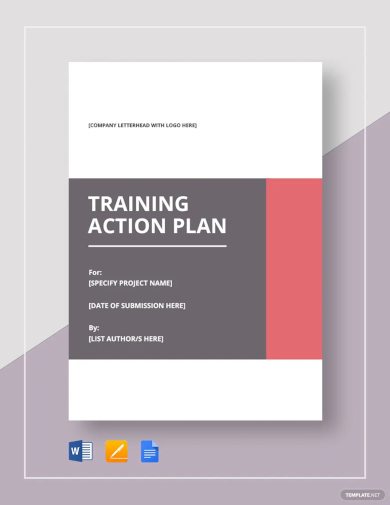 2. Employee Training Action Plan Template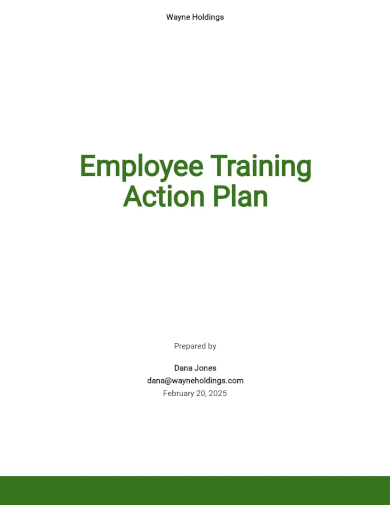 3. Staff Training And Development Action Plan Template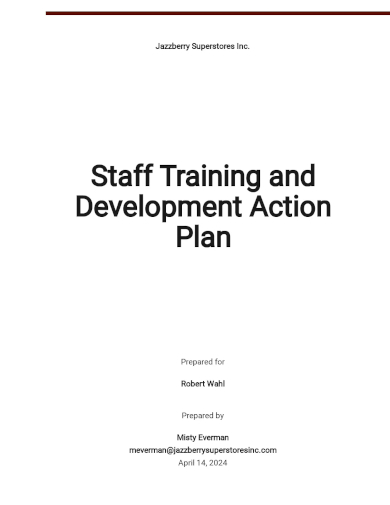 4. Work Training Action Plan Template
Training is provided at work, especially for newly hired employees and whenever new work processes are being implemented. Before the training starts, a plan for the entire event or activity is laid out using a work training action, just like the sample that you are seeing above. Using this sample template makes the sample planning convenient and easy to do and ensures that no important steps or actions are overlooked during preparations. The good thing about this action plan in Word is that it is customizable and can be used by anyone who needs it to make a training action plan for work.
5. Online Training Action Plan Example
Online training sessions make staff training easier and more convenient to do and that s thanks to technological advancement. This online training action plan sample is intended for coaching staff members. The sample is very unique and has an interesting feel to it once you lay your eyes on several pages. It is something different from the usual action plan sample that commonly know. If you need ideas on how to make your training action plan wonderful, then this sample should be on your list.
6. Sample One Page Action Plan Template
This one-page action plan actually consists of two pages but it will definitely help you make a one-page action plan of your own. This customizable sample includes instructions and description on how you can quickly whip up a short and simple training action plan without compromising its content. It can be used as a school action plan or a more specific action plan such as a action plan for increasing sales. This is a life changing action plan template you sure wouldn't want to miss.
7. Editable Training Action Plan Template
There are a lot of action plans out there that you can download and use, but not all of them allows you to customize or make changes to the document. Well, in this sample you are not only allowed to make changes to the document but you are also provided with instructions on how to use the action plan template. Every section of the action plan is also described to guide you on how to write quality and relevant content all the time. This way you can be confident with your project work.
8. After Training Action Plan Template
Wanting to make an organized action plan in table format? You can check out this sample and use it as a sample reference to help you prepare your own action plan document. This sample is used to plan the steps that must be taken after a training session. Aside from the list of steps to be taken, it includes the people who are responsible for the said step, the resources to be used, time frames or deadlines, potential barriers and how to overcome them, and the expected results.
9. On-the-Job Training Action Plan Template
For a detailed and comprehensive training action plan, a really good sample to use as reference is this on the job-the-job training action plan. This sample is created for the trainer's use and to help them complete the sample form. There are eight pages to this sample and the action plan details are all written in a table except for some details, like trainer's name and signature, classification, date, supervisor's name, etc. You can make a great action plan using this sample.
10. Train-the-Trainer Action Plan Template
This is a one-paged training action plan sample that is very easy and convenient to use. It actually works both as a reference material and as a template that will help you create a similar action plan. That is because this sample is a customizable and print-ready sample allowing the user to easily change, add or remove details that are not necessary so that they can turn into an action plan essay of their own.
11. Post Training Action Plan Template
Need action plan samples that you can use in the workplace? What you need can be found in this sample. It contains not one, not two, but four different action plan samples that will help enhance the social and emotional wellness of the employees in the workplace. The plans are detailed and well-written so if you use it as reference you will also be able to come up with a reliable output. Other action plans that you may use in the workplace are corrective action plans and  30-60-90 day action plans.
12. Training Feedback Action Plan Template
What do you do after getting a training feedback? You would actually study and analyze the sample feedback and create an action plan to correct things that needed to be corrected or to make improvements on things that are done poorly. An action plan would be the perfect tool to use to respond to the feedback effective and achieve your objectives.
13. Training Course Action Plan Template
Use this template if you want to make a training course action plan quickly and easily. Your action plan will be sample brief but it will just be as informative as those action plans with multiple pages. It also has a 90-day follow questionnaire that will asses the trainees progress after the training.