Different companies and businesses give massive importance on being able to create a comprehensive plan or a layout for the tasks and the projects that they plan to work with. Coming up with a well laid out plan helps keep the rest of the team and the organization on track for a lot of things that may be involved during the entire duration of project implementation. Planning ahead is always good practice, especially when the project that you are working on aims to  fix a breach in protocol or a discrepancy within the operations of your business. For example, audits in several specific areas of the business. It highlights the necessary steps ahead of time to make sure that the intervention being established with the project actually works, and not waste time and resources that are nowhere near effective. A well laid out plan brings the entire idea or vision of the management all together, bringing actual tangible progress to the table. This document is more universally well known as a corrective action plan, which basically works just the same as regular action plans. These documents can go a long way in making sure that whatever you or your organization may be working on is fully realized.
Planning  ahead of time is always crucial because it allows you to provide pointers for your members and the rest of your organization that they can use to prepare ahead of time. It lets them know what they need to do or accomplish in the near future, or for the duration of the intervention that is to be put in place. It also makes sure that everybody has all the time and the resources they need, as well as for everybody to participate in the activity or project.
Writing an action plan may seem simply easy of paper at first, but it isn't always the case, especially for corrective action plans where it's purpose is to work as an intervention to a breach or discrepancy in protocols within the company. It really is a lot of responsibility within a single document, because it also helps make sure that the mistakes do not happen again and overall accountability is provided. Make sure that you know the document first before actually attempting to write it by checking out these audit corrective action plan samples that we have listed for you down below. Once you are quite familiar with the document yourself, feel free to use these samples as guides or even as templates for your own corrective action plan.
10+ Audit Corrective Action Plan Samples
1. Audit Corrective Action Plan Template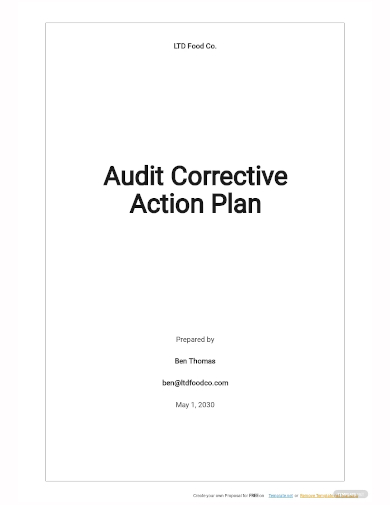 2. Audit Corrective Action Plan
3. Audit Finding Corrective Action Plan
4. Agency Audit Corrective Action Plan
5. Audit Report Corrective Action Plan
6. Audit Corresponding Corrective Action Plan
7. Sample Audit Corrective Action Plan
8. Standard Audit Corrective Action Plan
9. Compliance Audit Corrective Action Plan
10. Audit Response Corrective Audit Plan
11. Internal Audit Corrective Audit Plan
What Is an Audit Corrective Action Plan?
A corrective action plan works just like a regular action plan, only geared to deal with more internal problems of a company. There's not really much difference, it's still a document that contains several details, strategies, and outlines the components and the parameters that the organization might put in place to make sure that project planning and project implementation goes smoothly. Regardless of a project's shape, type, and size, when project managers want their own projects to succeed, then writing an action plan is the best initial step that they can make. The document works like a checklist of all the actions and tasks that need to be done to reach the objectives that they have set for themselves. The length of the document heavily depends on the nature and the scope of the project that they plan to work on, however, the document mostly consists of not more than a couple of pages.
Audit corrective action plans may cover a lot of things, but again it depends on whether or not the audit is in a much larger scale. The contents of an action plan needs to be presented with enough details and parameters to make sure that these tasks are carried out just the way they are supposed to be. Vagueness and unnecessary jargons are highly discouraged when writing the document, because it will most likely lead to most confusion rather than actual clarity. The document doesn't even have to be flashy nor colorful with a lot of graphics in and around the document. Just some well placed visuals here and there would be enough to alleviate the crudeness of the document, bring some much needed life and color into it. Action plans may not seem much, but when you are trying to patch discrepancies making sure that these mistakes don't happen again, you need something that can guide you to the right direction, and make sure that your goal is fully realized.
How to Write an Audit Corrective Action Plan
The writing process of an action plan consists of more than just writing down steps with their descriptions on a piece of paper. You need to have a perfectly clear idea of  what it is you're looking form and how you plan to achieve the result that you have projected. And then explain the entire process to your team so that they too are on the same page as you. There are a number of steps that you need to follow and keep in mind to ensure this. These steps are listed and discussed in more detail right below.
1. Define your goal
Before actually writing your corrective action plan, be sure that you have a perfect understanding of what your goal is and how you plan to achieve it. Diving into a venture completely blind without any foresight of what you really want is synonymous to setting yourself up for failure. Don't do that. Think about the situation that you are in and the circumstances that you plan to work with. Also check how your plan will work with the environment around it. Use SMART objectives to further assess your goal, and just try to see if it is actually feasible.
2. List down the steps
Enumerate the steps that you deem are necessary for the success of your venture. Don't think about the order of these steps just yet. What's important here is that you identify all of the things that you need to do, and that you are able to provide enough details and instructions to make sure that these tasks are carried out just the way that it's supposed to be.
3. Prioritize tasks and deadlines
Once you've identified all the things that you need to do to realize your goal, organize them according to what needs to be done and completed first. Prioritize labor and resource intensive tasks, as well as those that need some other task to be completed first before you can move on to the next one.
4. Set milestones
Milestones give your team something that they can look forward to even though the completion date is still quite some time away. Doing so in turn will boost their morale, and motivates them to work for at least the goal that is much nearer for their perspective. Small victories slowly accumulate over time, especially if your progress is consistent. Also, it's just generally good to pat yourselves on the back once in a while.
5. Identify your resources
Prepare all the resources that you need ahead of time, even before project development has even begun. Making sure that you have everything you need will give you the luxury of focusing on the project itself during development rather than stopping your progress midway due to shortages of supplies and materials.
6. Visualize your plan
Visualize your action plan and try to imagine how it would work when applied to the real world in real circumstances. Also, aside from your plan being able to present the steps and the efforts that need to be done and completed, it also has to be able to communicate the elements that you have identified previously like the risks that you have projected, the chain of command, assignments, deadlines, and the overall inventory of your supplies and resources.
7. Monitor, Evaluate, Update
The writing process of an action plan does not stop when you've put all your components down to paper. As long as the intervention is still in effect, then the writing of the action plan is still going on. The document needs to be updated and changed regularly, depending on how the circumstances around the action plan changes over time.
FAQs
What are the five steps of an action plan?
Set SMART goals
Create a list of actions
Set a timeline
Designate resources
Monitor the progress
What is a successful action plan?
A successful action plan is one that is able to outline all the necessary steps needed in order to achieve the goal that you have in mind.
What are the five SMART objectives?
Specific. Measurable. Achievable. Realistic. Timed.
A well written and well drafted action plan can do wonders for the project that your company is currently working on. It helps make sure that the entirety of project planning and implementation, as well as project development goes smoothly. And if problems do arise, then the organization, at least those who are tasked to deal with such problems, are equipped with what they need to tackle the issue head on.