Social Media has become so popular that almost everyone is in it. Even elementary kids are aware of social media with the likes of Facebook, Instagram, Youtube, Twitter, and many others. Attracting millions of users from all across the globe and from different walks of life. Why have social media platforms become increasingly popular with users of any age? It boils down to one particular human trait, the need to interact and connect with people which is made easier by using a laptop or a smartphone. With the ever-growing power and popularity of different social media platforms, most companies old or new have been focusing their attention on these online platforms to help market and sell their products and services. Which has in fact proven its effectiveness in terms of revenue and sales, depending on a company's strategic approach when it comes to managing social media networks. Take note, although there are big business opportunities when companies start promoting online, it takes an efficient and well-crafted social media action plan to ultimately achieve a company's goals and objectives. Read more about this in our article for today, and feel free to download our social media action plan samples to help you with your planning.
10+ Social Media Action Plan Samples
1. Social Media Action Plan Template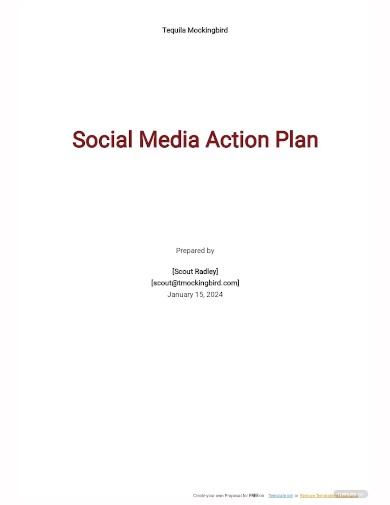 2. Social Media Marketing Action Plan Template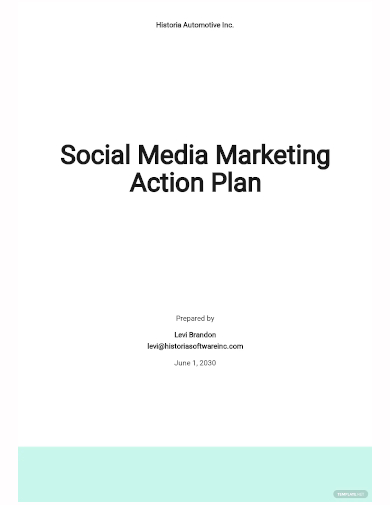 3. Organisation Social Media Action Plan
4. Hostliers Social Media Action Plan
5. Social Media Marketing Action Plan
6. Social Media Officer Action Plan
10. Social Media Blueprint Action Plan
11. Social Media Engagement Action Plan
What Is a Social Media Action Plan?
Every company needs to make plans, whether this is for operations, finance, budgeting, or marketing and promotion. Almost all companies, old or new rely on marketing to achieve their goals to strengthen their brand in the marketplace. And one important and highly popular marketing strategy is the use of different social media platforms. Nowadays more consumers enjoy not only using social media for entertainment, but they also use it to shop around and as a means to learn more about different products or services. To add advertising and promoting your brand online can be cost-effective as well. So by creating a social media action plan, you are able to list various tasks that will help you and your company achieve your marketing and overall business goals and objectives by using social media as your main online platform.
How To Create a Social Media Action Plan?
Achieving our goals whether for personal or business reasons is why action plans are formed. You need to establish a list of tasks with dates and create actions behind each task. And lastly, provide ways to measure the progress of the tasks you have been aiming to complete. A social media action plan spells out the game plan for your social media activities. This document will help to shape the direction of your social media efforts and should be able to provide valuable information to ensure success. To start creating the action plan, here are several tips that can help and guide you.
I. Align Your Social Media Marketing Goals with Your Business Goals
To develop your action plans, by then you are already able to identify your marketing and overall business goals. For example, you need to sell a targeted number of products online, so how are you going to achieve this? So one social media goal you need to work on is to reach a large audience on different social media platforms. Now you have this in mind, use these goals to work on a task that can carry out this action plan.
II. Learn More About Your Products or Services
Understanding the full extent of your products or services will help you gain perspective on how to sell and promote this through the use of social media. Simply posting without a strategic plan will not generate the target leads that you need. You need to create something to entice people to stop and look over your brand.
III. Target Audience
Who and where to find your targeted audience will affect how you shape your social media action plans. Knowing who your audience is and what they want to see on social media is key. In that way, you can create content that they will like, comment on, and share. It's also critical if you want to turn social media followers into customers for your business.
IV. Identify The Social Media Tools You Want To Use
There are a lot of social media platforms online. As much as you want to use whatever available material there is online, this is not recommendable. Rather focus your attention on two or three rather popular platforms that are relevant to the product or services that you are offering. Devoting your time and marketing efforts towards specific platforms will efficiently help you develop better strategies to attract wider audiences rather than managing so many social media accounts in which others hardly do anything good to your brand.
V. Set Up Accounts and Improve Profiles
Once you have determined which social networks you want to focus your attention on and would be beneficial for your brand then the next step is to set up official accounts and create an attractive yet powerful profile. You may want to write out a mission statement for each network. A one-sentence declaration to keep you focused on a specific goal.
VI. How To Manage Your Social Media Accounts
You will need to create a set of tasks to effectively manage and monitor your social media accounts. Each account should have its own set of tasks to accomplish in terms of lead generation, social media content, and how to reply to inquiries and concerns posted through comments or personal messages. It is also advisable to set up a social media content calendar so you can plan out the perfect time to share a post to reach maximum effect. You may want to try and break down monthly tasks into weekly & daily to-do items for better management.
VII. Evaluate Progress
You need to be able to measure the progress of your action plans. How far are you in attaining your goals? Are you making positive progress, or have there been any setbacks? That being said, you will be able to make necessary changes if you see little to no progress at all.
FAQs
What Is a Marketing Strategy?
A marketing strategy is a process that companies use to reach prospective consumers and turn them into customers of their products or services.
Why Is Social Media Powerful?
Over the years, the use of social media has expanded into different categories which are not only used to connect with loved ones but as a means to exchange ideas and opinions with people from all over the world. Which is an effective way that can affect and change people's views and understanding of certain issues.
What Is a Marketing Campaign?
A marketing campaign is a strategic method to promote a brand into different kinds of platforms such as television, radio, blogging, social media, and other effective online platforms.
Start working on that social media action plan now so you can effectively promote your brand online. Remember if you need any help our sample templates right above are made available for you to download and use.