In every teacher's lesson plan, there is always an Evaluation or Assessment part. This is purposely made to ensure that the objectives of a lesson is really achieved by the students. Also, it should always be that the assessments should align with the SMART (Sustainable, Measurable, Attainable, Relevant, Time-bounded) objectives or goals, otherwise, the purpose is not achieved. This is the same thing with Assessment Action Plan, this should provide step-by-step plans that will ensure the effectiveness of a lesson in a classroom setting.
As what is defined, assessment is the process of gaining relevant information about a student's performance in order to make judgements whether they are doing well or not. Example for these are the formative assessments, summative assessments, or authentic assessments and even SAT (Student's Aptitude Test). These are done to determine the area of strength and weaknesses that the student acquired in her education.
In making the Assessment Action plan, making this from the scratch might be a pain in the head especially that this needs to be done ahead of the assessment. Also, you need to consider a lot of things in order to make this effective and efficient on the course of its implementation. To avoid the inconvenience of making this with little to zero idea, Sample Templates gives you available and useful templates that are utilizable anytime. As you go along this article, you will also encounter a lot of related ideas that are useful as well as you make your Assessment Action Plan.
10+ Assessment Action Plan Samples
1. Assessment Action Plan Template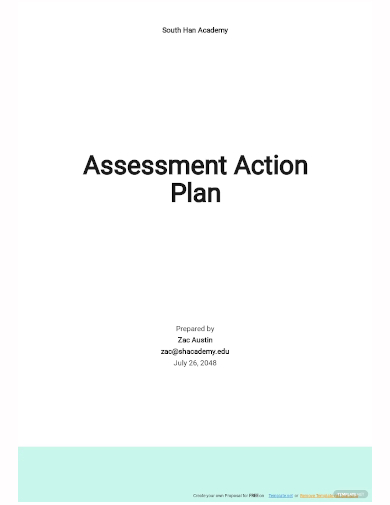 2. Assessment Action Plan
3. Assessment Implementation Action Plan
4. School Assessment Action Plan
5. Program Assessment Action Plan
6. Assessment Induction Action Plan
7. Quality Balance Assessment Action Plan
8. Assessment Results Action Plan
9. Project Assessment Action Plan
10. Gender Assessment Action Plan
11. Risk Assessment Action Plan
Making Your Assessment Action Plan
Through the activities, it has been discussed that you wanted to make this very well-planned. That's why, an Action Plan is really highly needed in making one.  You can make into a written action plan your team's analysis of your current lay-out plan based on what you have observed in your students' standings. The Assessment Action Plan should be based on how you wanted and envisioned it to be.  A lot could happen inside the classroom, which means, what's written in the lesson should not necessarily follow. That's why it's called a lesson plan, because it is yet to happen. The more important aspects is that, you can make your objectives very attainable. Here are some of the suggestions on how to make great Assessment Action Plans:
• Ensure your plan is based on what you really want for the students to achieve after the course of the study you should think of wise ways on how to make your assessment achievable for them and should always be in line with what is your goal.
• Utilizing the five actions self-analysis to really ensure achieving results by getting familiar with your long term goals and charting it to provide guide for future references.
• Develop enough resources or funding to ensure the capacity if the action plan to be executed into the greater extent.
• You are not only taking care the effectivity of the students, but also the welfare of the teachers. Allot different programs that could further equip teachers on how to apply appropriate assessment techniques to achieve objectives.
FAQs
What is an action plan in assessment?
An action plan is a plan for how to improve your program. It takes far-off goals and hard changes and breaks them down into steps you can keep track of and complete. An action plan usually includes goals, steps, assignments, and deadlines.
What should an assessment plan include?
The plan should involve learners in setting goals, reviewing and managing their learning progress during the project, and self-reflecting after the project.
Why do we need assessment plan?
Needs assessment is important because it helps an organization determine the gaps that are preventing it from reaching its desired goals. Knowing what is working well and what needs to be changed is crucial to progressing effectively towards those goals and making an organization successful.
In making this possible, you need to be knowledgeable enough to inspect all the details that should be included in your Assessment Action Plan. If you happen to have little idea about this, don't worry. Sample Templates got you in making everything convenient and possible for you. So go! Avail the templates that you can see above, now!