The book "Auditing: A Practical Approach with Data Analytics" explained that an auditor's responsibilities fall into two broad categories: the common law and securities law. Common law is a general law and is usually determined by the social needs of the community or the state. While the securities laws have been established to address the auditor's responsibilities related to the new issues of security, or connected to the trading of securities on different kinds of exchanges. Keep on reading our article here as we provide you some relevant steps on writing an impressive data audit report, plus some templates that you can use freely.
1. Sample Audit Report Template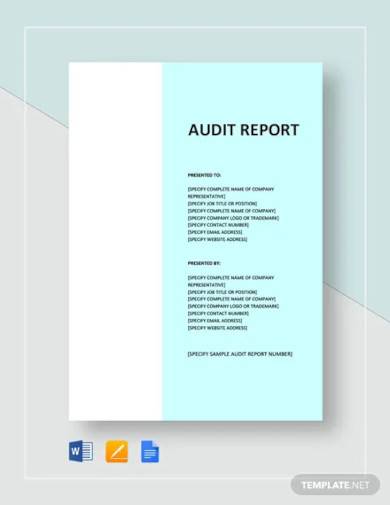 2. Sample Data Audit Program Report
3. Data Protection Internal Audit Report
4. Data Protection and Privacy Audit Report
5. Sample Data Analytics Audit Report
What is a Data Audit Report?
From security to customer data accuracy, data audit reports are vital tools in helping one's business deal with major concerns. One of the major concerns of many businesses is data security. Gartner stated in a reference that more than 40% of all data and analytics projects will relate to some aspect of customer experience by 2021. 
How to Write a Data Audit Report 
Accuracy is not just the only essential component of data auditing. A data audit report could reveal access issues or in-depth areas of collection that would be valuable. We suggest that you use our templates above that you can use conveniently. Here are the steps that you need to follow for a successful audit process and accomplishment of your data audit report:
1. Determine and bring in key stakeholders
Determine ahead of time how you will engage the high influence stakeholders like the CEO, accounts payable clerk, stockholders, lenders, audit engagement partner, and many more. Find and bring the ones who have the capabilities to speak about the data collection, storage, and use processes. In this way, you will enhance the probability of meeting your client's needs and accomplishing the engagement on the proper time and under budget.
2. Use a data audit framework 
In order to search and map out the vital information architecture for the data, you should use a data audit framework. What data assets currently exist? Where are these assets located? How have these been managed to date? Based on a methodology paper, the framework is designed to be utilized at both departmental and institutional level without dedicated or specialist staff and with limited investment of time or effort. The audit forms seek to collect only the necessary level of information required to make informed decisions on how best to manage data assets in the long term. 
3. Analyze the accuracy, scope, and consistency of data
After gathering the essential data for your audit report, you should be able to make some meticulous analysis of the information. Use your problem-solving skills and your keen interest in the financial system as you carefully evaluate each point and detail. An online reference explained that internal auditors should use analytics throughout the audit process. This helps them make better decisions during planning. 
4. Include all the conclusions you got from the data
As you finished providing and analyzing all the evidence and data during the audit process, it's now the perfect time to create some conclusions from the entire data. Don't forget to include missing inventory or inefficient processes if there's any. 
FAQ
What are the important components of an audit report?
The important components of an audit report are the criteria, condition, cause, consequence, and corrective action plans or recommendations.
How do you conduct a data audit?
Have a comprehensive research on what you have. Find out the possible sources. You can also interview key players. Learn to prioritize and organize. Lastly, monitor closely how your data is being used.
What are the 4 types of audit reports?
The four types of audit reports are in the following:
Qualified opinion-qualified report
Unqualified opinion-clean report
Adverse opinion-adverse audit report
Disclaimer of opinion-disclaimer report
How do you do a data privacy audit?
An article explained the steps on how to perform a data privacy audit. First, you should define the audit subject and objectives. Establish a scope of audit. Then, perform pre-audit planning. Identify audit procedures and steps for data gathering. Finally, write the conclusion and endnotes. 
In conclusion, the results of audit activities should be recorded truthfully, clearly, consistently, and completely, with a comprehensible description of all material details according to the book "Internal Audit Handbook." Because of the sensitivity of the data, working papers needed to have strict access control.  Also, the documentation of the data creates the basis for reporting on the audit findings. So, to prepare yourself for your data auditing work, we have some data audit report templates that you can use to summarize your audit so that significant details can effortlessly be used for comparisons. Download the samples right now!