With school tuition fees amounting to such a large amount nowadays, getting a scholarship grant will be a great help to aid you financially as you study in a prestigious university analysis or college analysis. Scholarships are not granted to just anyone. Careful consideration must be done and factors such as the economic status and academic excellence of the applicant must be looked into.
To ensure that you will get a scholarship, you should write an exemplary application letter that would aid you to achieve your education goals and future goals for your future career. You can look into the set of Sample Cover Letters for the scholarship we have that is available for download in Word and PDF format.
Sample Cover Letter for Scholarship Application in DOC
Cover Letter Examples for Scholarship Template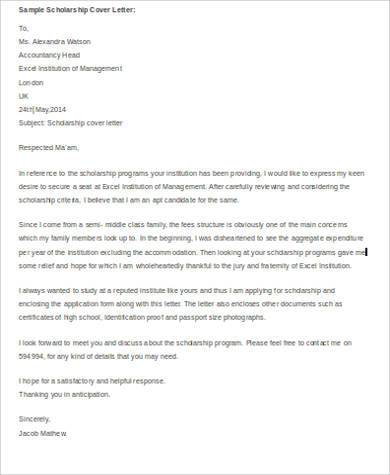 Sample Scholarship Cover Letter Template
Scholarship Program Cover Letter Outline Template
Tips in Writing an Effective Cover Letter for Scholarship
In writing your scholarship application letters, you must be able to give a justifiable reason why you should be chosen to be granted a scholarship to aid you financially with your studies. Here are a few tips you can follow when writing your letters.
Use language that is easy to understand and formal in tone.
Explain in detail why you have considered applying for a scholarship.
Write all your credentials that showcase you as being an achiever. Make sure you cover all the essential details needed to let them know why you are a good match to be granted a scholarship.
You may also include the organizations you were part of to showcase that you are a team player.
Your letter should show that you are confident and that you are looking forward to getting the scholarship grant.
Always check and review your letter for any grammatical errors or misspelled words. You may also opt to have someone else proofread your letter.
Your scholarship application letters will pave the way to quality education that could bring your future career to new heights. You can look into Cover Letters for Job Application if you are looking into applying for a job.
Simple Scholarship Cover Letter Doc
Using Cover Letter for Scholarship Templates
These cover letter templates are very accessible. You can easily be downloaded directly from this page. All you need to do is choose one that you feel will be most effective and click on the Download button at the bottom of your chosen document. They are available in Word and PDF format, can be saved to your computer or portable device, and will not take up too much of its memory. These will be the best guidelines you can use in order to make your scholarship application successful.
Getting a scholarship grant is a big help especially for those who are having difficulties with their finances. You have to ensure that when you are writing your sample application you are able to put your best foot forward in order to convince the sponsors that you are a good fit for financial assistance. A cover letter for scholarship's main purpose is to highlight your strengths and goals. It is meant to be centered on what you have achieved academically. You have to carefully evaluate what you are going to include in order for you to be chosen for the scholarship.
Planning to have a career in teaching? You can definitely benefit from using our sample Cover Letters for Teacher.