If you are looking into starting your own handyman business or if you already have your own handyman business, then you will need a handyman invoice template that you can use. This invoice will be of great help for you and for your business. We have here handyman invoice templates that you can download for free and use as your own! We have also included useful information about handyman invoices and invoices in general.
Handyman Invoice Template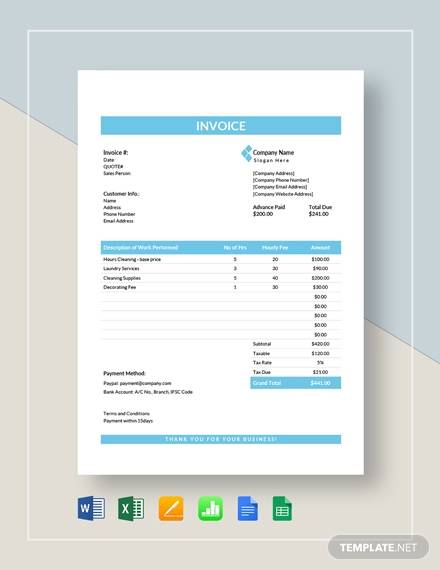 Invoices are pretty useful with small scale business such as a handyman business. Most businesses start small before they become big and well established. A handyman business is one of those businesses that are usually started by individuals who want to make it good in the business industry. The offer repair services and minor renovations usually in residential properties or other small businesses.
 Editable Handyman Invoice Template
Generic Handyman Invoice Template
Printable Handyman Invoice Template
Handyman Invoice Sample
Simple Handyman Invoice Template
Commercial Handyman Invoice Sample
Detailed Handyman Invoice Template
What Is a Handyman Invoice?
A handyman invoice is a type of invoice that is specifically created for businesses that provide repair, maintenance and renovation services. Like all the other invoices in existence, the handyman invoice is used to request payment for the services that has been done. It is also often used to give client's an estimate of the total amount that they will have to pay for the services that they have requested. Regardless if the handyman business is a big or small business, utilizing this invoice ensures that you are doing business legally and that you are paying the appropriate amount of taxes for every service that you provide.
The use of a handyman invoice is not just limited to requesting payment for the services rendered or for providing an estimate of the services to be rendered. There are other many uses to it and they are as follows:
No matter how small or big your handyman business is, you are still obliged to operate it legally. This means that you must follow the law when running your business and part of that law is issuing an invoice to every transaction that you have, regardless if it is a repair, maintenance or renovation transaction. A handyman invoice must also be provided for services offered to both residential and commercial clients.
The use of a handyman invoice allows a business or freelance handyman service provider to keep track of all their services that they have performed for a span of time, which in turn helps them determine how much they have earned for that period and on which services they earn more.
Handyman invoices are records of all transactions that has been offers so it is used to calculate how much tax the business should declare which is also the same amount that they need to pay.
In case of an audit, records of the invoices of the past transactions of the business will help them from answering really difficult questions from auditors and save them from getting themselves into legal trouble. Because regardless if it was an honest mistake or not, if you don't have proof that you are doing business legally then you just can't get away with it unscathed.
Handyman invoices include client information such as their names, address and contact details. These information are helpful when profiling your clients or when doing regular maintenance for them. This way you will know which repair or maintenance services you need to provide them next or the best course of action you can take to level up the services that you offer.
There's just quite a lot of uses for a very plain and simple kind of invoice, won't you agree? What other uses of a handyman invoice do you know of? If you are interested to learn more about invoice, then you may want to check out other related articles, like Real Estate Invoice Templates, Small Business Invoice Templates, and Car Sale Invoice Templates.
How to Use a Handyman Invoice Template?
With the selection of handyman invoice templates in this article, are you able to find the template that you like or the template that best fit your needs? If you do, then what you need to do next is how to use. Well, it's obvious that you have to fill it in with the required information. The question is, what are these required information and what should you put in. Here are are simple and easy-to-follow steps that you might just need.
Let's start with the basic steps. There are two ways on how can use a handyman invoice template. You can have the template printed and write the details by hand or you can open the template using the supported application, add the required information, and then have it printed. Whichever you want to do is perfectly fine.
Check if the template is really what you want or if it is complete. If you really want to use but it lacks a few information that you need, you can go ahead and have them edited to your liking. What's good about these templates is that aside from being printable, they are also editable.
Moving on to the contents. On your handyman invoice template you will see there the heading as 'Sample Handyman Services'. You don't really have to keep that title. Change it with the actual name of your handyman business followed by the address and contact details of the business.
Next, you will need to enter your client's name in the 'Bill to' part of the invoice and their address where the service is going to be done in the 'Service Location' part.
Now, there are two dates that you must supply in the invoice and that they are date when the service is done and the date when the service should be finished and payment is due.
The biggest part that makes up the handyman invoice is a table where you list all of the services that has been done, including the materials used if the client did not provide the materials. The list should be very detailed and a description of the services and materials should also be provided.
The quantity of the materials and the price of both materials and services should be included. A subtotal for each line item should also be provided.
Near the bottom part of the table would be where you will enter the tax percentage applied, how much the actual tax is in dollar amount, and the total amount to be paid. Discounts and other promotions, if nay should also be entered in this part of the invoice.
If your template includes a note box, then write here any instructions or additional information that you need to include that does not fall under any of the required details above. Payment arrangements can also be added here with the full details.
Always make sure to have your name written and your signature affixed on the invoice, as well as your client's. This will ensure that you have both agreed to the listed services and amount, and that you are both committed to do your part in the transaction. And that is you delivering good and quality services and your client making the required payment.
At the bottom of your invoice you may write sentences thanking your clients for doing business with you.
Isn't it that easy to use a handyman invoice template? With all the free and easy-to-use templates we have available here, your work will be more convenient and time saving. What more can you ask for? You may also find other related titles available on our website interesting, like Advance Payment Invoice Templates, Bookstore Invoice Templates, and Cleaning Service Invoice Templates.
Plain Handyman Invoice Sample
Handyman Sample Invoice Template
Commercial Invoice Template
Generic Blank Invoice Template
When to Use an Invoice and a Receipt?
If you find yourself confused between an invoice and a receipt , then you have actually landed into the right part of this article. if you don't already know, invoices and receipts are toe different documents that are used in the same business or sales transaction. To be able to tell their difference, one must know when they are used. You will be surprised at how simple and easy it is to tell them apart.
Invoices and receipts look pretty much the same except for the word invoice and receipt on them. Invoices are used to request for the payment of good or products ordered or consumed by a client. It is issued to a client or customer before payment has been made. An example would be that piece of paper given to you when you request for your bill in a restaurant. Yes, that is an invoice and you just didn't really think that it is what it is. So after making a payment, you no longer receive that same piece of paper. Instead, you get different one with the same details but with the amount that you have paid and how you paid for it. This is the official receipt for your transaction and it is used to indicate that you have d made the required payment, or what we usually call proof of purchase. It is issued after payment has been made. Most of the time, invoices and receipts go together like in the example above. But there are also instances when an invoice is no longer needed such as in groceries, department stores or convenience stores.
As you can see, it's pretty easy to differentiate an invoice from a receipt. We hope that you have learned something form this article. If you do, you may also want to check out other useful articles we offer on our website. Some titles you may be interested in are Restaurant Invoice Samples & Templates, Retail Invoice Samples & Templates, and Jewelry Invoice Samples and Templates.