Have you ever experienced a majestically fun night at a club or bar? With the combination of strong booze and lively blaring techno music, it's difficult to avoid getting infected with the fun spirit that usually permeates these scenes. This awesome magic is mostly due to the expertise of the DJ playing the music for the night. You may also see printable invoices.
If you are working as a freelance DJ, you must be swarmed with multiple professional opportunities. When dealing with the owners of bars, clubs, and private parties that you are DJ-ing for, you must be able to conduct your business transactions with these entities in a professional manner.
Dj Invoice Template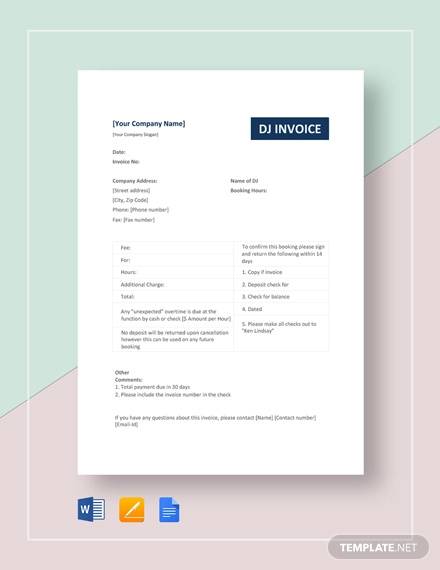 Blank DJ Invoice
One important aspect of professionalism that you must take care of is the sending of proper invoices to your clients. On this page, we provide you with various invoice sales templates. We also discuss briefly the difference between invoices and receipts.
Free DJ Invoice
Wedding DJ Invoice
What Is a DJ Invoice?
A DJ invoice is the document that DJs use to formally request their clients to settle their payments.
How to Create a DJ Invoice
A DJ invoice is not very difficult to create. As a matter of fact, you can easily create one by referring to properly formatted templates such as our sample invoices on this page. Here are some guidelines that you may follow:

Before starting to create your invoice, you must be able to assess the following:

Aside from the regular tasks of a DJ, are you also in the business of organizing parties and events that your customers hire you to DJ?
What materials do you usually need in the course of performing your usual job functions?

When you have answered the abovementioned questions, you may now proceed to making your DJ invoice.
Write your real name or your DJ name, your address, and your contract information. You may also add your professional logo.
Provide fields for your customer's information such as the following:

name
address
contact information
date when DJ services are to be performed
venue
time and duration of service performance

Indicate the price per service.
For more reference, you may download from our collection of graphic design invoice templates.
DJ Service Invoice
DJ Invoice in PDF
Simple DJ Invoice
The Best Ways to Send Invoices If You Are a DJ
The very nature of the DJ's job entails that the relationship he/she must have with his/her clients can be a bit intimate and cozy. However, this must not deter him/her from maintaining a level of professionalism when asking for payments. Here are the best ways to send invoices to your clients if you are a DJ:
Print out an invoice and personally give it to your client.
E-mail it to your client. In order to ensure that your client was able to receive your soft-copy of your printable invoice,you need to call his/her attention to the email through a phone call or personally.
To know more about the nature of invoices, you may browse our website's wide collection. We also have consulting invoicetemplates for those who are engaged in the industry of providing consultation services be it legal, medical, or marketing.