Various ways of contract making and Sample Contracts that are discussed here can guide you through developing the idea of contract management. A contract management plan on any sector and role makes you hire a person or team on contract, who will then manage things, and abide by the job role and responsibilities to help you complete a project. There are significant advantages of giving the job to a contract worker or a team.
Simple Management Contract Template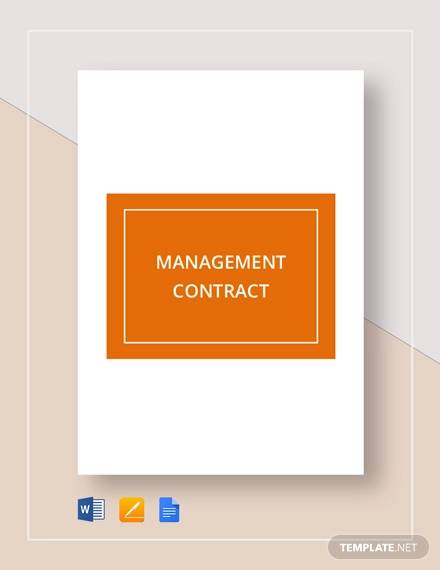 Contract Manager Job Description Sample
When you are hiring a project manager on contract, the set of jobs will be a little different from one who is a permanent employee. Hence, this template will help you define the job while the manager is on contract.
Sample Construction Contract Project Manager
The job of the contractual project manager in managing any project in any domain can be described with the necessary details and supervisory roles in the job details is shared here.
Construction Management Contract Format
When you have a team hired on the Construction Contract for the construction work, they must complete the job on time as per the contract, then the job roles should be defined this way.
What is Contract Management?
The plan of Basic Contract management is quite simple. Whenever you are making one work for you in a contract, then, there will be some rules and methods of making the project done. The management and styles are discussed in different ways here in various samples and templates as per the contract.
There may be contracts in many domains, and for many job roles, and certainly as per that, the management process will differ. The basic outline for managing things in all such fields whenever the work is executed on contract is defined in a contract management plan.
Sample Property Management Contract
If you are giving the contract to manage your property, then you must tell their job in this format. Here, the responsibilities of a contractual property manager or a team are defined.
Sample Contract Management Plan
If you are hiring a worker or a team on contract, and you have to get some jobs done by them, then there has to be a nice plan too for managing the whole project. This kind of plan making is facilitated by the templates shared here.
Contract Management Service Example
Uses of a Contract Management Plan
A contracted person or a team will be a professional definitely, but working for money only, and won't be dedicated to you or the organization, just like the permanent employees of an organization are expected to be. Hence, to get the 100% of work output and the best performance from the contracted professional, you must make a plan of management. You can also see the Sample Service Contracts.
This will contain such styles and methods, the to-dos and checklists, which will put the whole work in an order and will make it easy for you to supervise. That is the prime use of the contract management plan.
Certified Commercial Contract Manager Sample
Sample Contract Management Review
If you are making a plan for contract management of work, then you just have the very basics mentioned there. The basic steps of working, the best practices, the troubleshooting, the management ethics, and rules, etc., all that which makes a plan complete. The templates are to help you make a contract and plans like the Sample Sales Contracts and more.
If you have any DMCA issues on this post, please contact us!