A management contract is an agreement between the owners of a company and a separate third-party management company for the management company to take over the managerial tasks of the business. Like any contract, all elements of a contract must be present for it to be legally binding.
Not all owners or investors in a business have the necessary skills to manage a business and so they would need to seek the help of an outside company to do it for them. When this is the case, a Management Contract is always needed in order to have a smooth working relationship. We have management contract templates below for you to check out.
Sample Management Contract Template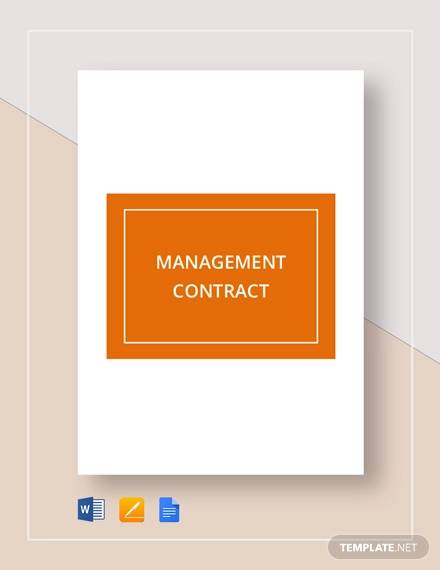 Property Management
Hotel Contract
Construction Management
Artists' Management Contract
Advantages and Disadvantages of a Hotel Management Contract
One of the most common industries that use a management contract is the hotel industry. Many hotels would often just prefer to hire an outside company to manage their operations than hiring an in-house manager. This has been practiced by quite a number of hotels. When opting to do this, they would need to outline the terms in written form through a hotel management contract. An Artist Management Contract is a contract of the same category you many be interested in. As will all things, hiring an outside company to manage your operations has its pros and cons.
Advantages
Hotel owners turn over responsibility so they have more time to focus on the more important things.
Extra work can be accomplished without having to increase your current pool of regular workers.
The outsourcing contract can be terminated more easily than the contract of your regular employees.
Disadvantages
As you give certain information and contracts to the management company, there is a privacy and security risk.
Contractors would want to save cost and quality of services or materials used may be compromised.
A number of conflicts could arise in the relationship with an outside contractor.
Management Services Contract
Personal Management Contract
Business Management Contract
Tips in Writing the Best Management Contract
Businesses must be serious when drafting a management contract. Outside companies are often tasked with Contract Management and so they would know a lot about your business operations. When drafting a management contract, follow the tips listed below for a foolproof contract agreement.
Clearly state the scope of their services. You do not want an outside company to totally take control of your operations. This will also make them work better when they know where their responsibilities starts and ends.
Be comprehensive. The scope of a business-outside contractor relationship is broad. Make sure that you lay out all the terms on all aspects of the business on the contract.
Seek legal advice. Once you have drafted your contract, you may want to consult an attorney to make sure the contract protects you legally.
Businesses often seek the services of an outside management company to aid them in some everyday management tasks. When this is the case, they would need to have a management contract in place. If you are looking for one for your business, consider downloading the samples above so you save time and effort.