To support students, teachers, parents, and the entire administration are some of the roles of school counselors. In fact, school counselors are in high-demand nowadays due to the American School Counselor Association's recommended ratio of 1:250 counselor to students. But, before a person becomes a counselor, he too needs to undergo training and exams, specifically an internship. And if your school welcomes interns, you will have to prepare daily log sheets that the interns will use during their internship. Don't know how to make one? Then scroll down to view and use our free samples.
FREE 3+ School Counselor Daily Log Samples & Templates
1. Free Daily Log Template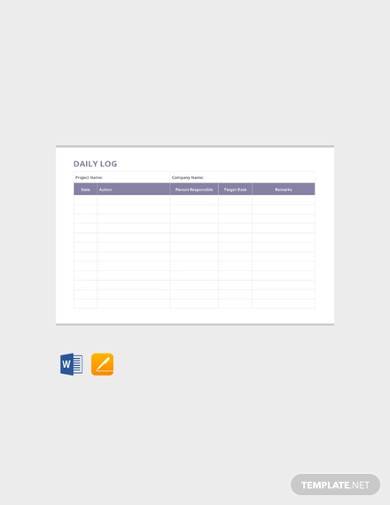 2. Sample School Counselor Daily Log
3. School Student Counselor Daily Log
4. School Counselor Practicum Activity Log
What Is a School Counselor Daily Log?
A school counselor daily log is a type of document that schools will need to have to record the daily attendance of a counselor, often a trainee or intern. The logs will serve as proof that the counselor or trainee has reported to school during the allotted work hours. After the semester or a particular period, the log will be used as part of a counselor internship training assessment or evaluation. It will aid in assessing the work ethics and performance of the counselor or trainee and will help determine whether a certificate or the approval for the next program will be granted.
How to Make a School Counselor Daily Log
There are three main reasons why it's essential to record time and attendance, which includes helping to improve employee morale. So, if you aim for your counselors and counselor trainees to have great employee morale, then you should keep track of their attendance. But, before you start making the school counselor daily log, take note of the following tips first:
1. Determine What Details to Collect
The basic details that you will be collecting in the school counselor daily log sheet would obviously be the time in and time out of the counselor. But, aside from that, there are also other pieces of information that are relevant to document in the sheet. In specific, the daily log sheet should also have the counselor's name, employee or ID number, and schedule. Some schools also want to have the list of activities or an accompanying activity log to supplement the attendance.
2. Make Use of Rows and Columns or Tables
It would be easier and more organized if you use rows and columns to make a table for the attendance or daily log. Make sure that you also indicate labels in the table headings, as well as instructions and guidelines, if there need to be symbols to use to plot and fill in the table.
3. Use Simple Fonts
You are making a document that's intended for recording information, so there is no need to design the log with eccentric or over-the-top creative elements. Keep the layout and design simple, and use easy-to-read fonts. A good example would be Arial and Times New Roman fonts. If you have to emphasize areas, such as the labels of the tables, then change the sizes of the fonts by making it larger or setting it in bold.
4. Ready the Log in Varying File Formats
The benefit of having the log in varying file formats is its availability and accessibility. For instance, if you want a printable school counselor daily log sheet, then you can opt for one in MS Word or DOC format, while a PDF formatted log will be best for electronic daily attendance keeping. On the one hand, if you want your log sheet to be accessible to Mac and Apple devices, then the Pages format is for you; choice is yours!
5. Keep an Editable Template
You won't know for sure when you will have to update the contents and layout of your log sheet, so it's best that you're ready when that time comes. The best way to prepare for any changes would be to keep an editable sample form or template of the log sheet. This way, you'll be able to access it whenever you need to change the log, such as during a new semester or when you will be partnering with another organization who will provide counselors on training and internship programs.
FAQs
Can I use the school counselor daily log templates for non-trainees such as our regular counselors in school?
Yes, you can use the log templates above for documenting or recording the daily attendance logs of your counselors, both interns and regulars. The difference is that you have to place a label in the log sheet to ensure that the it's filled out by the ones you actually what their attendance documented.
Do I need to collect the signature of the counselor who logs in the daily log sheet?
It depends on the preference of the school whether to have the counselor's signature or not. Also, if the log sheet will document the name of the counselor's guests and visitors, then their signatures might be relevant as well if you will require the counselor's signature to be affixed in the sheet. Nonetheless, the log sheet is not a legal form, so there's no need for signatures to be mandatory unless you will be using the entire record for future legal aspects.
Having a complete and well-documented attendance is essential for any individual working or engaging in a company, institution, or organization. So, don't waste any more time, and download our free school counselor daily logs now!