It is expensive to participate in sporting activities. Whether you're a bodybuilder, skier, gymnast, ironman, runner, swimmer, or cycle, not having enough money might make reaching your ambitions as an athlete more difficult. Sponsorship support helps players to focus more on their sport's training and production, as well as reducing stress associated with obtaining money to practice and put on events. As an athlete or a sports organizer, it's also one of your responsibilities to secure a sponsor so that you could pursue to greater heights. Sponsoring an athlete, as a company, can also provide you with great opportunities in building your brand, as well. You've come to the right place! In this article, we provide you with free and ready-to-use samples of Sports Sponsorship Proposals in PDF and DOC formats that you could use to secure a sponsor or gain an athlete to market your brand. Keep on reading to find out more!
 10+ Sports Sponsorship Proposal Samples
1. Sports Sponsorship Proposal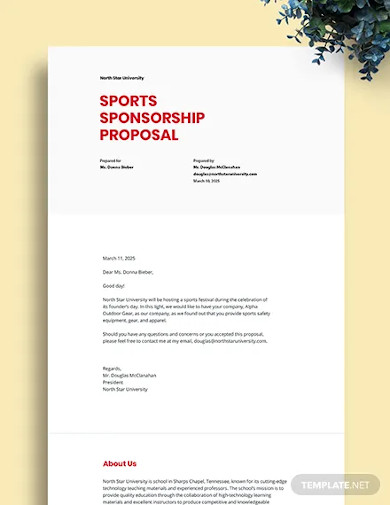 .
2. Sports Team Sponsorship Proposal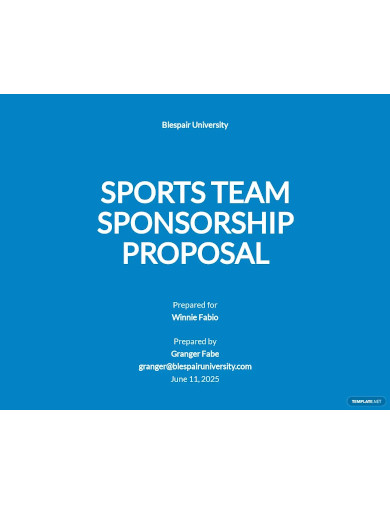 3. Athlete Sponsorship Proposal
4. Football Training Camp Sponsorship Proposal
5. Boating Sports Sponsorship Proposal
6. Hill Motor Sports Sponsorship Proposal
7. Baseball Sponsorship Proposal
8. Women's Sports Team Sponsorship Proposal
9. Auto Racing Sponsorship Proposal
10. Football Club Sponsorship Proposal
11. Sports Sponsorship Proposal Example
What Is a Sports Sponsorship Proposal?
Obtaining a sponsorship can be critical to your sports an athlete or club's financial and competitive success. Frequently, organizations' resources are insufficient to pay any additional costs, such as improved equipment or travel to long-distance competitions. Clubs might explore sponsorships to make up the financial gap between what is available in the budget and what is required. These collaborations can take numerous forms, ranging from providing a general donation to funding a specific need, such as equipment. While identifying and gaining a sponsor for the club is a lengthy process, the sponsorship proposal letter is an important component.
How to Make a Sports Sponsorship Proposal
How can you assure your sports club's long-term financial success? You'll need to build and maintain a strong portfolio of sponsors that are eager to help you save expenses and/or grow income. A Sports Sponsorship Proposal Template can help provide you with the framework you need to ensure that you have a well-written and convincing proposal to wow your prospective sponsors. To do so, choose one of our excellent templates above. You can also follow these steps below to guide you:
1. Make a careful selection of possible sponsors.
It's a good idea to connect with a vast network when approaching potential sponsors—the more people you ask, the better your chances of receiving a positive response. Approach each potential sponsor with the customized attention and professional respect you expect. You should avoid wasting time with uninterested companies and focus your efforts on those most likely to respond positively by completing extensive preparatory research.
2. Decide what you want and what you're willing to give in exchange.
It's a two-way street when it comes to sponsorship. You're not only requesting assistance; you're also capable of providing it. When you see the proposal as a partnership rather than a handout, you'll get a lot more positive feedback. Begin by sketching out a clear picture of the mutual advantages you and your potential sponsor can deliver.
3. Include the different degrees of sponsorship.
Companies need to know how much of a gift clubs are asking for and what that sponsorship entails before submitting a proposal. Organizations could present sponsorship packages of various levels in their bid to indicate this. This can either be a separate document attached to the proposal letter or part of the proposal bundle.
4.  Describe the advantages of partnering with the club for the sponsor.
Sponsorships that assist the organization while simultaneously providing benefits to the sponsor are the most appealing. As a result, the proposal letter should clarify how partnering with the club may benefit both the club and the possible sponsors. This section can discuss how collaborating with the organization can assist the organization's consumer base, loyalty, community participation, and other benefits.
FAQs
What is the idea of sport sponsorship?
Sponsorship is the financial backing of a sport by an outside party (be it a person or an organization) for the mutual advantage of both sides, whether it be an event, an organization, or a performance.
What are the benefits of businesses sponsoring sports?
Sport is used by sponsors to bring value to their brands. There is fierce rivalry among firms and brands in practically all areas and marketplaces. A sponsor will utilize sport to develop a distinctive position in the mind of the customer in order to make a brand stand out from the crowd.
What are the advantages of sponsoring a sports team?
The ability to not only generate favorable brand association, but also to activate and enhance the fan experience is one of the most significant benefits of forming a connection with a club, individual, or sporting property.
Overall, a successful sponsorship is the result of a partnership between the sponsor and the sponsee, and that partnership must begin during the talks. To help you get started with securing your sponsors, download our easily customizable and comprehensive samples of Sports Sponsorship Proposals today!