The total maintenance environment requires effective maintenance planning. All maintenance work operations are guided by the contents of the maintenance plan, which comprise the actual work, directions, timeline, workers, spare parts, and contractors. Continue reading to find out what you should include in your strategy and how to make it more efficient. To avoid damage and deterioration, all properties, whether old or new, must be maintained. Most businesses use this as a preventative step. Simple maintenance is an expensive proposition, especially for homes of all sizes. For the property to remain appealing, usable, and liveable, you will need to spend a significant amount of money.
10+ Maintenance Services Proposal Samples
What is a maintenance proposal? A maintenance proposal is a document that outlines the work that must be done to keep assets in a facility in good working order. The information in this document will assist you in ensuring that an asset is used to its full potential. If you follow the standards outlined below, your facility can avoid major malfunctions or unexpected renewal. The goal of maintenance planning is to keep your equipment in good operating order for as long as possible. While a standard plan will suffice, an effective program is required for any institution to reap the full benefits of your maintenance insurance.
1. Maintenance Services Proposal Template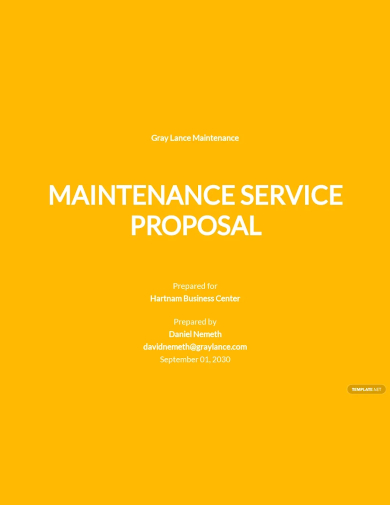 2. Facility Maintenance Services Proposal
3. Software Maintenance Services Proposal
4. Lawn Maintenance Services Proposal
5. Property Maintenance Services Proposal
6. Lawn Maintenance Services Request for Proposal
7. Landscaping Maintenance Services Proposal
8. Building Maintenance Services Proposal
9. Mechanical Maintenance Services Proposal
10. Installation Maintenance Services Proposal
11. Repair Maintenance Services Proposal
What To Include in the Proposal
The work itself – You must be clear on what you need to do while creating your maintenance plan. Once the maintenance work begins, decide on the priority regions as well as the sequence of actions.
Instructions – Instructions that are clear and concise help to reduce reliance on certain workers. Maintenance work must also adhere to strict quality requirements. Only if you give precise directions in the plan will you be able to meet these standards. Consider integrating job observations that you can undertake to ensure the efficiency of the maintenance chores while you're at it.
Schedule – The goal of the schedule is to do the work as often as necessary, not to over-maintain by completing the task too often, and to avoid downtime and breakdowns by under-maintaining. While weekend maintenance is unlikely to disrupt your operations, there's a chance you won't be able to obtain suppliers. Setting aside the maintenance window at the start of the year is always a good idea. Make sure that everyone in the production is aware of this window. During this time, you'll need this team's full cooperation. Make required revisions to the strategy as the year progresses to improve its efficiency.
Workers – For each maintenance task, the plan must specify the relevant skillset. This knowledge will help you choose the best contractors for the job. Assign each member of the maintenance staff to a specific region, depending on your organizational structures. While you're at it, make a list of the duties you'll delegate to outside contractors. Ascertain that the strategy restricts access to places that represent a significant risk to the facility's employees.
Spare parts – You can forecast your spare component use at this point. Once you've specified the parts you'll require, the technician will know exactly what to purchase from the store before beginning the real repair job. The maintenance manager may see what components were used in the previous period as well as what parts will be utilized in the future in this area. They'll have an easier job putting together a budget for the coming year.
Contractors – Some maintenance jobs may necessitate the use of outside contractors. External professionals who come on-site to perform specialized tasks are among them. To service assets, the majority of them bring specialized equipment such as mobile cranes and metering equipment tools. The job that you'll ask contractors to execute is specified in the effective maintenance plan. You won't have to rely on a single contractor for all of your maintenance needs thanks to this area. You may use these requirements to solicit bids and proposals from various contractors for a certain project.
FAQs
What makes maintenance services plan effective?
A good plan should address all aspects of your facility's maintenance strategy. A comprehensive inventory of assets that you must maintain should be included in the program. The list, which includes a variety of components such as boilers, pumps, and roofs, guarantees that no important asset is overlooked. You'll also need to figure out what kind of maintenance you're going to do. As far as possible, link these responsibilities to specific assets. A realistic maintenance schedule should be enough to guide the entire maintenance program.
What is the importance of maintenance?
Maintenance is critical for any company or body because it guarantees that all equipment is working properly at all times. When compared to the expense of replacing the equipment, regular maintenance is less expensive. It also guarantees that production equipment is as efficient as possible.
If you want to see more samples and formats, check out some maintenance services proposal samples and templates provided in the article for your reference.