One of the most important departments that comprises a business organization is the human resource department. HR plays a key role in helping companies deal with a fast-changing business environment and a greater demand for quality employees. Aside from overseeing employees, they also perform other administrative functions which ensures that other company assets such office materials are never on a shortage and equipment are functioning well. Yet not all companies have the resources to maintain a HR department, which is why they would seek to outsource a company that would specialize in HR services. HR consulting or outsourcing firms forward their HR services proposal to companies who wishes to pursue their services and expertise. Read more about this proposal in our article below and don't forget to check out our free HR services proposal samples.
10+ HR Services Proposal Samples
1. HR Services Proposal Template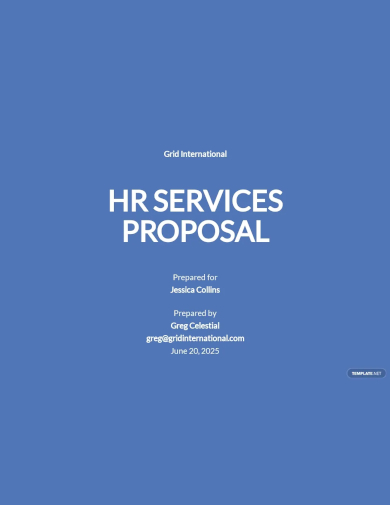 2. HR Services Proposal
3. HR Consulting Services Request for Proposal
4. HR Management Services Request for Proposal
5. HR Legal Services Request for Proposal
6. HR Agency Services Request for Proposal
7. HR Payroll Services Request for Proposal
8. HR Information System Services Request for Proposal
9. HR Advisory Services Request for Proposal
10. HR Benefits Consulting Services Request for Proposal
11. HR Reporting Payroll Services Proposal
What Is an HR Services Proposal?
HR consultancy firms are companies that generally specializes in human resources services. They have a team of capable consultants available to help businesses of all sizes improve their human resource functions and management. Working with an HR consultant firm can also be helpful for companies that need help increasing employee engagement. To be able to gain more clients, these firms are either offered to submit their HR services proposal in a bidding process or are plainly requested by companies who need their assistance. An HR services proposal is a document that outlines the scope and terms of work of an HR consulting firm who is tasked with improving human resources management for a client business. HR services proposal allows you to showcase the services you provide, your team, and your team's expertise.
How To Write an HR Services Proposal?
HR consultancy firms has a wide range of HR related services that they offer to their clients. So your HR services proposal will depend on the specifications and requirements of your clients. They might perhaps need assistance with their payroll system or for professional recruiting services. Whatever may their requirements be, your HR services proposal will be tailored to what was discussed between your firm and the client company. Remember, the HR Consultants specialize in niche areas, and you should be very explicit in outlining the exact human resources services you can provide to the business. Each proposal may differ in format and contents, yet the general elements of a HR services proposal are as follows:
I. Introduction or Cover Letter
In your cover letter or introduction it is important to highlight the essential need of human resources in a business organization. Briefly explain these in this section of the proposal and what the client company can benefit out from it.
II. Requirements Summary
As you probably discussed earlier with your client, you might know by now what they expect from you. And it has also given you an opportunity to learn more about the client's company, sufficiently enough for your to identify the problem and their challenges.
III. Proposed HR Services
After identifying and enumerating the different challenges the client company has been facing, this is where you align your firm's HR management services in which can help address their needs. Outline the different solutions and if not try to propose new ones that they may seem fit to support their company.
IV. Benefits
With your proposed services in place, enumerate the different benefits that can be achieved when doing so. This is to assure the client that the services you are offering can reap good and effective outcome.
V. HR Services Pricing
Your payment schedule should be specific enough that there is no question about when, how, and how much you'll be compensated for your work. Include information about which services your business client pays hourly for and which services incur a flat rate. If you expect to be reimbursed for specific business expenses related to your HR efforts, include that in the payment schedule??.
VI. Terms of Agreement
In this section of the proposal, you are to define the period in which if an agreement shall take place, in effect between the both parties. Other things to include are the payment terms, representations and warranties, confidentiality clause, liability, miscellaneous and all other information deemed relevant to the proposal.
FAQs
What Does an HR Consultant Do?
HR consultants are individuals who are knowledgeable of the HR management process. Their job includes advising management on human resources plans and processes, auditing for any HR activities to ensure compliance, developing, reviewing, and applying HR policies and procedures where necessary and many others.
Why Is the Human Resource Department Important?
A human resource department is important because of a number of major factors such as they are in-charge of hiring and training new employees, keep the workplace a safe and health environment, managing company risk, paying employees and managing their benefits and many other things. Without them, a company most especially those with a large number of employees may have problems trying to keep up with their employees.
What Is a Human Resource Management?
The human resource management(HRM) is the organizational function that manages all of the issues related to the people in an organization.  It is the practice of recruiting, hiring, deploying and managing an organization's employees.
An effective and well-written HR services proposal can help your HR consultancy firm draw in more clients as they are able to examine and learn more about the services you are offering. And how you are able to address their HR needs in an efficient manner.