If you want to do business with another entity or business, you need to make a business proposal. What is a business proposal? It is a formally written document that works like a sales pitch, where you introduce and sell the products and services that your business offers to another business or another entity. A business proposal is often the start of a potential business partnership if both parties find the business profit generating and interesting. A business proposal is also used to attract and persuade potential investors to invest in a startup business or an existing business that is seeking expansion. Business project proposals are very useful in business so if you are running one, it is best to learn of this important tool. Sample proposals are provided below for your reference.
Business Project Proposal Samples
1. Business Project Proposal Template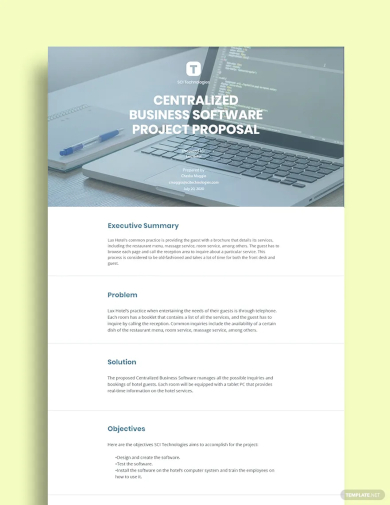 2. Sample Business Project Proposal Template
Don't be afraid of business project proposals, especially if it is your first time seeing and making one. Everybody feels fear the first time, but it should not stop you from being able to create one, especially for the needs of your business. For starters, we recommend this sample business project proposal. It is not only simple, but the sample is so easy to read and understand, which is just perfect for beginners or first-timers. It also has a colorful layout that makes it attractive and interesting to look at. You won't get tired of using this sample as your reference.
3. Business Case Project Proposal Template
This is a four-in-one sample template that can help you conveniently and quickly write a business project proposal of your own. How does this template work plan? Everything that you need is already in the business project proposal template, so what is left for you to do is supply the required information to have it completed. Found something you need to change or remove? You can easily do so because it is a customizable template, as well as a print-ready one so you won't have to go through so much hassle.
4. Preparing Project Proposals Template
Learn how to make a simple project proposal using the sample template above. It will not only help you prepare the things that you need for writing the proposal, but it will also provide you with a detailed business description and instructions on what sections to include as well as the appropriate content to write under each section. With this sample template, you are sure to make a high-quality proposal that is relevant and useful. Check it out for yourself.
5. Sample Free Business Partnership Proposal Template
Taking part in a business partnership needs a lot of thought. Well, there are a lot of reasons why businesses seek other businesses to become their business partners, and one of them is to be able to grow or expand. But you can't just easily get into one by saying that you want to be their business partner. Of course, you need to persuade them through a business partnership proposal before actually signing a business partnership contract. It's a formal way of doing a business transaction with another and this sample will give you the help that you need.
6. Business Project Proposal Example
Create professional business proposals using this simple and easy-to-use business project proposal template. This sample template is unlike any proposal template that you have seen. Each of the sections that you will need to write in a proposal is provided complete with instructions and details on what you should write in it and how your written work should be presented. This proposal template includes a title page, a table of contents, headers and footers on every page, tables for data, etc. With this, you will be able to produce a quality output.
7. Printable Business Startup Proposal Template
This print-ready project proposal can be added to your collection of proposal references. This makes a wonderful guide or reference material to help you be done with your own business proposal. This sample is a proposal for a start-up business. In every section there are instructions, guide questions, and detailed descriptions on how you should write each paragraph. Be able to write branding proposal or service business proposal using this sample template. You will surely love it!
8. Sample Project Proposal and Business Plan Template
You can prepare a business plan and a business proposal all in one document by checking out the sample above. If you plan on doing this, then you will find the sample a really useful reference and study material for your needs. The sample is detailed and comprehensive, but absolutely not boring. That is because it uses a unique layout and color scheme that you can see on each page. See it for yourself.
9. Food Business Project Plan and Proposal Template
Looking for potential investors for a food business you want to start? Then the weapon the you need for this challenge is a food business plan and proposal. The name itself sounds like a lot of work, which is very true. But you need not worry if you can get all the help that you need to write one. This help simply comes in the form of a food business plan and formal proposal, like the sample above. It's everything you need to get started and be done with it.
10. Generic Business Project Proposal Template
There is nothing wrong with using a generic business proposal template as long as you are able to thoroughly explain the details of your proposal and persuade readers about your business. This generic sample template will surely be of help to you.
11. Standard Business Project Proposal Template
Why go for complicated business analysis proposals when you can go for the standard one? With this template, you can guarantee that work is following the proposal requirements and that your output will definitely be of good quality.