It is particularly rare nowadays to see companies and organizations operating on their own. More often than not, organizers would want to take part of a collaborative project with other companies or organizations that often has a bit of overlap with their own industry. This can be very beneficial  especially for organizations that plan to hold numerous events or project, and would need a second party to help shoulder the expenses. They basically pool a good percentage of their resources and try to expand the boundaries of the event that they are planning. It can also help them come up with new programs, gain the ability to cross over to other demographics, increase operational capabilities, and some even support each other by exchanging financial and promotional assistance with each other. Some partnerships also lead to them sharing different expertise across multiple departments. Skills that may well be beyond their capabilities if they operated  on their own.
If you plan to land that partnership that you've been wanting to get, then you will need a proper partnership proposal. Partnership proposals are documents that allow an organization to propose to potential partners or sponsors and show their intent of securing a partnership with the organization of their choice. Regardless of how the document is drafted, because it can be drafted according to the specifications of the organization, it should always be able tp show to their prospective partners their interest in being affiliated with and doing business partnerships with them. The document outlines what programs or events the prospective partner may be a part of, and would also show them how this venture will benefit their own projects. Write a well and winning project proposal by first checking out these event partnership proposal samples that we have listed down below. Once you've gotten yourself acquainted with the document, feel fee to use these samples as guides or may even be as templates for your own partnership proposal.
10+ Event Partnership Proposal Samples
1. Event Partnership Proposal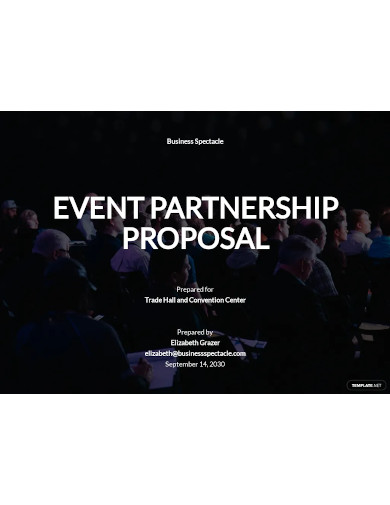 2. Festival Event Partnership Proposal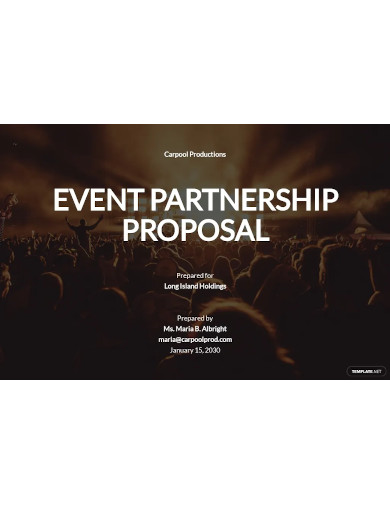 3. Event Partnership Proposal Between Two Parties
4. Campaign Event Partnership Proposal
5. Media Partnership Proposal for Event
6. Project Event Partnership Proposal
7. Sample Media Partnership Proposal for Event
8. Simple Event Partnership Proposal
9. Corporate Event Partnership Proposal
10. Sports Event Partnership Proposal
11. Third Party Event Partnership Proposal
What Is an Event Partnership Proposal?
Event partnership proposals, or jut about any partnership proposal, bears close resemblance with grant proposals because they tend to have a lot of similarities between how both documents are drafted and how they are used. It's a document that an organization or an event organizer might submit to potential companies, businesses, or other organizations with the intent of securing a partnership with them. It outlines the needs of your organization, the activities of your program or events, projected outcomes, and provide much needed information on how the partnership will be beneficial for both parties in terms of operations, retention of human resources, materials, technology, equipment, access to a wider audience, and make sure that the values of both partners are aligned with each other.
Writing a partnership proposal involves a circular winding process that usually involves a lot of accuracy and attention to detail, especially when trying to transition your raw data into a narrative that has enough genuine human connection. Which will become a selling point of your proposal. How you are able to communicate to your potential partners is very important. You also need to have a perfectly clear idea of what you are trying to achieve with this partnership, and how you plan to use this agreement as a leverage in trying to achieve your goals.
How to Write an Event Partnership Proposal
A well written and well drafted partnership proposal is one that should be able to address most of the concerns of their candidate. Highlight the benefits, how their values align, the goals, and the possible questions regarding the possible dissolution of the partnership. A partnership proposal is usually composed of different sections dedicated to the different guidelines an organization might choose to focus on. Regardless of how the document is drafted around, it should always be able to cover the element and concerns that we will outline down below.
Do your research
Before you actually begin writing your proposal, make sure that you have a completely perfect understanding of the organization that you are planning to present the proposal to. You need to understand what their company is, their brand, products and operations, and what their organization stands for. Effectively doing so will give you a great idea of how the partnership will be good for the both parties. It should also be able to provide the right context that you need to write a persuasive winning proposal. You need to take your time in looking up your prospect because they will know almost immediately if you did your research or not.
Demonstrate how your value align
Even if your organizations operate within almost the same spectrum, it doesn't immediately mean that you are the perfect business partners for each other. Your proposal should be able to highlight your values and business cultures to see if they are in line with each other. Make sure that both companies work well together, and if their internal operations are compatible.
Clarify benefits
Although it is indeed important to outline the aspects and components that you immediately want to get outright, doing so can easily translate into you being narcissistic and care more about your image more than the values of the other company. Don't do that. You have to remember that business partnerships often go both ways, especially in terms of resources and benefits. You will not have leverage that your prospective partner can lean on to if you fail to draft and present this properly.
Outline the goals
Outline and highlight the goals that this partnership will gear towards to. Specify which organizational department focuses on which task and how much resources will go in between the both parties. You also have to be clear about the return on investment that the both organization can expect from this joint venture.
Dissolving the partnership
Partnership agreements only ever go one way or another. Either the partnership works out for the longer run, or slowly draw down to an amicable end. Organizations often want to immediately pull away from partnership agreements as soon as they realize that it may just not provide the return on investment that they may have expected. Given that, you have to make sure that your proposal  is able to suggest a safe structure that protects both entities should the partnership be dissolved.
FAQs
What is a good partnership?
Both parties should be able to communicate with each other, provide accessibility, be flexible, and provide mutual measurable results.
What is an example of a partnership?
In it's most simple form, a partnership is two businesses working and operating together on the same venture.
What are the four types of partnership?
General partnership
Limited partnership
Limited liability partnership
Limited liability limited partnership
Writing a partnership may not be  the easiest task in the world. The writing process does require a lot of care and attention to detail for the presentation of data. But with the tips and the templates that we have provided in this article, you should well be able to write a winning partnership proposal on your own.