10+ Advertising Campaign Proposal Samples
Advertising campaigns are series of advertisement messages that conveys a single idea or theme that makes up the entire integrated marketing communication. This is done in order to group a large number of people for ideas, beliefs and concepts to be put into a large media base. An advertising campaign is a specifically designed strategy that is carried out across different mediums in order to achieve desired results such as increased brand awareness, increased sales, and improved communication within a specific market. All of this is accomplished through advertisement. To start with, you cannot bring out the whole plan and implementation without the Advertising Campaign Proposal. As part of the advertising team, this is a "must" product that should be available at hand.
In making the Advertisement Campaign Proposal, looking into the available templates below and the suggestions and information that this article will be giving is much wiser than making everything from the very scratch. With this, Sample Templates is with you hand in hand from doing the draft until submitting the final proposal. Just check the templates below and customize the template of your choice.
For other proposal template needs, Sample Templates also got you in case you'll be making your Request Video Production Proposal, Promotion Proposal, Sales Training Proposal, Investment Request for Proposal, Rental Proposal, Start Up Business Proposal, Office Cleaning Service Proposal, Editable Start Up Funding Proposal, Commercial Cleaning Service Proposal and more in the store just for you.
1. Advertising Campaign Proposal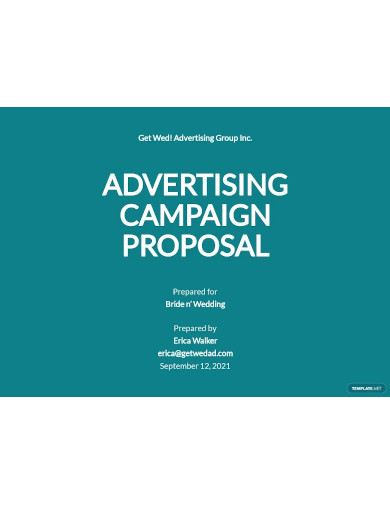 2. Online Advertising Campaign Agency Proposal
3. Advertising Agency Services Campaign Proposal
4. Advertising & Marketing Campaign Proposal
5. Advertising & Marketing Agency Campaign Proposal
6. Advertising and Awareness Campaign Proposal
7. Sample Advertising Campaign Proposal
8. Simple Advertising Campaign Proposal
9. Advertising Consultant Firm Campaign Proposal
10. Advertising Campaign Proposal Example
11. Printable Advertising Campaign Proposal
Creating Your Advertising Campaign Proposal
Whether you're part of an internal marketing team or an agency developing an advertising pitch, it's imperative to nail your advertising proposal to gain stakeholder clarity and secure their buy-in. Executives need to know that an advertising project has been well thought-out from all angles before they front the money to develop creative and buy advertising space. And the best way to inform and persuade these decision-makers is with a crystal clear and actionable advertising proposal.
This article will help you outline the actions that you need to take, suggested templates that you can use in making your Advertising Campaign Proposal.
Plan Your Project
Preparing an advertising plan is an essential first step in an advertising pitch project. As a rule of thumb, it's best practice to work off of an advertising plan template to ensure you check all the necessary boxes when it comes to the project.
Specify Your Tasks Or Services
The next step is to outline the scope of work for the project, including:
Conducting market research.
Choosing an advertising platform.
Developing creative and copy.
Working with media buying/selling vendors.
Analyzing and presenting results.
Depending on the makeup of your team or agency, you might be responsible for some or all of these tasks.
Select Your Team Members
In your proposal, put faces to names by explaining who will be responsible for what. Naturally, this process might take more time if you're combining the efforts of those within and outside of your company, or if there are different team members in the same department who need to decide which person will be responsible.
Establish Timeline
Your timeline should be clear, efficient, and attainable. When presenting your proposal, you don't want anyone feeling unsure about your team hitting its targets, but you also don't want to give off the impression that you're not moving as diligently as possible.
Propose The Budget
Alongside your budget, you should also speak to the projected monetary impact of your advertising campaign, including both revenue and profit, and, if available, the projected increase in customers and unit sales. Adding these elements can help make the budget more justifiable.
Present Your Proposal
Once you have all of these elements laid out in your advertising proposal, it's time to share your presentation.
FAQs
What is an advertising campaign proposal?
An advertising proposal sets out an advertising agency's recommendations for an advertising campaign. The proposal may be a response to a brief from an existing client or a pitch to win a campaign against other competing agencies.
What is the purpose of advertisement?
he purpose of advertising is to inform the consumers about their product and convince customers that a company's services or products are the best, enhance the image of the company, point out and create a need for products or services, demonstrate new uses for established products, announce new products and programs.
Precisely, this is a tough job! From planning up until presenting your proposal will definitely provide you an your time some time to grow and to bond as well. To avoid the tedious and exhausting process, that is basically unavoidable, look into the available resources that you can see in your browsers (but make sure first it is reliable) and make the best out of your Advertisement Campaign Proposal now!