Companies exist in the first place because of the products they conceptualized and then later sold in the market. But simply thinking of a product, then deciding to launch isn't as easy as it sounds. If you want your product to successfully bring in revenue, and solidify its standing in the consumer market then you need to start working on a product strategy plan. You see, planning is evidently clear in any business whether it is for a new product or service, for marketing, operations, handling employees, and finances. So evidently, building a product without a product plan is like navigating without a map. This is why product strategies are so important, to help guide the product management team to the right path that can lead to the eventual success of the product. Read more about this in the article below, and if you wish to start developing your plan, check out our free product strategy plan samples as well.
10+ Product Strategy Plan Samples
1. Product Strategy Plan Template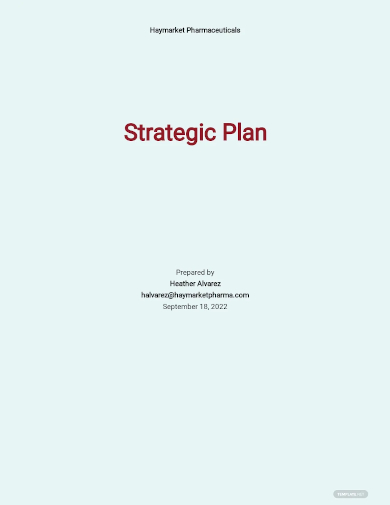 2. Product Development Strategy Plan Template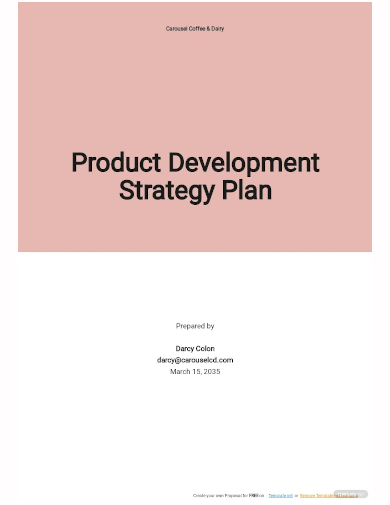 3. Product Launch Strategy Plan Template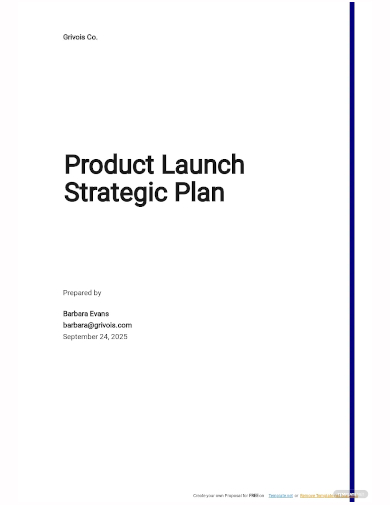 4. Product Marketing Strategy Plan
5. New Product Strategy Plan
6. Product Quality Strategy Plan
7. Network Marketing Product Strategy Plan
8. Sample Product Strategy Plan
9. Product Strategy Implementation Plan
10. House Product Strategy Plan
11. Product Safety Strategy Plan
What Is a Product Strategy Plan?
A lot of companies rely on the revenue from the products they release into the market, so how can this be fully attained? You don't want a product that is only popular but functional as well. Something that would stay in the marketplace for a long time, and that consumers would want to consider buying or referring to other customers as well. A successful product can also cement your brand into people's minds, take for example Apple products. One successful phone product can lead to years of brand loyalty. This is not all about creating a strong marketing plan, although this also plays a big part in the success of a product, yet this has to start from its very core, a product that is built to deliver business value to a specific set of customers in order to meet certain financial goals based upon defined corporate goals. To achieve this, management will need a product strategy plan which is a roadmap that determines the product goals, its life-cycle, and how this should align with the organization's own business goals. This should be able to address certain issues such as who the product will serve and how it will benefit them.
How To Develop a Product Strategy Plan?
Developing a product strategy plan is one component of business planning. It is an initiative a company must take in order to fully utilize the products they will be launching. Although it may seem like a complex undertaking, its benefits are substantially there. This would provide clarity for the company, and improve the decision-making of the product management team. Now to start, here are several essential tips to get your team working on developing an effective product strategy plan.
I. Start With a Vision
Conceptualizing a product always starts with a vision. What your company wants to foresee, you must have a purpose to do, a drive to ensure that the product is developed till the end. Product strategy defines a product's journey. Come up with a product vision statement, an aspirational statement about what the product aims to achieve.
II. Product Goals
Identify your product goals with the help of a SMART(Specific, Measurable, Achievable, Realistic, and Timely) goal-setting process. Decide on a quantifiable way to track its success and set a deadline as well.
III. Identify The Target Market
With your product in mind, you will need to also identify who exactly is willing to purchase your products. It should be thought about initially before your product comes into full development. Remember, you are creating a new product in hopes to sell in the market, so it highly matters to understand who your target market is. Products are used by people, so putting users and their needs first is always a good idea.
IV. Define The Problem
Problem definition plays a crucial role in product strategy. The product you design should help your clients solve their problems. Think about what problems will your product solve for your target market. With this, it will aid your team to come up with better product strategies that are worth solving, then evaluate your product decisions in terms of the value they bring to your clients.
V. Market Trend and Condition
Identifying the current market trend is not only used for developing your marketing strategies, this must be also considered in your product strategy plan. Market trends tend to be heavily influenced by consumer habits and behaviors. By carrying out a market trend analysis you'll be able to determine the moves that could have a direct impact on your overall product performance.
VI. Product Features and Pricing
It is imperative that the product you are about to bring about should have features that are workable, and yet competitive. This is why it is also wise to check on your competitors in the market. People are enticed to purchase products that can deliver something different from the others, it's a bonus if the design is as attractive as its features. Also, there is a need to align the product goals to the pricing strategies in order to win against your competitors. Product management needs to have an understanding of a product's cost, and its real value to different customers.
VII. Collaboration With Other Departments
The success of a product lies not only with the product management team but with the collaboration with other departments in the organization. By initiating a product strategy meeting, will manage to incorporate these varied insights by keeping everyone on topic, and gathering potentially great ideas.
VIII. Monitor Your Product Strategies
Simply initiating your product strategies does not mean it would be quickly successful. You will need to regularly monitor its progress, and measure how fast you are to attaining the product's goals. Create metrics that can measure performance and know if they are on track.
FAQs
What Is a Product Roadmap?
A product roadmap helps communicate the vision and progress of what's coming next for your product. It is a guiding strategic document as well as a plan for executing the product strategy.
What Is a Product?
Products are goods or items that are sold to other businesses or to customers. It can be physical or in virtual or cyber form.
What Is Product Development?
Product development is the process of designing, creating or updating, marketing, and providing a product to a target market.
Without product strategic planning, your company will not be able to completely utilize and reach the full potential of the goals you have set for your products. Begin working on your product strategy plan now, and if you need any assistance check out our free sample templates above.