What is a marketing plan? A marketing plan is just one of the plans that is makes up a business plan. A solid and well-written strategic marketing plan is used as a foundation of the business which lists actions taken to help the business in its operations. If the strategic marketing plan is not effective or well-written, then it is of little or no use to the business.
Strategic Marketing Plan Template Sample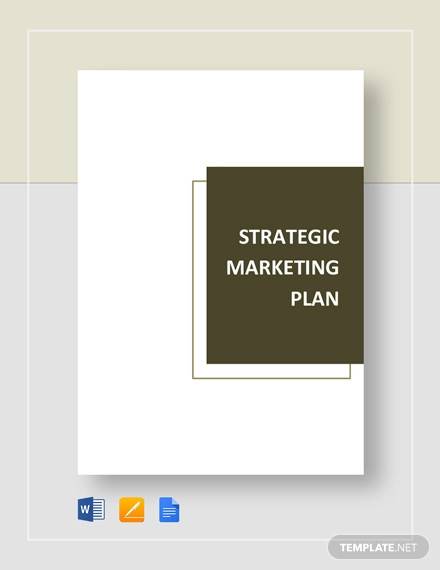 Sample Restaurant Strategic Marketing Plan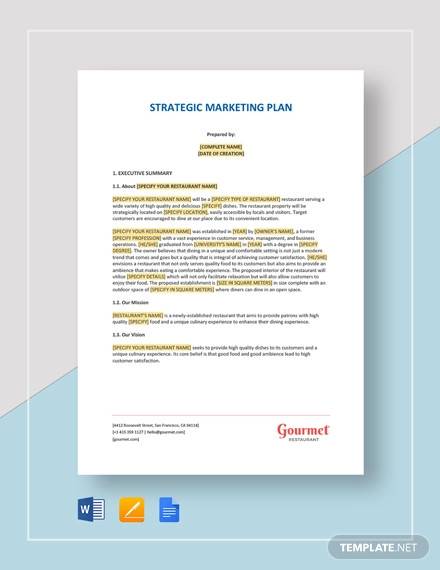 We have gathered here strategic marketing plan templates as well as basic information about strategic marketing plans. We will be defining what a strategic marketing plan is, the four basic marketing strategies, and tips for building an effective marketing strategy. You may also use the the strategic marketing plan templates provided as your reference. Check them out below.
Total Genius Strategic Marketing Plan Template
Detailed Strategic Marketing Plan
Simplified Strategic Marketing Plan Template
Printable Strategic Marketing Plan
Park District Strategic Marketing Plan
What Is Meant by Strategic Marketing?
Every business needs to come up with an effective strategy to operate and be in par or better than their competition. A strategic marketing plan does just this. It is a plan that is used by businesses or organizations to identify the advantages that they have over their competition in the industry and market where it currently serves or intends to serve. Through a strategic marketing plan, various resources are properly allocated so that they can be better exploited.
A strategic marketing plan has a number of uses that a lot of businesses and organizations benefit from. Some of these uses are listed below.
A strategic marketing plan is used to plan on how businesses can better reach and satisfy the growing needs or demands of their customers whole at the same time increasing their chances earning profit and becoming more productive.
The plan also helps identify the needs of customers which allows the creation of a marketing plan that can help achieve customer satisfaction. This in turn will help the company improve its overall performance and increase profit as well.
A strategic marketing plan is a also the type of plan that dictates how marketing should be done in the business, like what marketing programs to use within a given period of time. The plan also provides details on how these the determined marketing programs should be implemented or carried out.
The plan is also used to outline how the marketing program will engage the customers and provide details on the new sales and marketing methods.
Through strategic marketing, business' or organizations can better find a way to penetrate their target markets and become more innovative with how they do marketing and other related activities.
Different communication methods are incorporated in strategic marketing plans to keep employees and other involved parties ware of any advancements and changes to the plan. These communication methods include, newsletters and emails to name a few.
A strategic marketing plan also fosters cooperation, as the input and knowledge of various departments are needed in order to come up with an ideal and effective plan that is sure to work.
Want to know more about marketing plans and other related plans in general? Check out our website and choose from a variety of topics there. Some of the articles that you will surely find useful are Marketing Strategy Presentations Samples & Templates, and Marketing Strategy vs. Marketing Plan.
The 4 P's in Marketing and the Basic Marketing Strategies
The 4 P's of marketing, also called the marketing mix is a combination of controllable marketing tools that businesses and organizations use in order to get the response the desired responses from their target market. The 4 P's is made of four groups of variables known as product, price, place and promotion.
Product
Products refer to the goods or the services or both goods and services that a business or company offers to its customers. This is what customers consume and they are mainly the source of income of the business or company. marketing strategies make use of various product factors to be able to sell them to their customers and beat their competition. These factors include variety of products, high quality products, designs that are in trend, useful features, known brand name, attractive packaging, and reliable services.
Price
In order for customers to purchase a certain product, they will need to pay for a certain amount of money. This amount is called the price of the product. Different consumers have different price preferences which determines how they shop and spend money. This information is very useful when planning for the most appropriate and the best marketing strategy to use for different products, and business' can use this to their advantage.
Place
This group refers to a number of things which includes the different locations for the business, manufacturing, storage inventory, coverage and channels. Businesses that are conducted in different locations, especially those that are being exported to other countries need to determine their mode of transportation and  logistics.
Promotion
Promoting the products and services offered by the business or company means letting people know of the existence of the products and services, as well as their many uses, advantages and benefits. Promotion also involves activities that help communicate the features of the products and services being offered to persuade customers to purchase the products or services.
With the use of the 4 P's, a basic marketing strategies can be created. These basic marketing strategies that will give your marketing campaigns a bit of spice are cause marketing, relationship marketing, scarcity marketing, and undercover marketing.
Cause Marketing – Also called cause-related marketing is the type of marketing that relates the products and services of a business or company to that of social issues or social causes. Through this type of marketing strategy, nonprofit charities benefit from the income of the business or company from the products or services they offer. It supports a certain social cause.
Relationship Marketing –The focus of this marketing strategy is on providing customer satisfaction in order to be able to retain them. Existing customers are also well-taken cared of so as to increase customer loyalty.
Scarcity Marketing – With this marketing style, customers are made to believe that there will be a shortage of such products in the market, which leads them to buy more of that product than they usually do. This is a very effective marketing strategy, especially to customers who are used to hoarding or buying in bulk.
Undercover Marketing – You wouldn't know an undercover agent is around based on the clothes they wear and the things they do. Just like an undercover agent, you would not know or realize that you are being marketed to and that is what undercover marketing is.
Other related topics you may be interested in are Marketing Strategy Samples and Marketing Strategy Templates.
Strategic Business Plan Sample
Editable Strategic Marketing Plan Template
Digital Marketing Plan Template
Marketing Strategy Template
Strategic Marketing Planning
Tips for Building an Effective Marketing Strategy
If you have an effective marketing strategy, you can beat your competitor and earn better than you used to. To be able to create an effective marketing strategy, here are some useful tips that you must follow.
Determine your target audience. Your marketing strategy will be made more effective if you know who to market your products and services to. For examples, anti-aging creams and that sort of products are largely used by middle aged woman so you should market those products to them. Once you have determined your target market you will know how to appropriately and effectively sell the products to them to persuade them to buy it.
Create a strategy and have it documented. While creating the best possible marketing strategy for your products and services, make sure that you have every plan recorded and documented. This way you won't forget about the choices or decisions that you have made in the process.
Do personalized marketing. Do not just market for a large group of people, but make your marketing strategy personalized in a way that you are doing a face to face marketing with a customer. This will make your customers feel more valued and will help them understand the products and services you are offering.
Your content will always be king. No matter how wonderful or amazing your marketing strategy is if it doesn't make sense and if the content is unrelated. As much as consumers would want to see funny and witty commercials and advertisements, if they can't see any benefits of the products out of its contents then you won't be able to sell them anything.
Collaborate with influencers. Nowadays influencers are able to easily reach a lot of people in almost all parts of the world. So collaborating with them will definitely help you a lot!
We hope that you are able to learn from this article. If you would like to learn more about marketing in general, you can drop by our website anytime. The topics we have their include Marketing Writing Samples and Templates and Social Media Strategy Samples & Templates.