A marketing plan plays a crucial role in every nonprofit organization. Either you want to execute or achieve your nonprofit campaign and goals, it is helpful. Having a nonprofit marketing plan allows you to work and achieve your nonprofit organization's goals strategically. However, it is not a secret that creating one is tricky. Luckily, there is a way that will make it easier for you. Use our downloadable nonprofit marketing plan template to get started. If you want to explore more about this, read this whole article.
FREE 10+ Non-Profit Marketing Plan Samples
1. Nonprofit Marketing Plan Template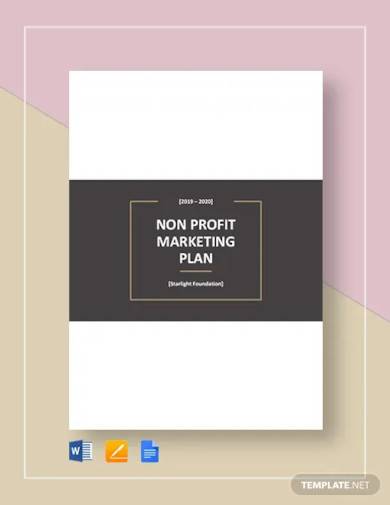 2. Marketing For Nonprofit Organization
3. Social Enterprise Business Plan
4. Two-Page Marketing Plan for Nonprofit
5. Marketing for Nonprofit Organizations
6. Professional Nonprofit Marketing Plan
7. Nonprofit Facebook Marketing Plan
8. Fundamentals of Nonprofit Marketing Strategies
9. Sample Marketing Plan for Nonprofit
10. Non-profit Marketing Plan Template
11. Nonprofit Marketing Strategy Outline
What Is a Nonprofit Marketing Plan?
A nonprofit marketing plan is a document that draws the activities needed to achieve and execute any nonprofit campaign. This document should be made accessible to all in the organization. So if activities need to be changed, they may refer to the operation or campaign's key goals. Most nonprofit organizations start outlining their marketing plans and disseminating roles with their board members at the start of their new fiscal year. Given all the contributing factors for your particular nonprofit organization, a successful nonprofit marketing plan looks at the final target and finds the best way to achieve that goal. It means considering factors such as your target audience for each mission, your marketing budget, and your employees' ability and skills.
How to Make a Nonprofit Marketing Plan?
As a nonprofit professional, the marketing field may make you feel a little nervous. It's because it sounds so corporate and too much like a business. But it is a useful tool for your organization. That is why you still have to make it and need it. As a staffer on an actively nonprofit campaign, you may already have too much on your hands. So making a nonprofit marketing plan may seem like an additional responsibility and burden for you. Aside from the fact that it is not easy to make, you also have to consider several things. To make your marketing plan complete, here are the factors that you need to include:
1. Your Audience
Who do you seek to reach? To say everyone is tempting, but the more precise you can be about your audience, the better. You will probably learn that you have a few target audiences. Potential donors, current donors, and prospective volunteers are separate audiences you will want to address differently. To know how to handle your audiences, you can start thinking about what you already know about them. You can do market research to get deeper into it.
2. Message to Communicate
In the marketing term, the product you are offering is a story, according to Cause Vox. It is pretty awesome since stories can change the world, unlike widgets. Storytelling is a communication tool that ties people to each other and involves thoughts. Much like your audience can't be everyone, your story can't also be everything. While your general narrative will stay the same, you have to tailor your messages to your audiences, highlighting the topics that will most impact them.
3. Distinction Points
Try to point out all of your organization's distinct factors. Ask yourself questions like, what makes the work you do differently from others? What makes your cause unique from the others? For your audience, there are many causes and groups to pay attention to, so any specific variables in your job or organization will help attract their focus.
4. Channels And Strategies
You also have to include your channels and strategies. It is the part where you have to get into the facts of how your plan will work. Including your strategies and channels will help you determine where and how you can communicate your story and distinction points to your audiences. After you have discovered where your messages or stories will appear, you will be able to determine when and how to communicate them.
5. Finances or Budgets
In some points, marketing may cost money. When you include your finances and budget in your marketing plan, even if it is just a small amount, it can help you identify the kind of marketing activity you can feasibly do. You can use marketing budget templates you can download from the Internet that fit your needs.
6. Goals and Outcomes
You also have to include your goals and outcomes. It is to show your audience what you want to accomplish. Whatever your goals may be, you must have to make them realistic, measurable, attainable, and time-bound. Additionally, you also have to record your outcomes. It is to attest that you are hitting and achieving your goals.
FAQs
What is nonprofit marketing?
Nonprofit marketing refers to events and tactics that convey the organization's message, soliciting a donation, and calling for volunteers. The purpose of the nonprofit is to promote the ideals and causes of the organization. It is also to get the attention of potential donors and volunteers.
What are the components of a marketing plan?
There are five components of an efficient marketing plan. They are the following:
Market focus

Product focus

Concrete, measurable, and specifics

Accountability and responsibility

Revisions and reviews
What are the main elements of a marketing plan?
There are six main marketing plan elements. They are:
Product and service description

Marketing goals and objectives

Pricing details

Advertising plan

Marketing budget
Whatever the reasons you may have for creating a marketing plan for your nonprofit organization, you can't deny that it is useful. With the marketing plan in place, you will be able to address your marketing efforts thoroughly. It can also help you achieve and execute your nonprofit campaign and goals. Thus, it is not easy to create such plans. You can use our downloadable marketing plan template to guide you. Download it now to get started!