With more than one million charities in the United States, one can expect a close competition, if there is any. Depending on the category your charity falls under, you can be unique and remain on the top of your game. To do that, you need to innovate to keep up with the industry and grow. But even a striving charity can experience plight on its journey, often heading downhill. Despite that, you can establish a charity business plan to lead the organization to its goals. With a business plan, you can set your expectations and maneuver a process in achieving it. Find out more about a business plan and how it affects charity projects with this article. Continue reading below.
FREE 12+ Charity Business Plan Samples
1. Charity Fundraising Plan Template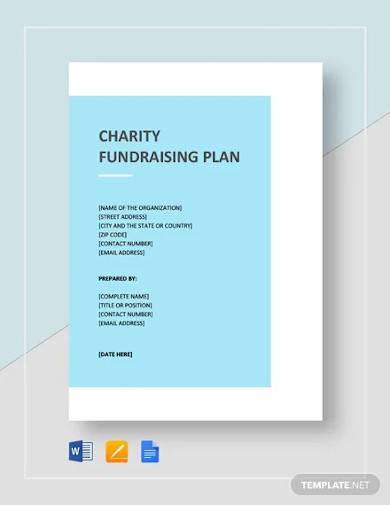 2. Charity Development Plan Template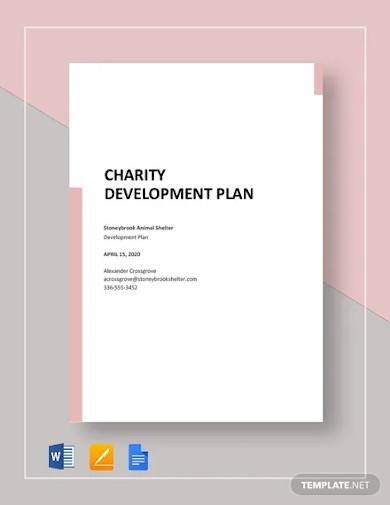 3. Charity Business Plan Template
4. Voluntary Business Strategic Plan
5. Voluntary & Charities Business Plan
6. Charity Startup Business Plan
7. Non Profit Business Plan Template
8. Sample Charity Business Plan
9. Executive Charity Business Plan
10. Non-Profit Business Plan Format
11. Voluntary Organisation Business Plan
12. Sample Charity Commission Business Plan
13. Charity Trust Business Plan Template
What Is a Business Plan?
The simplest way to define a business plan is to compare it with a guideline. It is a detailed plan that outlines goals and how to achieve these goals. Even if you have written down ideas on a piece of paper with some tasks you need to do, you have written a basic business plan. At its core, a business plan is a plan for the business operations, and how you are going to make it work.
A Breakthrough: Lean Business Plan
Documenting your business ideas can take a lot of work. Often, it takes more writing and thinking. Thus, we recommend creating a lean business plan unless you are required to pass a formal business plan. Why? Aside from it is shorter than a usual business plan, it easier to create, and it includes pitch, strategy, tactics, business, schedule, budget, and committees. With this, companies can perform on their ideas fast and frequently. By writing a lean business plan, you can quickly sort useful things from what is not.
Charity Business Plan: Why Is It Important?
Essentially, you can only execute sample ideas right after a business plan is completed. That said, preparing a business plan is the smartest decision that an organization can make so that it can size up in terms of growth. With a charity business plan, you can set out the parts that the organizations should cover. Since it describes the charity and its undertakings, it can help in setting more goals, plans, finances, and risks that the organization might encounter.
Does Planning Make a Start-up Successful?
According to a report posted by Harvard Business Review, based on research, a business plan makes a small business start-up more likely to become successful. In the report, it found out that a business person who writes a formal business plan has a 16% chance to achieve his goal compared to a non-planning entrepreneur. Furthermore, business start-ups that aim to gain high-growth are 7% more likely to write a plan. On top of that, entrepreneurs who are seeking external financial support are 19% more likely to commit to writing a business plan.
How To Craft an Effective Charity Business Plan
Successful organizations did not have it all until they come up with a plan. As an organization, a charity should give its administrator a reason to establish a strategic plan before it gets worse. Whether you are just a starting charity or a seasoned organization, you might consider the following steps beneficial for writing a charity business plan.
1. Keep It Simple and Straightforward
Along with charity membership forms, charity profiles, charity fundraising letters, and sponsorship forms, a  charity business plan is a document made for a professional reader. That said, wordy sentences and jargon might be complex to some of your audiences. As much as you want to make your plan to sound good, you cannot put its content at risk by using hifalutin words. Rather, pay more attention to keeping it concise and straightforward. Though you can use infographics as visual elements, keep them to a minimum.
2. Be As Logical As Possible
When writing a business, clear your head, and do not be biased in making decisions. It's important to remind yourself that the business plan can make a series of effects on your other plans, which involve marketing and other related areas. If you fail to foresee its impact to the organization, you might forget to anticipate the circumstances that could make or break the charity profile.
3. Write a Realistic Plan
Your ambitions are great guideposts, but limits exist for a reason. Being too positive can cause negative effects in most situations, as it locks your focus on your goals but not on the process of achieving it. Knowing this, take the time to create a roadmap or plot a schedule that will keep you on track. Whatever goals you have set for the charity, make sure you can execute them. Or you will waste your time believing your goals are doable.
4. Support Your Claims with Facts
Making a convincing business plan means incorporating facts from articles, statistics, research papers, and other references. All these will add credibility to the charity business plan. However, many references make it hard to choose a source. With this, verify the information, so you can use it to back up your claims. If you do not support your plan with relevant details, it is unlikely to become successful. You can even gather information from an existing charity business plan if there is any.
FAQs
What should a non-profit business plan contain?
A basic business plan contains the following: an executive summary, problem, solutions, market analysis, target supporters, target clients, competition, and promotions for funding strategy.
Does a charity need a business plan?
Yes, a charity needs a business plan for its undertaking. Without a plan, the organization could not outline goals and how to achieve those goals.
Can I accept donations without being non-profit?
State laws define whether an organization can accept donations or not. If your state allows donations for a non-profit organization, then you can accept charitable funds from donors.
A business plan is a forwarding tool for a charity. With no plans, an organization cannot implement growth, as it cannot execute its ideas. If you want your charity to be successful, start building a plan now.