The nonprofit organization also requires a budget sheet just like the profit-driven organizations. In the process of doing business, the nonprofit organizations also have to keep a tab on their total amount of revenues and also the expenditures. The nonprofit sample budget templates are some of the best ways to get an overall view of the business condition of nonprofit organizations.
13+ Non Profit Budget Samples
Non Profit Budget Template Sample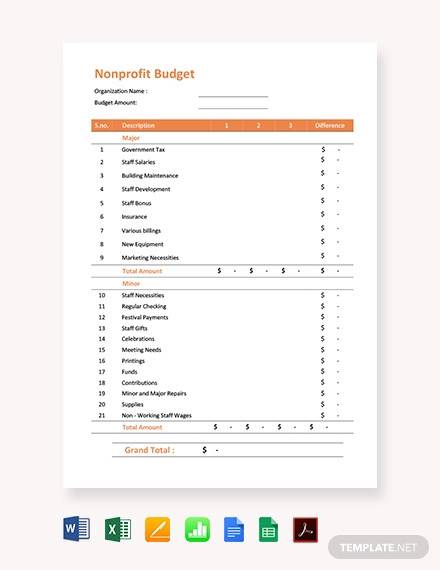 Every organization, including a nonprofit needs a budget to know their incomes and expenditures, so that it will help them know where do they have to cut costs and where they have to increase their revenue. Get to craft a document that serves as a tool for planning and controlling the financial resources of your nonprofit organization. Use the above template, which can be instantly downloaded and edited as per your liking.
Non-Profit Startup Budget Sample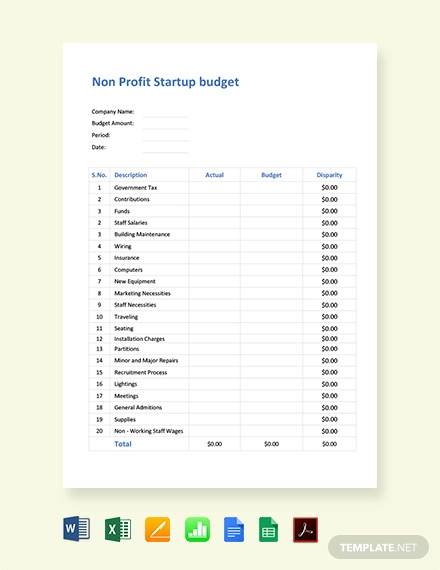 Thinking of starting a nonprofit organization? Create an itemized list of income and expenses for a new nonprofit business, which often covers the period up to commencing operations and perhaps a small amount of time after operations have started. Use the above template. There are many grant budget samples available online ready for you to edit.
Non-Profit Annual Budget Sample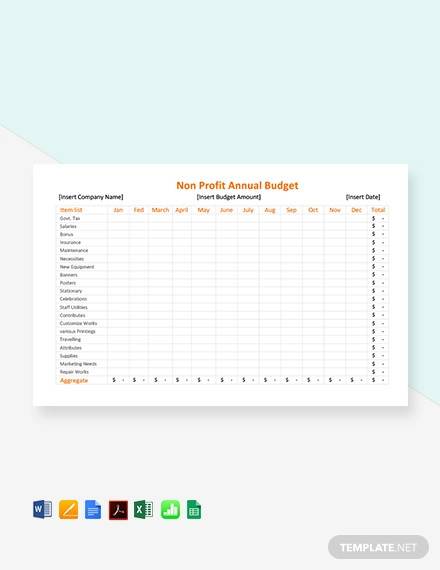 Get to produce a plan for your nonprofit organization's expenditures for a financial year. Making an annual budget involves balancing an organization's revenue or income with its expenses so that you have an idea as to where to cut down costs if and when needed. To make sure you get the job done right, you can take the help of the nonprofit annual budget template. It would be very helpful as you do not need to go through the stress of creating one from scratch.
Sample Nonprofit Event Budget Template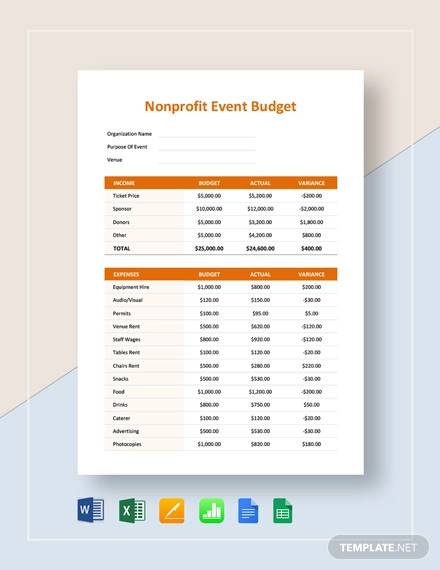 Sample Nonprofit Monthly Budget Template
Free Nonprofit Program Budget Template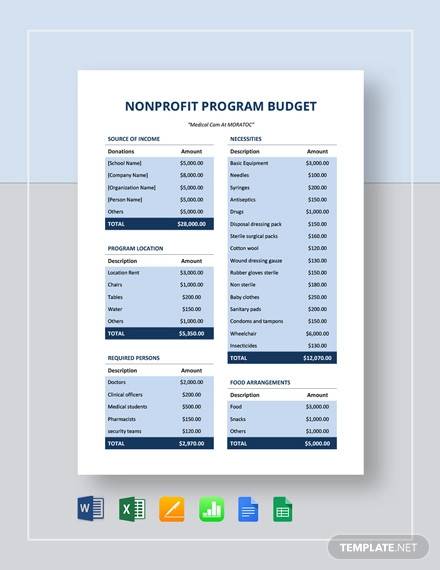 Free Non-profit Marketing Budget Template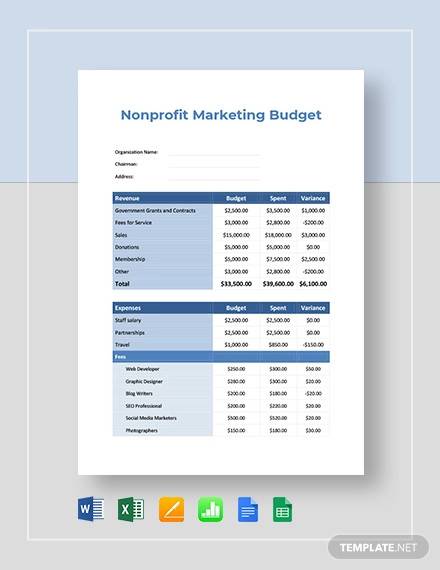 Annual Non-Profit Budget Template
This is a template sheet that is easily accessible over the internet. Any user can download this template theme with the utmost ease and convenience. This is a template budget that can help a nonprofit organization to make a budget estimate of the organization. You can also see household budget templates if you need to create one for your home. This design can help to make a nonprofit organization run with a lot of accuracy and precision.
Basic Nonprofit Budget Template
Nonprofit Startup Budget Template
Nonprofit Budget Template Excel
This is a nonprofit budget template that can help in the process of creating a budget sheet for a nonprofit organization. The sheet is fully editable and the user can make changes with a lot of ease. The template has super responsive features that allow a user to navigate freely throughout the template. See budget tracking templates for more information. This template has a monochromatic theme where there is a table layout provided on the template design.
Non-Profit Budget Spreadsheet
Budget spreadsheets will help in tracking the incomes and expenditures of your company. See sample budget templates in excel to get a better idea on how to create the perfect budget in an excel sheet. This will check the expenditures and income you get from different sources and also, all the different expenses you make throughout. This can be made on a weekly, monthly or annual basis, depending on your needs.
Non Profit Budget Worksheet
Since small business budgets are also very important, you can take help of the above template to create the right budget worksheet for your business. Such worksheets are easy to share, thus making it easy for the department who takes care of the finances to edit it whenever required.
Non Profit Budget Sample
What is a Nonprofit Budget Template?
This is a format that can be used to create a budget for the company. The designs are professionally made and save a lot of extra work on the part of the user. The template has just the right format or design that gives an account of all the heads giving revenues and also all the heads that are the expenditure heads of the company. Nonprofit business plans would be of great help if you need to make a plan for your organization, as it is always better to have a plan ready for any sort of issue that might arise unexpectedly.
Initiating a new nonprofit organization is no easy task. This is a form of business where one has to just invest and can get no return back profit. Hence it is imperative that the budgeting for the organization is done immaculately. The current nonprofit budget template can be trusted with this task. The templates have a design that can support the various details of the expenditures that are to happen in the company and also the total count of the revenue of the company under various heads. The look of the grant template is simple and professional. It helps to get a clear understanding of the business operations of the firm.
Creating a Nonprofit Budget in 5 Steps
Step 1: Calculate All of the Expenses
The first thing you need to do in creating a budget for your nonprofit organization is to make a list of all your expenses so that it gets easy to calculate. Financial statements of previous years can be of great use to you as you can see whether or not you have had growth in this one year. All your miscellaneous expenses must be mentioned without fail, as they are also expenses.
Step 2: Determine the Amount of Income
Since you have mentioned your expenses, you have to mention your income and all the sources you get it from too. As you mention both the expenses and incomes, you will have a better idea of how to calculate your funds. These funds could be through charity, donations, etc. Mention all the sources without fail, as it gets easier for you to check the funds regularly.
Step 3: Debts
A budget document will help you keep a check on all the debts you have taken as loans from others since a nonprofit organization is not easy to start from your funds. You would have accumulated debt to keep your organization running. Make a note of all the debtors and be sure to pay them back on time. This could be any other organization, an individual or a bank.
Step 4: Compare the Expenses With Income
The next step would be to compare all your incomes to the expenditures you are making. This way you will know where you have to cut down your expenses and what you should do to gain more profits. This will help you make crucial financial decisions. Examine the budget carefully, so you know what to do that will help in the growth of your organization in the market.
Step 5: Update the Budget
Remember to keep updating the budget from time to time. This way you will be able to keep a check on your budget as well, which includes the incomes, expenses, and funds. Create a team that would take care of the budget for you without fail.
Target Audiences
The target audiences of these templates are the various nonprofit organizations and their management bodies who need to keep a check and an account of the total budget of the firm. However, the pattern of the templates makes them lucrative for profit-driven companies as well.
Benefits
The biggest benefit of these formats is that it helps nonprofit companies to get a clear picture of their finances. As a result of the same, they can arrange their expenses so that they do not start operating in losses. Check budget proposals for more. The nonprofit budget templates are the best possible formats that can be used by the nonprofit organizations in their day to day operations.
General FAQ's
1. What is a Nonprofit Budget?
A nonprofit budget is a guide that can help the organization plan for the future as well as evaluates its current financial health. The budget is to be reviewed periodically throughout the year and edited as needed. A budget helps you understand what the incomes and expenses you have.
2. Why do Nonprofits have Budgets?
A nonprofit budget provides outside parties money and other resources to the organization. It is mainly based on accountability, transparency, and good faith. Budgeting is extremely important for nonprofit organizations to be successful and to accomplish all the goals they want to achieve.
3. What does a Nonprofit Budget include?
A good nonprofit budget helps reach all the goals the organization wants to reach. This budget must include the following details in it:
Details of the funds
Clientele and sponsors
Recurring expenses
Fixed costs
Indirect costs like salaries, rent, office supplies, etc.
Income sources
Interests and debts, if any.
4. What percentage of a Nonprofit Budget should be Salaries?
Some nonprofit organizations set a certain of their income as salaries for their employees. Large major nonprofits with a huge income use up to 1 to 2.5% of their income as budget. Setting aside of salaries is done according to the size of your nonprofit and based on what your income is.
5. How do you Create a Nonprofit Budget?
You can create a nonprofit budget with the help of the following steps:
Budget by the month for the financial year
Create an annual total
Account inflation rates/costs that need to be mentioned
Consider fixed and necessary costs
Divide annual costs for every month
Mention all the timing inconsistencies.