Database software exists to protect information being uploaded to the database making sure that it is both consistent and accurate. It's functions include but are not at all limited to storage, backup, recovery, presentation and reporting. It also allows the team to have multi-user access control, security management, and database communication. These software can be extremely beneficial especially for large workforces or companies that usually operate within a complex of offices. With corporations continuously increasing in numbers nowadays, it is to no surprise that they would usually look for new technologies that would significantly improve the productivity and convenience of the entire company. Though competition in this industry is not that prominent, it still pretty centralized, with only a couple of mega companies already leading the industry. Nevertheless, if you want to make your mark with your own database software business, then writing a business plan is the best initial step that you can possibly take.
Businesses can be quite difficult entities to manage, especially if you want your venture to at least return a profit. Starting a new venture can be really expensive and challenging at the same time, trying to make it work is a whole another level of difficulty. It can be quite overwhelming for some to keep track of each and every component of their business, making sure that everything is taken into account. That is why a lot of businesses often choose to create a proper layout for their business to keep them grounded. Regardless if the business is a startup or an already well established company, a well laid out plan keeps everybody on the loop for the entire duration of the business. Especially managers and supervisors since they are the ones usually in charge of overall business operations. A well written business plan does so well in tying the entire business altogether, keeping every business operation as smooth as possible.
Trying to establish a business not equipped with a proper business plan is usually not a good idea, and is not at all encouraged. A lot of people see it as diving into something without a clear picture of where you're going. You're essentially just setting your entire company up for failure if you do that. Working with a well written business plan comes with their own benefits, like being able to come up and experiment with new ideas and projects without having to invest too much time and resources into it since your business plan has already taken care of that. Get the best out of the document that you will be writing by checking out these database software business plan samples that we have listed for you down below. Once you are already familiar with the document, feel free to use these samples as guides or even as templates for when you plan to write your  own database software business plan.
4+ Database Software Business Plan Samples
1. Database Software Business Plan Template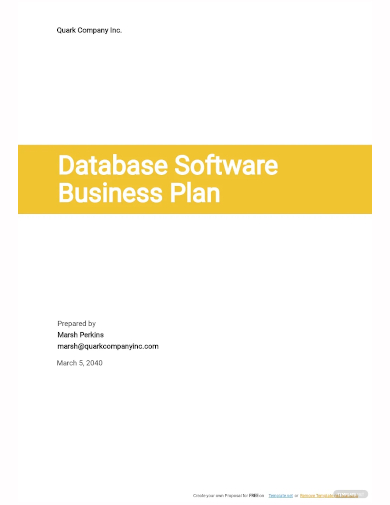 2. Database Administration Software Business Plan
3. Database Software Marketing Business Plan
4. Sample Database Software Business Plan
5. Database Software Project Business Plan
What Is a Database Software Business Plan?
A business plan is simply a document that presents the objectives of a company and the strategies that the management will take in order to reach those objectives. The document works like some sort of roadmap that the entire company can follow with the guidance of its respective departments like marketing, financial, and operational. While that is the general purpose of a business plan, the document can also be used to attract potential business partners and investors even before the company has been fully and properly established. A good way  to secure additional funds and support in the earliest stages of your business. Though despite that it doesn't mean that the document is only useful for startup businesses and new companies. Every single corporation has to come up with their own business plan as this will provide them with a tool that they can regularly review and update to see if they are any closer to the objectives that they have set. It also shows them how the circumstances that they have been working with has changed over time.  A well drafted business plan is a document that is able to outline all the projected costs of the venture and its estimated outcome, as well as inspect the potential problems of the decisions that the management has made. Despite being commonly used in the business and corporate space, it's still pretty unlikely to see a business plan that is the exact replica of another from another company. That's because different organizations typically face their own unique set of problems, which in turn produces a unique set of solutions conjured by its management.
Elements of a Database Software Business Plan
The length and coverage of your business plan depends on the nature of the business that the document will focus on. Though it is pretty common for business plans to be around 15 to 20 pages long. And even if no two business plans are completely alike, they still operate with about all the same elements. These basic elements of a business plan will be listed and discussed in more detail down below.
Executive summary
A business plan should begin with an executive summary that highlights the company and what that company stands for. It should be able to present its own mission-vision values, the company leadership, employees and employee operations, and where the headquarters of the business may be located.
Products and services
It should then present the products and the services that the company is offering in the following section. A list of the prices has to be included, as well as product lifespan, duration of services, and the benefits that your clients may gain once they have done business with your company. You can include other factors as well like the manufacturing and production processes, patents, and the proprietary technology.
Market analysis
A business has to have a perfect idea of their own target market and what the general demographic is. Remember, not everyone is interested with the services that you are offering, so make sure that you identify who is creating the demand early on. Proper market analysis will give you an outline of who or what the competition is and give you an idea of how to stay ahead of the competition. Outline the expected consumer demand and how difficult it would be to capitalize over that.
Marketing strategy
After properly analyzing your market, identify the strategies that you will put in place to attract your general customer base. And another set of strategies to keep them engaged with your business. Highlight a clear distribution channel including the marketing and promotional campaigns, as well as through which mediums these campaigns will be disseminated through.
Financial planning
Financial plans help further attract potential investors and business partners, especially those who wish to invest on ventures that has the ability to return a good investment. Present financial statements, balance sheets, and other financial information of your company.
Budget
Every business needs to have a proper budget in place. Your budget plan should include the costs of manufacturing, development, marketing, and other expenses that your company has made.
FAQs
What is the best database software?
Amazon Relational Database
Oracle RDBMS
SQL Developer
IBM Informix
ALTIBASE
EMS SQL Manager
What are the five elements of a business plan?
Situation analysis
Market
Product or service positioning
Setting objectives
Strategy
What are the other types of business plans?
Very short plans
Presentation plans
Working plans
What-If plans
One more very important quality of a business plan that you have to remember is that the document is not meant to be static. Business plans are live documents, meaning that it should be updated and reviewed regularly to change together with the circumstances and the status of the business. It's the only way to get the best out of your business plan, work with it.