What is a business plan? A business plan is a formal document where you can find the nature of the business to be started, the marketing strategies to be used, where the finances will be coming from and other specific details that are necessary before the business is actually started.
Writing a business plan is one of the first steps in starting a business. Just like any plan, it is important to have a business plan prepared to avoid predictable circumstances and problems. Here, we will learn about a travel business plan. We will define what it is, identify the parts of a business plan and other basic and related information about it. Also check out and use the sample templates provided below.
Travel Business Plan Template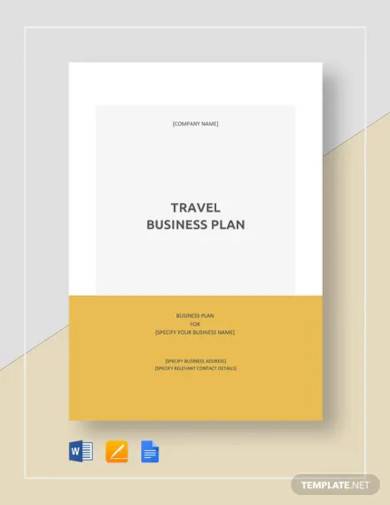 Tour Operator Business Plan Template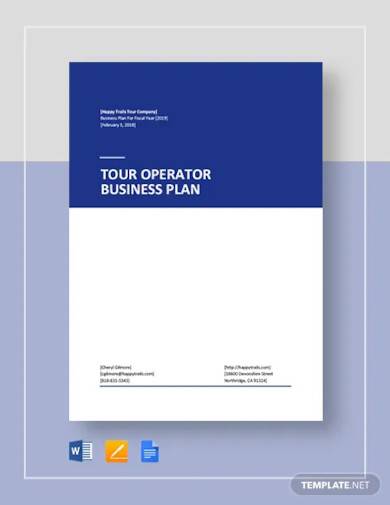 Tourism Business Plan Template and Worksheet
Luxury Adventure Travel Business Plan Sample
Travel Agency Business Plan Sample
Business Plan Template for Tourism
Adventure Excursions Travel Business Plan Template
Blank Business Plan Template
What Is a Travel Business Plan?
A travel business plan is a type of business plan specifically used in preparing for a travel business, such as a travel agency. Planning and preparing for a travel business plan help prevent any major issues that the business will be facing ahead, and arms the business with enough knowledge about the type of market or industry they are getting themselves in. A travel business plan includes details about the background of the business, how it will operate, its target market, financial sources and financial background, and the estimated or projected profit and loss statement. Other business plan templates you may want to check out are Business Plan Profit and Loss Template, Advertising Agency Business Plan Templates, and Lean Business Plan Templates.
Parts Of a Business Plan
A business plan is made up of seven essential parts and they are listed and briefly discussed below.
Executive Summary – The executive summary is the first section that will appear in a business plan but it is best to write this part last. The executive summary provides an overview of the business plan and should be written in a way that would get the attention of the readers so that they would want to know more about your company or business. It includes information, like the business or company name, the business location, the products and services offered, your company's vision and mission, as well as your specific goals.
Company Description – As its name implies, the company description explains everything that there is to know about the company or business you are starting. Included n this section are details about who you are, what you aim to do, how your business operates, a history of how your business came to be, a description of the products and services that your company offers, the structure of your company, and your long-term and short-term goals.
Products and Services – In this section of your business plan is a complete list of all the products and services that you offer. It is best to include images or photos of the products and services that your company plans to carry. Each product or service must have a detailed description, how it will benefit your customers and who your suppliers are.
Market analysis – This is the section where you showcase your expertise about the industry that you are trying to get into. Detailed findings and conclusions based on research are included in market analysis. Other related information, include identification of your target market, historical background of the industry, marketing statistics and trends, as well a detailed evaluation of one's competitors.
Strategy and Implementation – Here you will provide the details of the sales strategy that will be used for the business, as well as how this strategy will be implemented. Details about the cost and your operating hours should also be included in this section.
Organization and Management Team – An organizational chart would be necessary in this section of your business plan. Include the names of the owners, the members of the management team and the board of directors. Also make sure that you provide a description of the roles of each department and their key employees.
Financial plan and projections – This is the last section of your business plan. It includes important financial statements and projections, like balance sheets, historical financial data, income statements, etc. It must also be written by a professional accountant.
You may also check out other related articles, like HVAC Business Plan Templates, Food Truck Business Plan Templates, and Lawn Care Business Plan Templates.
Start-up Sample Business Plan Template
Detailed Business Plan Template
Business Plan Template With Instructions
Short Business Plan Template
Editable Business Plan Template
Business Plan for a Startup Business Template
Business Plan Template
Tips in Writing Better Business Plans
The tips listed below will surely help you write better business plans.
Write clearly and concisely. As much as possible use common or simple words so that your readers will easily understand what you are trying to tell them. This also prevents misinterpretation and confusion.
Know your audience. This allows you to use the most suitable or best possible writing style to help your readers easily understand your ideas.
Keep it short and simple. Although there are certain requirements as to how many pages a single section should be made of, it is still best to keep your business plan short and simple but detailed.
Provide references and facts about the information that you will mention in your plan.
 Make it a habit to always proofread your work. Look for any grammar and spelling errors. This will make your business plan look and sound professional.
We hope that you are able to learn something from this article. If you would like to know more about business plans or check out related samples and templates, then you may visit out website anytime. Some of the articles you can find there are Juice Bar Business Plans, Restaurant Business Plans, and Bakery Business Plans.