The act of assisting those in need is known as charity. It's a selfless gesture. It entails donating money, products, or one's time and effort to people in need. It is done without any expectation of a reward. Giving poor people money or food is an example of charity. It is necessary and therefore intended to be done for the public good, relief, and help to those in need in any area of the globe, particularly those who are victims of war, natural disasters, catastrophes, famine, sickness, poverty, or orphans, by providing food, housing, and medical aid. More than simply giving to the needy, charity programs need to be thoroughly planned out. Do you need help with planning how to develop your charity project? Look no further! In this article, we provide you with free and ready-to-use samples of Charity Development Plans that you could use for your your convenience. Keep on reading to find out more!
5+ Charity Development Plan Samples
1. Charity Development Plan Template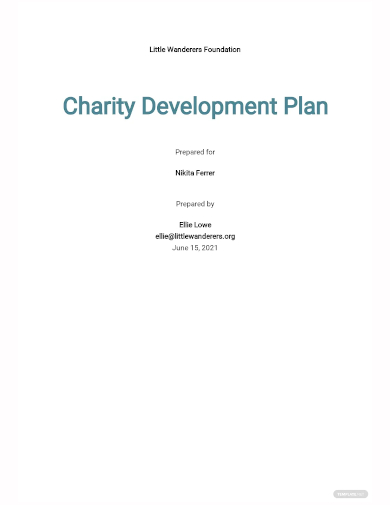 2. Charity Event Development Plan
3. Charity Development Plan
4. Charity Annual Development Plan
5. Charity Official Development Plan
6. Charity Business Development Plan
What Is a Charity Development Plan?
A charity development plan explains your organization's present state and establishes a three- to five-year strategy. It also lays out your objectives and strategy for achieving them. Your charity growth plan should be revised on a regular basis to reflect your changing aims and circumstances. You are effectively establishing a blueprint for how your organization will be managed, who will be accountable for what, and how you plan to achieve your goals, regardless of your size or financial condition, when you design a plan.
If you want to get any type of assistance, whether it's monetary, in-kind, or even just volunteer help, you'll need a development plan to communicate your charity's mission and objectives.
How to Make a Charity Development Plan
Even charitable organizations can benefit from a well-crafted development plan. Employees, volunteers, and board members will be aware of the charity's aims, and supporters will be able to see the impact of their contributions. A charity development template can provide you with a framework that you need to ensure that you well-thought out and well-written plan for your charity.  You can choose one of our excellent templates listed above so that you don't have to write one from scratch. If you want to draft one yourself, you can check out these elements below to guide you:
1. Overview
Prioritize the charity's mission. Begin the business plan by stating the company's fundamental values, mission statement, guiding philosophy, and any other concepts that define the work's purpose. Work on fine-tuning and effectively presenting the message. For justification, the rest of the business strategy should refer back to the front matter.
2. Charity's objectives and predicted outcomes
The aims section jumps right from the inspiration to the specific goals the organization intends to achieve. The aim section should include an assessment of the previous year's accomplishments as well as a projection for the current year. Discuss any results or tactical modifications based on previous experience.
3. Members and staff
In a section emphasizing the human resources driving the organization, staff, directors, and board members should be mentioned. Give biographical information about important workers and directors. Describe the talents and expertise that the charity has at its disposal. Human capital is typically used to help drive a charity's initiatives, with workers and volunteers depending significantly on what they know how to accomplish.
4. Finances
Every business should be aware of how it manages its finances. Donors, directors, and board members can judge how well a nonprofit or benevolent organization is run by looking at its financial accounts. The program-spending ratio, which is determined as total program expenses divided by total expenses, and the fundraising-efficiency ratio, which is calculated as fundraising costs divided by total contributions, are two significant measures from philanthropic financial accounts.
FAQs
What is the charity's strategy?
It's how you'll contribute to a cause or charity that means something to you. You can accomplish this by making annual or periodic donations over the course of your life.
What is the procedure for putting up a charity event?
A charity event is one whose primary goal is to raise cash for a cause, charity, or non-profit organization. As a result, the goal is to raise funds.
What are some of the ways that charities assist the poor?
Concern is combating poverty in poor nations by increasing sanitation and water access, treating and teaching people about HIV and AIDS, and giving humanitarian aid in the aftermath of natural catastrophes and human conflict.
All in all, a development plan is important to ensure the continued success of your charity organization. To help you get started with this, download our free and ready-to-use samples of Charity Development Plan.