This is nothing difficult but it is an analysis of the situation or an actual administration involving a decision to be taken or required a problem to be solved. It can be any real life situation, which actually happened or portions disguised for certain reasons. In most of the cases, the case study analysis, Critical Analysis Template  is written in such a way that the reader takes the place of the manager who is in charge of making the decision to help solve a particular problem. In almost every case study analysis, a decision must be taken, although the decision might be to leave behind the situation as it is and do nothing.
Sample Case Study Analysis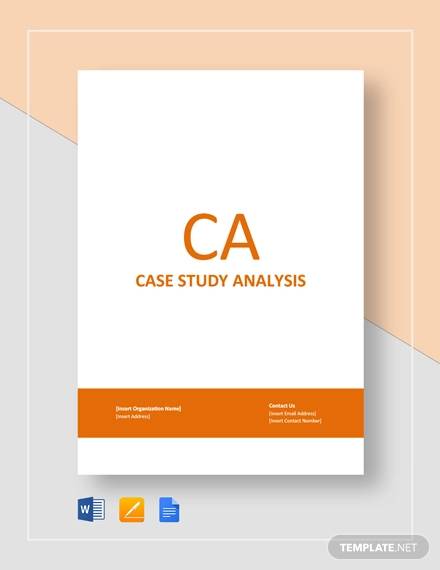 Business Case Analysis Template
This template helps to determine whether a project is able to justify the organization and their investment in a project. The business case defines a problem and with impact and performs a preferred cost-benefit analysis for a proposed solution. It is also able to look at possible alternative solutions.
Legal Case Analysis Template
This template is required for the law firms, which enables the lawyer to approach a legal analysis of the factual situations and the way lawyer do it. If you master this simple template you can learn how to assess a case and check out the variants that you need to address while the case runs on the court.
Strategic Management Analysis Template
Such templates help to sketch the roadmap to success. It helps to grow your business eventually. It helps to manage your strategic plans. This template helps to drive out plans based on the concepts of vision, mission, goals, objectives and activities. This adds flexibility to your work schedules and helps to achieve the goal proactively.
Law Case Analysis Template
It is yet another legal template, which anyone can use while a law case or suit is running on the court. It helps to analyze the situation, note down the points discussed, and form the arguments accordingly to defend the case against the concerned lawsuit.
Framework for Case Analysis
Notes on Case Analysis
Case Study Analysis Template
Example of Case Analysis Template
Case Analysis Template DOC
Uses and Purpose of Case Study Analysis Template
This outstanding template is easy to download, edit and customize as per your preference and requirement. The document is able to give a good idea and let you think and address different areas before you jump into writing. You will find the document divided into sections such as introduction, purpose, scope, best practices, body, and launching your case study.
Why Do I Need a Case Study Analysis Template?
Well, the requirement of a case study analysis template, Requirement Analysis Template comes to light when you need to strategize your very next to address an administrative situation or a real life problem. This template is one of the basic learning tools that helps a user may be into business, legal or marketing to take an important decision and act accordingly.
Tips for Using Case Study Analysis Template
• Whenever you are doing a case study analysis, you need to proofread many times and fix the errors before submitting.
• Make sure to use spell checker to eliminate the spelling errors
• Do not restate the facts, as it is not good to include them repeatedly
How Do You Create a Case Study Analysis Template?
You need to define the issues that you want to address in your case study. You need to Competitor's Analysis Template analyze the case data as a reference to it. You need to generate alternative accordingly then you need to select the decision criteria and preferred alternative as well. Finally, you need to develop an action and implementation plan.
Conclusion : Case Study Analysis Template is available in Word, PDF, Excel and other popular formats, which are easy to customize, edit and free to download. You can enjoy equal advantages in both upper and lower versions in the templates available with us. All our templates available here come with 99.9% success rate and loaded with potential features.
If you have any DMCA issues on this post, please contact us!